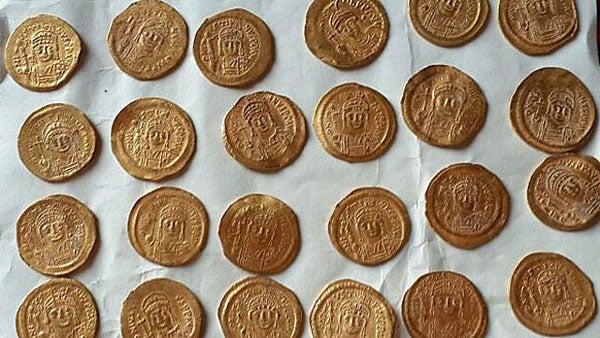 London has long been considered a natural market place for the trade in fine art and antiquities and so when it was reported by The Guardian that looted antiquities from war-torn Syria and Iraq had emerged in the collections of smaller dealers in the city, it came as no surprise to some.
In February of this year, the UN Security Council banned the trade in artefacts removed illegally from Syria since 2011 and from Iraq since 1990 in the hope of curbing the proliferation of priceless antiquities by ISIL who are now smuggling them out of Syria on what UNESCO describe as an 'industrial scale'.
It expressed concern that ISIL and others are 'generating income from engaging directly or indirectly in the looting and smuggling of cultural heritage items… to support their recruitment efforts and strengthen their operational capability to organize and carry out terrorist attacks'.
International bans on the trade of looted art and the various UNESCO conventions which cover the trade of cultural property in the context of armed conflict are unlikely to offer any effective solution without state authorities taking a more proactive approach to investigate and prosecute perpetrators.
Smuggled through Turkey and then traded by middlemen in Germany who create a passable paper trail for these objects so that they are able to be sold in London with a degree of provenance, the trade in looted artefacts is going largely unchecked as international organisations and state authorities struggle to keep pace with ISIL's systemic plundering.
The porous borders of Turkey, Syria and Lebanon make it an almost impossible task to keep track of exactly what has been smuggled into Europe. With ISIL's occupation of the ancient Roman city of Palmyra, it is likely that more archeological treasures are likely to find their way via the black market to London, and possibly New York, in the coming months.
Collectors need to be alert to antiquities with dubious provenance. Glassware, miniature figurines, earthenware and an array of other small pieces either once held in museums or excavated directly by ISIL are the sort of items mostly likely to have found their way to galleries and into the hands of less scrupulous dealers in London. Pieces once held in museums are often well-catalogued and savvy collectors will be able to identify them with little difficultly from public references.
In September 2013, the International Council of Museums published a 'Red List' of Syrian cultural objects at risk of plunder. More recently, ICOM distributed a refreshed this list to cover artefacts emanating from Iraq. The Red List is a useful tool to help discerning collectors identify the types of artefacts which may have been excavated illegally from archaeological sites, looted from museums, or smuggled across borders of Syria or Iraq.
The Red List is likely to be an effective way to help deter the trade in looted antiquities, whether in London or elsewhere, or even when dubious pieces re-emerge at a later stage. Most reputable dealers and galleries will be alert to the items listed and serious collectors are likely to want to do the same. Other similar records exist. The Art Loss Register, for example, is the world's largest database of stolen art.
More generally, however, collectors of antiquities are advised to be alert to artefacts which do not have a credible provenance and to carry out deeper due diligence when dealing with artefacts from the Levant region.
Some looted pieces which find their way to London are likely to be passed off as Greek or Persian or as having been held in a family collection for some time. Serious collectors may be able to distinguish Greek pieces from those of Mesopotamia more easily than less knowledgeable collectors, but anyone looking to spend tens or even hundreds of thousands on an ancient treasure should be consulting with art specialists or at least make reference to a specialist compendium.
Collectors should also ask to see a verifiable paperwork trail which can account or corroborate the history of the piece in question.
Pricing can sometimes raise suspicions too. Many of the pieces looted in Syria and Iraq, even very small pieces like writing instruments, are likely to be worth hundreds of thousands pounds. Anything asked below these sums should immediately raise red flags in the mind of the prudent collector.
While it may be difficult ultimately to prove provenance, buyers and collectors may want to consider that unconvincing provenance is not likely to find favour with reputable auction houses or with insurers who will most likely stay away from such pieces, making ownership of such pieces in the first place a less attractive proposition.
It is certainly true that auction houses such as Christie's and Sotheby's are more skillful at spotting a forgery or an archeological treasure with dubious provenance, but buyers cannot assume that a purchase from an auction house offers them 100 per cent protection. Auction houses, too, have their limits and their due diligence may be carefully caveated, allowing them to avoid future responsibility should a piece subsequently be identified as looted or stolen.
In the end, the irony is that the inevitable proliferation of these rare treasures is likely to be the reason why savvy collectors and investors will choose to stay away from them. It may be difficult to prevent trade between unscrupulous dealers and reckless buyers at every conceivable corner, but collectors will be alert to the increased volume in the market of artefacts with dubious provenance and will simply not want to take an unquantifiable risk.
The market for these treasures is small at best and a reputation for dealing in looted antiquities will be difficult to shake off. It seems, therefore, that until the law can be enforced more effectively, the market will have to rely on self-regulation.
Alkan Shenyuz is a barrister with Church Court Chambers
Main picture courtesy UNESCO, Palmyra, Syria