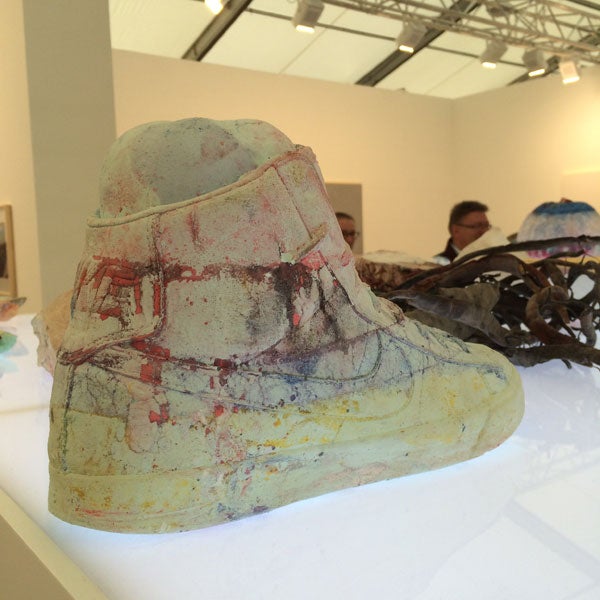 Frieze London – the older fair with the newer art – and Frieze Masters – the newer fair with the older art – both opened yesterday in Regent's Park, and for the first time at the same hour. This left some gallerists I spoke to in a certain amount of bemusement – which would their clients go to first, and would they spend their budget at one and not the other? They needn't have worried as traffic at both seemed brisk all day, with actual crowds at Frieze London.
Read the other instalments of Josh's Frieze Week diary here
Am I blue?
In Frieze Masters, there is a section called Collections, where Sir Norman Rosenthal, former head of the Royal Academy, has brought together gallerists to display their personal collecting passion. It's a bit more personal for one gallerist, however.
While some – like Bazaart with their bright Renaissance majolica ceramics or Sydney L Moss with their small netsuke carvings – are selling their normal (excellent) stock, Daniel Blau has a wonderful display of Pacific-island fishhooks. If this sounds recherché, it really is – but it's also quite wonderful. Made from horn, bone, iron, wood and more, these are exactly what they sound like: hooks used for fishing by Pacific islanders, some dating back a millennium.
Blau told me that he first came across them in the Eighties when photographing Hawaiian petroglyphs (pictorial carvings in rock), also fairly recherché. 'You want to be there for sunrise and sunset' to capture the petroglyphs, so 'during the day you hide from the sun and in Hawaii you hide in the caves, and that's where you see fishhooks lying about.'
He has installed them at Frieze Masters in two tall cases, tiny ones scattered beside each other and huge ones on individual stands. There is even a small ball of wool which would be dangled into the water and, when wet and tangly, would entrap a certain fish (whose head Blau was also displaying).
But Blau didn't seem particularly happy to be selling the fishhooks (about which he has collaborated on an authoritative book). There was 'a little push and pull' to get him to consent to selling them, he says. (The price – €890,000 – is perhaps deliberately prohibitive.) He says he understood it would be 'ridiculous' to have items not for sale on his stand.
He looked thoroughly downcast and confessed he didn't want to part with them, so I wished him an unsuccessful sale, and he said I was the second person that day to have said the same thing. It will be a real shame in Blau and his fishhooks are parted.
~~
I asked Frieze for their thoughts on this and fair director Victoria Siddall said: 'Occasionally galleries decide to bring works to the fair that are not for sale but may contextualise other pieces or articulate the spirit of their gallery and create an outstanding quality presentation.
'It is a rare occurrence because it is not inexpensive to do fairs so galleries themselves need booths to work commercially as well as being striking and offering a sense of character and discovery. Of course galleries are never under pressure to sell something if they do not want to!'
Stand and deliver
Exhibitors at Frieze Masters never stint on their stands. There are few white-walled booths with a selection of masterpieces hanging around listlessly, rather they go to town with luxurious fabrics and furniture and the highest of concepts.
This year, one big trend is for a Contemporary gallery to pair up with one dealing in older art. This strikes you as soon as you enter: Hauser & Wirth have a space right at the front in which they have allied with Moretti Fine Art to create juxtapositions like a bust of a bearded man next to a small Calder stabile (his sculptures of moving parts); their elegant lines complement each other, the Calder perhaps even following the swerve of the beard.
Across from Hauser are Tomasso Brothers Fine Art and Karsten Schubert, the latter providing Bridget Riley's wavy lines as contrast to the former's busts. Other pairings included Anthony Meier and Schönewald, and Peter Freeman and Georg Laue.
Meanwhile, 'curated' stands (as if the others are simply thrown together) were big too. 'Curation' here tends to suggest a concept, and all follow in the wake of Helly Nahmad's at Frieze Masters last year, which recreated a Parisian apartment in '68. This year Nahmad went mad, as it were: he imagined the sort of asylum which influenced the Art Brut (outsider art) of Jean Dubuffet, whose late scrawls hung opposite.
I was not a wild fan of this, not because I thought it might trivialise and commodify mental illness (I don't think it does) but because the art it had to support was not especially interesting – concept outweighed creation.
Still, some concepts found an equal partner in the art, like at Luxembourg & Dayan's stand. They had imagined a 'microsalon' as held by the French art dealer Iris Clert, stocked with art she had dealt or by artists she knew (like Arman's rubbish bin) and complete with a freesheet headlined 'La révolte d'Iris'.
As Amalia Dayan told me, Clert was 'a pioneer' with 'so many revolutionary shows': she let Yves Klein stage an exhibition called Le Vide, where he left the gallery entirely empty. 'It was such a courageous thing to do on the side of the artist but also on the side of the dealer.' She also brought artists like William Copley and Ad Reinhardt across the Atlantic.
Fairest of them all
Some choice items from both Friezes:
This is astonishing: the sculpture from the back of the Duke of Colonna's carriage (Lampronti, Masters). It has survived in excellent condition, even with original gilding. The sculptor, Tedesco, was a pupil of Bernini, which explains the agony apparent on the face of the captured Turk.
Study for Lucian Freud's head by Francis Bacon (Jean-Luc Baroni, Masters), which used to be owned by Roald Dahl (his grandson told me on Twitter he remembered seeing it at home as a young boy).
The bashful horse on a majolica plate (Bazaart, Masters) (pictured top).
I love Martin Creed, so his crumpled piece of paper – much-mocked but so significant, pregnant with anxiety and ruin – was a thrill to see (Hauser & Wirth, London).
A large part of Sturtevant's practice was copying other artworks to question the idea of authenticity and authorship.
Adrian Villar Rojas is a rising star and his gallery presented two raised tables of his sculptures, including this hightop shoe, like some future ruin of present civilisation.