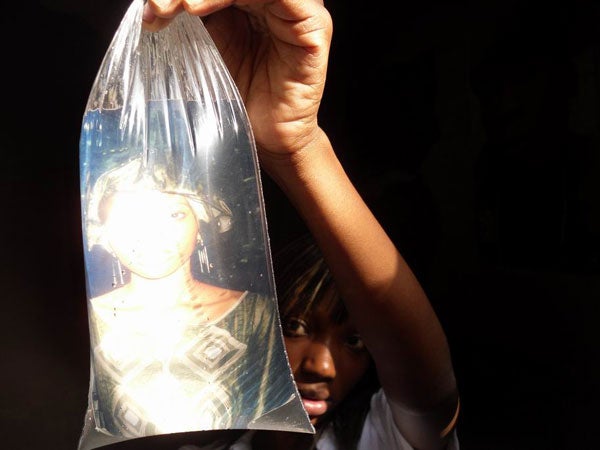 Wednesday is, in theory, a small respite during Frieze Week: you've spent most of Tuesday at the Frieze preview day and the major auctions aren't till Thursday and Friday nights. It naturally came as a surprise, then, to be stumbling out of Christie's at eleven last night…
Read the other instalments of Josh's Frieze Week diary here
Going… going…
The Christie's/Vanity Fair party is one of Frieze Week's highlights, not just because it combines the glossiest name in magazines with the glossiest name in auctions. It's also fun because it's where you see people who normally fly into indignant rages about having to queue, queue. The art journalists stuck together (ie queue-jumped to each other's advantageous positions) and thus scenes were avoided.
Once inside, around ten-ish, you could hardly move for a crowd composed of all the tribes of the Contemporary art world: pale posh young men from galleries; Eurotrash in expensive suits and dresses; Russians in fur; women in facelifts; hipsters in black; journalists questing for the bar; and auction-house specialists looking solicitous in spite of exhaustion.
Christie's Contemporary sale was on the walls, though largely unobserved by the crowd, except for the few who leant in rather closely and nearly sloshed champagne on the canvases. (One brave gallerist intercepted someone about to spill all over a Warhol and was rewarded with a soaked suit.)
Chasing the Dragon
Contemporary art requires research. Every artist today works in a unique way, with their own vast cultural-philosophical hinterland, and it can be hard to see what they're getting at if you're not familiar with the finer points of, say, Baudrillard or Tarkovsky.
All of which is to say, I wish I'd seen Bruce Lee's film Enter the Dragon before going to see Zhang Ding's musical-performance-art piece of the same name at the ICA yesterday evening. The wall text told me the work was inspired by how Lee worked with Western studios to make a film about Eastern philosophies (about which I am shamefully ignorant too) and that Zhang was in some way doing the same thing, based on the film's final scene.
It wasn't easy to tell this from the performance, which involved two musicians making the sort of sounds you imagine would be the hold music if you tried to call a nightclub which opened its doors at 4am. As one musician played her pulsing ambient threnody, large mirrored screens rotated at various speeds in front of her (pictured top), hiding and revealing her in brief glimpses. After a while, the musician on the stage opposite, also behind the mirror-screens, began to play, and thus they alternated. (A press release says the musicians were electronic music producer Kelvin Lords performing with hip hop DJ Wanda Group.)
What is most interesting, to me, about the performance is that it's supported by Adrian Cheng's K11 Art Foundation, which wants to support Chinese art around the world (and within China too). If London can start attracting more Chinese patronage, it could open rich seams of philanthropy and culture.
I can't tell you if the performance came to some rousing (un)harmonious conclusion as I didn't stay the full hour, but I did feel entranced by Enter the Dragon.
Sidebar: I also took in Prem Sahib's show while I was the ICA. Rooted quite specifically in East London's gay scene, its sweaty paintings, aloof architectural installations and unlikely sculptures (a glass table supported by feet in white socks) were resonant, erotic and plangent.
1:54 not first class
After the ICA but before Christie's I went to 1:54, the African art fair taking up several suits of rooms at Somerset House. Having been thoroughly excited by 1:54 in its first year, it was disappointing to see it in its third year retreading artists, artworks and concerns.
I found little which surprised, enthralled or even provoked me. Perhaps it is churlish to complain about so many works reflecting on Western capitalism in an African context – it's clearly a legitimate topic of social interest – but in artistic terms it's hardly modern.
The same goes for the many wall coverings made out of unlikely items (suitcase lids, for example) and fetish-items (plenty of Romuald Hazoumè's oil-can icons and inferior imitations thereof): we've seen it all before.
Now, true, you can't expect the most cutting-edge work at an art fair – pieces need to be sellable – but there was no hint of a thrill. I enjoyed Mohamed Camara's photos of his life and neighbourhood in Mali at ARTCO, a mixture of William Eggleston and Nan Goldin's public and private concerns (pictured below). The only thing which held my attention was a film of Ghanaian fishermen trying to haul in their boat and the missteps and irritations which beset them – it was documentary verging on drama. (It's by Adu Lalouschek and Alex Wondergem at October Gallery.)
There is dynamic work by African artists in non-profits, institutions and galleries across the continent and (increasingly) around the world, but before I'd gone to 1:54 last night, I didn't want to agree with a curator-friend I met at Frieze who was very bearish on African art. 1:54 gave me no cause for hope.
Plug!
Sluice art fair opens today in the bare brick expanses of the Bargehouse behind Oxo Tower on the South Bank. It's got young and exciting galleries showing, and I've co-curated a weird – but I hope wonderful – show there. It's called Tote Modern and it features a display of art-world tote-bags, which are more than just canvas sacs: they show how galleries compete to have the best, the chicest, the sturdiest, how they express cultural and financial power, how they commemorate history… The private view is tonight and it runs till Sunday,