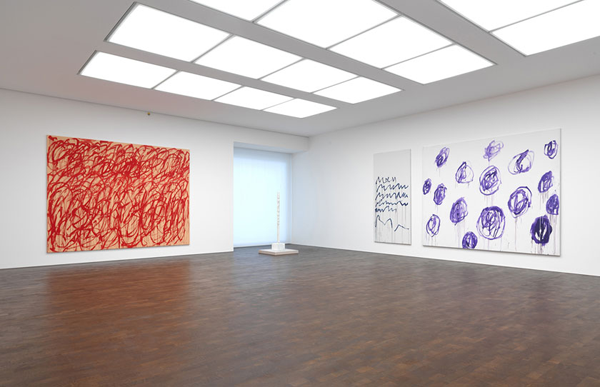 TUESDAY
Yesterday saw the start of Frieze Week's marathon sprint: men with Hermès ties or beards (but rarely both) and ladies in Chanel suits or funny hats (but again not both) dart between galleries, doing hairpin turns around Mayfair's glossy corners. The starter has fired his gun, which coincidentally sounded a lot like a champagne cork popping. But first…
Read the other instalments of Josh's Frieze Week diary here
And now for the science bit…
Frieze Week proper started with science, rigour and sitting neatly in chairs, three things not known to the art world, at the launch of the i2M standards on Carlton House Terrace. Now, these are a lot more interesting than they sound: they are a series of rules for developing technology to prevent art fraud.
The idea is to create a patch like those you sometimes see in library books to stop you stealing them, except these are composed of 'advanced encrypted bioengineered DNA' and 'advanced informatics technologies'. My understanding of this project, sponsored by the insurers ARIS and developed by the University of Albany in New York State and the University of Sussex, is that artists will be able to affix these labels to their work, and the labels will contain both data about the artwork (when made, which materials, when sold, to whom etc), linked to a central database, and some sort of digital glue which permanently tracks the work, without marking or changing it.
Eric Fischl, who is one of the founding artists to adopt the programme and was at the launch (pictured middle below), illustrated why this was necessary in the primary market. (Don't forget, Contemporary art – by its often haphazard, deskilled nature – can be easy to forge.) He went to a sale at an auction house in Geneva and an excitable director told him they were selling one of his drawings in London, but when he showed Fischl the picture, an oil on paper, he didn't recognise it. 'I drew a blank. It looked exactly like my work. I thought, My mind is failing.'
He quickly realised, however, that the drawing couldn't have been by him: it was of a complete painting he had finished – Fischl only ever draws partial pictures as studies for works. 'I didn't recognise it because I hadn't made,' he said.
The director quickly told the London house to remove the drawing from the sale but then came the part which astonished Fischl: the director suggested to the artist that some people try to deny work they've made because they gave it to an illicit lover and want to cover their tracks or some such. 'It's complicated,' Fischl incredulously reported the director as saying. That's why, he added, artists needed a secure way to track their work.
While the conference focused on primary market work (ie new pieces generally sold through a gallery), many of the examples in its accompanying literature were about frauds concerning older art where there is a question of attribution. I challenged Dr Jennifer Mass, who is helping to build i2M, about whether this new technology could actually solve such problems: if authenticity is disputed, then how can you add a permanent tag to a work?
'Attribution flip-flops in works of art quite a bit,' she said, 'but the true goal of this initiative isn't to stop that process but to make sure that we have way to say that this is all the information we have.' The tag could reflect the current consensus of views on authorship (scientific and artistic) and be updated as needed. It seems, then, a record of controversy for older art, not a solution of controversy.
Either way, if it puts some clarity into a world which cherishes opacity, it'll be doing some good. Watch with interest.
PADding off gently
PAD, the Pavilion of Art and Design installed once again in Berkeley Square, has continued to lose its cultural momentum, judging by my visit last night. (I can't speak for sales.) It is the victim, as no doubt intended, of Frieze Masters.
Whereas PAD used to have a good selection of notable Modern-art galleries – like Galerie Gmurzynska – it has been reduced to a core of Modern and Contemporary design galleries, with a couple of decent galleries selling Fontana slash paintings, the hedgies' favourite. Frieze Masters, which features art from the beginning to time to the end of the twentieth century, has well and truly taken over as the fair art dealers want to be seen at.
I mean, if you like Modern French and Scandinavian design, it's heaven: there are more smooth wood tables and elegant angled chairs and stylish shelving units than you could shake a rolled-up fair-guide at. But PAD has lost its A – and its aim.
(Sidebar: the canapés came with clips on [see below]. I'm surprised no one choked.)
Ancient and modern
I had the pleasure of talking to Giuseppe Eskenazi yesterday, venerable dealer in Chinese art, who was installing a Liu Dan show of subtle new paintings inspired by a Raphael drawing (which I snuck a look at in its box). Eskenazi has been in London since 1960 and Giuseppe took over from his father in 1967, so he really has seen it all.
We mainly talked about Asian Art in London, the forthcoming festival at the beginning of November where dealers and auction houses get together to put on their best shows and sales in Asian art, but we touched on Frieze, during which last year they opened a new show for the first time.
'My son said, "Frieze has literally hundreds and hundreds of very rich people who buy very widely. Why don't we have our exhibition at the same time?"' Eskenazi confesses his reluctance, but also his wrongness: it was a big success. 'People did come from Frieze.'
But what's especially interesting is this: in a world where Contemporary and Modern art reach into the hundreds of millions of dollars, and a Jeff Koons was on sale at Frieze London a couple of years ago for around $25 million, these collectors who came by Eskenazi 'felt that everything we had was cheap!' As with all Veblen goods, the higher the price, the more attractive the object, so £100,000 for a piece at Eskenazi almost seemed to belie its beauty.
Gallery trawl
I went to ten galleries last night (see what I mean about a marathon sprint?) and can't list them all, but here are some highlights:
> The show of the week is plainly Gerhard Richter's Colour Charts at Dominique Lévy: conceptually brilliant works by the towering master of our age. Here Richter turned colour into both the material and the subject of his art, a unique synthesis. My favourite moment, though, was the man who came as the art.
> Elmgreen & Dragset fared better at Massimo de Carlo with their glass urns filled with the pigment used to colour pills taken by Aids patients than at Victoria Miro, where they had turned art labels into art, whether blown up into paintings or carved into marble.
> Thomas Demand at Sprüth Magers gave us a tantalising change from his normal abstract-ish photos of architectural models that he has made: this time he was using someone else's models. While this sounds insignificant, I like the idea that he's ventured into uncomfortable territory and is exploring the world from someone else's perspective.
MONDAY
While people complain that every year Christmas arrives earlier, I have no complaints that Frieze Week seems to be inked into the diary ever-further forward. The shift last year to VIP opening on Tuesday for both Frieze London and Frieze Masters upended the gravity of the week, causing high-profile events to rush towards the front. This year that has accelerated, with major openings – which the international UHNWs who flock to Frieze would attend – taking place last week.
There were three principal openings the week gone. Tate Britain celebrated its new Frank Auerbach show with a dinner in its Duveen galleries, a long table stretching their length; I can't wait to see the show as it's about time we had a coherent look at Auerbach's heavily-built-up-and-scraped-back canvases.
The second opening was that of Damien Hirst's Newport Street Gallery in godforsaken Lambeth, a public space paid for with Hirst's money and stocked with pictures from Hirst's collection (which reputedly numbers 3,000). The first show is of British abstract painter John Hoyland, whose career flourished in the Sixties and Seventies; he paints squares and rectangles on harshly-contrasting backgrounds, often discomfiting combinations of crimson and acid-green.
John Hoyland at Damien Hirst's Newport Street Gallery
He is quite different from American Abstract Expressionist painters, even if a bare description of his works sounds immediately like Rothko. He does not seem to be meditating quite so heavily on his mortality, or indeed the cruel impassivity of mankind so evident after the Second World War, but on issues more of social isolation and anomie.
Newport Street Gallery is remarkable for two reasons. First is that it is another example in London, following Frank Cohen's Dairy Art Centre, the David Roberts Art Foundation and a few others, of a new private museum. It seems that Hirst, who has become immensely wealthy (no-one can forget the £111 million Sotheby's sale the day Lehman Brothers went down), wants to give back; I expect that this genuine desire is somewhat also supported by a need to restore his reputation, which in both art-history and art-market terms has been on the slide of late. Hosting it in Lambeth as a step in the area's coming regeneration is a smart move.
The second wondrous aspect is the building. Originally two Victorian scenery-painting workshops – which explains their outstanding height – the gallery has taken in adjacent buildings and linked them all to create the whitest of white cubes, a museum with a beautiful, simple flow and skylights which give the galleries a glow.
The exterior of the Newport Street Gallery
The Newport Street Gallery was architected by Caruso St John, which explains why the oval Deco-esque staircases will look familiar if you know their renovation of Tate Britain. They are also behind the third important opening of last week: Gagosian Grosvenor Hill, just behind Berkeley Square.
Gagosian opened in London in the Nineties on Heddon Street in Mayfair, before moving out to their barn-like space on Britannia Street in Kings Cross. They kept a postage stamp on Davies Street, but the pressures of the art world – basically clients refusing to leave W1 – meant they had to return to Mayfair big-style, and they have: to the tune of 16,000 sq ft.
There are two principal galleries, both filled with an inaugural Cy Twombly show, one room of drawings from Rome in the Sixties, scribbled numbers and Venus-like clamshells crowding the buff paper, the other with large unseen paintings, some of Twombly's last. While the purple-flower canvases (inspired, apparently, by a visit to the Chelsea Flower Show) are sweet, they cannot match up to the dominance of the three-metre-high Bacchus paintings, looming with their loops and shrieks of red. Bacchus was a jihadist of a Greek god and the bloody fury of these paintings winds you.
Twombly's 'Bacchus'
Peter St John of Caruso St John was at Gagosian when I went, so I asked him about creating the interior of the gallery (they didn't do the outside). How hard is it to create a white cube which is different from all other white cubes? 'One is trying,' he said, 'to avoid the generic language of gallery spaces and make something that's distinctive and connected to the location the gallery is in and the building it's in.'
This means you concentrate on the details: 'An awful lot of effort has gone into the flooring and the lighting… We're making a space that becomes more obviously like a museum, more refined.' He describes most commercial galleries as 'abrupt', harsh white spaces looking out of big windows on to the street, not an integrated part of the landscape. He wants Gagosian to feel more like 'rooms that have a sense of the interior… that make that threshold between the street and the gallery a little more extended'.
Inside Gagosian Mayfair
They are certainly elegant spaces, though whether they and their multi-million-dollar canvases feel entirely connected to the street is debatable. Mind you, those streets are Mayfair, and it is now Frieze Week.
Read the other instalments of Josh's Frieze Week diary here