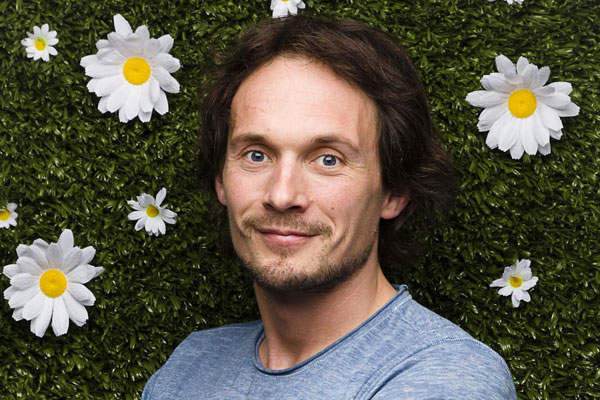 Waterloo Station is rarely a destination in its own right, but that's where we gathered this morning to watch Grayson Perry and Antony Gormley launch the second year of Art Everywhere, which sees works of art chosen by the British public pasted and projected onto billboards, hoardings and screens across the country.
This year the scheme, created by Innocent Drinks co-founder Richard Reed, has nearly doubled the number of sites it will occupy 21 July-31 August to 30,000. According to Reed, these sites have a value of £5-10 million and have all been donated by advertising giants Clear Channel, Exterion Media and JCDecaux. Core costs for the scheme are supported by the Art Fund.
The 25 pictures were voted for on Facebook from a list of 70 works in British public collections by British (or Britain-resident) artists and include Old Masters like Holbein's Lady with a Squirrel and a Starling, Modern work like Dora Carrington's Farm at Watendlath and Contemporary pieces like Marc Quinn's blood-head Self. Gormley has also created a new drawing for Art Everywhere (which anyone can download).
Richard Reed credits an anonymous act of artistic intervention with helping him come up with Art Everywhere: 'I used to walk down the Goldhawk Road every day to work and someone had put up a little bit of art on a public-facing wall. I used to stop for 30 seconds every day and look at it. It was a little moment of beauty and gave a lift on that walk into work.' He realised the ubiquity of billboards could be put to good use.
While Reed says both Innocent and Art Everywhere started with a simple idea (healthy drinks for people, art for everyone), the entrepreneur in him found Art Everywhere a different challenge: at Innocent, he was the boss – with Art Everywhere,'I had no jurisdiction! These people are there because they believe in the idea and they're there as volunteers.' But he says because everyone wanted the same thing, the process was 'joyous'.
One of Reed's grand ambitions for Art Everywhere has already been achieved: Art Everywhere US launches this year on 50,000 sites. But he wants more: 'My vision is every poster site in every country simultaneously: an art flash for one day or one week or one month – nothing but Art Everywhere.' Given that Reed co-founded a company which has served nearly two billion smoothies, juices et al, two hundred countries doesn't now seem so difficult.
Pictured top left: Hans Holbein the Younger, A Lady with a Squirrel and a Starling (Anne Lovell?), 1526-8 © The National Gallery, London
Pictured top right: Marc Quinn, Self, 2006, National Portrait Gallery © Marc Quinn
Pictured middle: Gilbert & George, Existers, 1984, Tate © Gilbert & George, courtesy White Cube