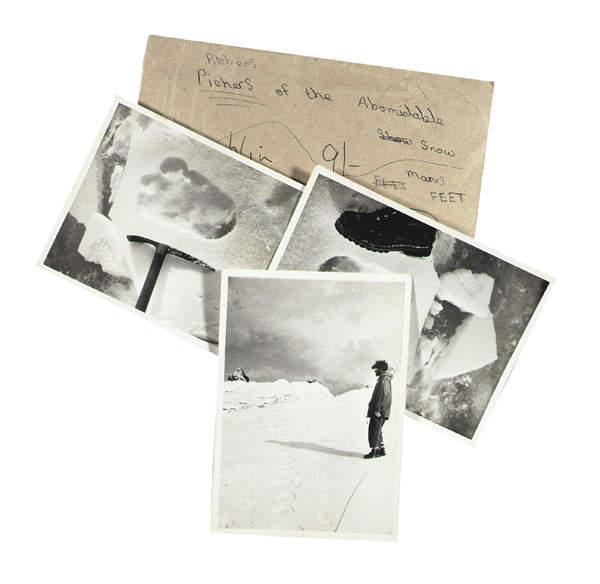 Author: Aoife Moriarty


Half man, half beast, the legend of the Yeti dates back to 1925, when Greek photographer N.A. Tombazi spotted a dark creature in the Eastern Himalayas, noticing prints that measured six to seven inches long on the climb down.
There was no 'photographic evidence' of the fabled creature until 1951, when British mountaineer Eric Shipton recorded images of large prints in the snow on an expedition to Everest.
Now, Shipton's legendary photographs are up for auction, along with a variety of oddities in Christie's Out of the Ordinary: The Online Edit. Other items to be found in the sale include a glass model of a jellyfish in a tube and an 'elephant bird' egg – with a starting price of £10,000.
The photographs up for auction depict the 12 to 13 inch footprints alongside human prints for scale, as well as compared to the size of an ice axe and booted foot.
On the back of one photo, fellow climber Tom Bourdillon writes of the footprints: "They seemed to have come over a secondary pass at about 19,500ft, down to 19,000ft where we first saw them, and then went on down the glacier.
"We followed them for the better part of a mile. What it is, I don't know, but I am quite clear that it is no animal known to live in the Himalaya, and that it is big."
The photographs have already received an initial bid of £3,000, with the online sale due to continue until September 10.