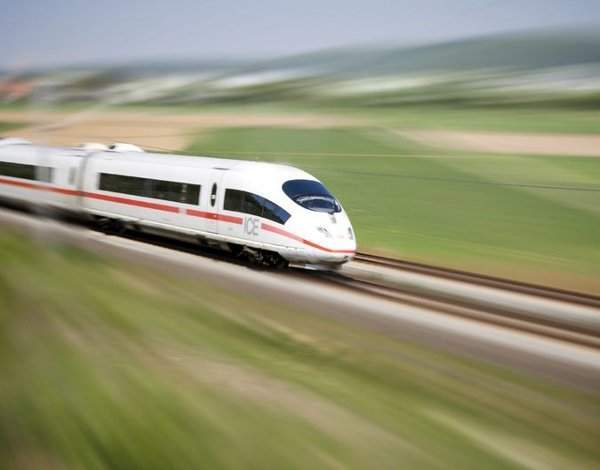 Anyone who has been fortunate enough to take the Eurostar will have felt no small wonder at the speed and grace with which the sleek train snakes under the Channel and into Paris. Plans for HS2, a second high-speed line, have stirred anew such excitement.
Compared to the reality so many of us experience daily of overcrowded and delayed carriages pulling in to dirty, decaying stations, the fast and futuristic HS2 seems a welcome departure. From the golden age of steam we can progress to the golden age of speed and ignore the intervening seventy years of stagnation. 
But this is currently romance: despite the clear demand for better infrastructure the sums don't seem to be add up. Cutting running times by 34 minutes to Birmingham will cost £21 billion, £618 million a minute, and the calculation of economic benefits to business is skewed too: it doesn't account for the advent of the plug socket and WiFi – ie people working on the trains. Arguably nor will it bring more business to the regions from London, but likely the other way around.
There will be disruption to thousands living in the country, whose houses will be demolished entirely or undermined by constructions works or new noise, and the taxpayer will have to compensate them. Add to this the difficulties faced by farmers who will see their farms severed by the project. And urbanites must suffer too, with potentially 40 per cent of Euston services being cancelled until 2026.
The planners have not even engaged in joined-up thinking: HS2 will not connect at St Pancras, for a swift onward journey to the Continent, but at Euston, a brisk walk or Tube journey away.
These frustrations are many and have seen the government change tack in arguing HS2's ability to mitigate overcrowding by running fourteen services an hour. Critics have responded by saying most people commute from surrounding suburbs rather than intercity across hundreds of miles. A straw man but a valid point on infrastructure expenditure.
The sorest point is the cost. Is it really cheaper to buy a new network than upgrade what exists? Will the economic benefits materialise? And who believes an HS2 train ticket will be affordable?
The bigger picture
But these challenges show the scale of planning: these are unwanted but accounted-for problems. Ultimately no-one wants to keep the current antiquated rail network, with rail passenger numbers rising, and the employment in its construction is welcome. If we are going to spend big we should at least guarantee we will have the best transport system, future proofed and fast.
As oil prices rise and emission quotas bite, high speed rail is a superb option, not least as we internationalise and need to connect our expanding airports. There is a much bigger, longer-term picture here that shows the real cost will be in waiting.
Transport Secretary Patrick McLoughlin has highlighted the fact that Britain should have the best possible infrastructure and said on the Today programme this morning that HS2 was 'essential' to Britain. He is right.
No great thing is ever easy; it is my sincerest hope that such an ambitious project can overcome these challenges. Bold policies can transcend politics and what better way to spark economic growth than through comprehensive and innovative infrastructure. 
Read more on HS2 from Spear's