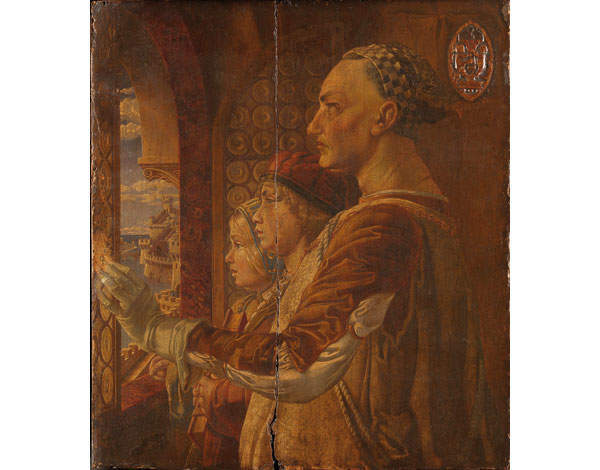 Michelangelo was twenty when he sculpted his sleeping Cupid. Freshly dug antiquities had fuelled the Renaissance, so the young-man-on-the-make 'antiqued' his piece with acidic earth and sold it to Baldassare del Milanese, a dealer, who sold it on to Cardinal Riario, an avid collctor.
News of the scam leaked and Riario demanded his money back. Just like now, right? Wrong. The cardinal was so impressed by Cupid that he invited Michelangelo to Rome. He spent his life there.
Art has been faked since it came off the cave wall and became treasure, and now that it's a multi-billion-dollar industry that side of the business has swollen too.
After the arrest of Glafira Rosales, a Long Island dealer, last summer, it emerged that over fifteen years she had supplied Knoedler, the now defunct Manhattan gallery, and a private dealer with 63 canvases believably by de Kooning, Pollock, Motherwell, Kline, Newman, Still, Rothko and others from blue-chip heaven.
She had no documentation — just verbal embroidery about a secretive collector in Zurich and a heavy hitter in Spain — but neither this pattern of gaping holes nor the thumbs down of some experts deterred the dealers. As tabloid editors say about juicy stories, the stuff was just too good to check. Knoedler had paid Rosales $950,000 for one canvas and sold it on for $15 million.
And the artist? Pei-Shen Qian had emigrated from China in 1981 but not found success. Rosales's boyfriend had spotted him painting on a Lower Manhattan street. They paid him a few thousand dollars for each counterfeit. He was not charged and has returned to China.
Pictured above: Van Meegeren's fake Vermeer
The assumption is that the motivations are pure greed, but not even greed is necessarily that pure and when it's an artist who does the faking, giving the establishment the finger often plays a role, too. Han van Meegeren, a Dutch artist derided by critics as a pasticheur, turned to fakery in part through wounded pride.
He convinced a Vermeer scholar in 1937 that his Supper at Emmaus was the real deal and over the war years sold $30 million-worth (today's valuation) of Dutch masters.
When he was arrested after the war as a Nazi collaborator, part of his defence was that the 'Vermeer' he had sold Hermann Göring was actually a van Meegeren, so he wasn't a traitor but a national hero. He got off with a year but died before he saw the inside of a cell.
Roman remainders
In the early 1960s I visited the Roman studio of Giorgio de Chirico, whose 'Metaphysical' cityscapes had been applauded by Picasso and the Surrealists. His studio was now hung with the self-portraits wearing period costumery he was making, which were dismissed by the avant-garde.
His response had been to denounce examples of his earlier work that bobbed up in the marketplace as fakes.
We walked around as the maestro, a sawn-off de Gaulle, priced the canvases — unprompted? I don't recall — when I spotted a small Metaphysical canvas, hung high.
How much is that, I asked? Oh so casually, I mean: an abandoned style! A few thousand lire. Right?
'Billions of lire,' de Chirico said sonorously.
We now know that many of those 'Metaphysical' paintings bobbing up on the market had indeed been kind of fakes — but painted by de Chirico himself and predated.
Pictured above: Tom Keating's Cezanne
Salvador Dalí corrupted his own market, too, not as a faker himself but as an enabler of fakers. In the mid-Seventies he discovered that dealers would pay him just to sign blank sheets of paper. According to Captain Moore, his former personal secretary, he signed 350,000 sheets. Dalí disputed the precise figure but there was a storm.
Jean-Paul Delcourt, an art publisher, has described taking suspect pieces to the artist and his wife in a Paris hotel. Dalí whispered in Gala's ear. She told Delcourt: 'Dalí says the signatures are good but the work is fake.'
'Why is the work fake?' he asked.
'Because Dalí has not been paid,' she said.
Most great forgers, though, have been failed artists. Tom Keating, a Londoner whose father was a house-painter, went to Goldsmith's College, now better known as the Petri dish where the YBAs fermented, and became an occasional housepainter himself, a restorer and unsuccessful artist before turning to forgery. He claimed it was to protest against the hard lives of artists.
'It seemed disgraceful to me how many of them had died in poverty,' he said. 'All their lives they had been exploited by unscrupulous dealers and then, as if to dishonour their memory, these same dealers continued to exploit them in death… I was determined to do what I could to avenge my brothers and it was to this end that I decided to turn my hand to Sexton Blaking.' (Cockney rhyming slang for faking.)
Keating described being possessed by Degas. And Goya. 'The old boy was standing there right next to me and he was guiding my hand so firmly that I felt I had no control over what was taking shape on the canvas,' he observed. He faked 2,000 paintings and was convicted but saw no prison time, which you could ascribe to either the soft hearts of law enforcement or their disinclination to take art crime seriously. Your choice!
Keating went on to host a popular TV show. His signed paintings have sold for five figures. This isn't just celebrity ditziness. In the mid-19th century Billy Smith and Charley Eaton, two illiterates who lived by dredging relics from the Thames mud, forged medieval lead medallions.
Way before the rise of the celebrity art culture in its current form, 'Billys and Charleys' were fetching good dough. Collectors like to collect. And these pieces are resonant of their time and place.
Light sources
One thing that unites many of the great fakers in the postwar art world has been their vanity. Keating would leave taunting messages in white lead as underpainting, knowing that they could be picked up by x-rays. Eric Hebborn, another Cockney and also a disappointed artist, whose targets of fabrication included Mantegna, Piranesi and Corot, published a biography, Drawn to Trouble:Confession of a Master Forger.
His obit in the New York Times was headlined 'Eric Hebborn, Boastful Art Forger, Is Dead at 61'. The obit noted that Hebborn's lover, Graham Smith, had correctly pointed out that Hebborn had not, as he had claimed, forged a Brueghel etching in the New York Met.
Another prolific faker, Elmyr de Hory, was the subject of a book by Clifford Irving and F Is for Fake, a documentary by Orson Welles. (It may be catching: Irving went on to forge the diaries of Howard Hughes.)
Fakers were soon faking Elmyr de Horys. Alfredo Martinez, himself an excellent artist, faked some Basquiat drawings and served three years in the Brooklyn pen. Then one of his 'Basquiats' was hung as a Martinez in the art space White Box. It now hangs in a collection.
You'd think the new tech and ready access to info would make the faker's work harder. Van Meegeren's clunky Vermeers, for instance, couldn't fool a modern eye. Indeed, James Martin of Orion Analytical, who subjected the pigments used in the Glafira Rosales trove to tests, tore the dating of the works apart. But Rosales's lawyer fulminated: 'Orion's expert reports are not worth the paper they are written on.'
Ah, yes! The lawyers. Experts now run scared of giving negative opinions on an artwork, the temptations of the modest per diem not being worth the increasing prospect of a hefty lawsuit. The Warhol Committee was sued after it refused to authenticate a Warhol owned by collector Joe Simon. Simon dropped the case after it had cost him $8 million, but the committee shut up shop in 2011. The Basquiat Committee followed suit in September 2012.
It's a further horror when an artist's estate is clouded. Modigliani died young but was soon posthumously famous. Modiglianis were being faked right away, some with the supposed connivance of his dealer (as I wrote in issue 35). The entire Russian avant-garde was swallowed up by Stalinist darkness, and that market has thickened with forgeries ever since.
César Baldaccini, the Parisian artist, is best known for his Compressions, sculptures made by cubing a car or whatever into an industrial crusher (he also made the César, the French equivalent of the Oscar). He died in 1998, and during the years his estate was being fought over by his wife Rosina and his mistress Stephanie, the market was awash with hundreds of fake Césars.
Chinese whispers
And the artists? It's no accident that Pei-Shen Qian is from China, where forgery enters every field. Quantities of 'beef' were recently seized in China; it was doctored pork. An animal cage labelled 'African lion' in a Henan province zoo was heard to bark. It was a Tibetan mastiff. Foxes have been turned into simulated leopards, dogs dyed as pandas.
China is the last country in the world where young artists go through rigorously academic Beaux Arts training, copying being very much included. In the early 1990s, a Chinese businessman set up a centre where artists would paint replicas of, for instance, Rembrandt, Van Gogh, Dalí and Warhol in Dafen, a village in Guangdong province, not far from Beijing.
It is not unusual for such an artist to turn out several a day, and they often work on commission. There are now said to be 3,000 such replicators in Dafen. Better check out that piece you've got your eye on one more time.
Read more on art and collecting from Spear's
GROUP ANALYSIS
By Josh Spero
Detecting forged paintings has traditionally been both an art and a science: you would test some physical properties, such as the kind of paint used, but you would involve connoisseurship too, also known as educated guesswork.
The painting above, Portrait Group, supposedly by a late-15th-century Italian artist, was acquired by the National Gallery
in 1923, and a restorer soon tested his belief in the painting's authenticity by subjecting it to heat and solvents; the results confirmed his opinion.
But by 1951, a curator had decided it was a modern picture, in part because of the strange quality of the paint. In 1960, a costume historian showed that the figures' clothes were 'both anachronistic and structurally impossible'. The man's cap was based on a 1913 trend.
It wasn't until 1996, when scientific analysis had sufficiently advanced, that 'the painting's curious technical aspects' could be uncovered. To start with, the painting's wood panel had been artificially cracked to make it look older. Then there was examination of the paints.
While the medium — gesso ground and egg tempera — was to be expected, there were too many pigments which did not appear until the 19th century for it to be authentic: cobalt blue, cadmium yellow and chrome yellow.
Finally, the varnish had been aged to create the 'craquelure' (cracked effect) so familiar in old pictures.
A central mystery still remains, however: who painted, in the words of the National Gallery, 'such a complex and sophisticated forgery'? Some have said it was the Italian restorer and master forger Icilio Federico Joni (1866-1946), others Umberto Giunti (1886-1970). Whoever did it, he fooled the National Gallery for a while at least. The painting remains in its collection.