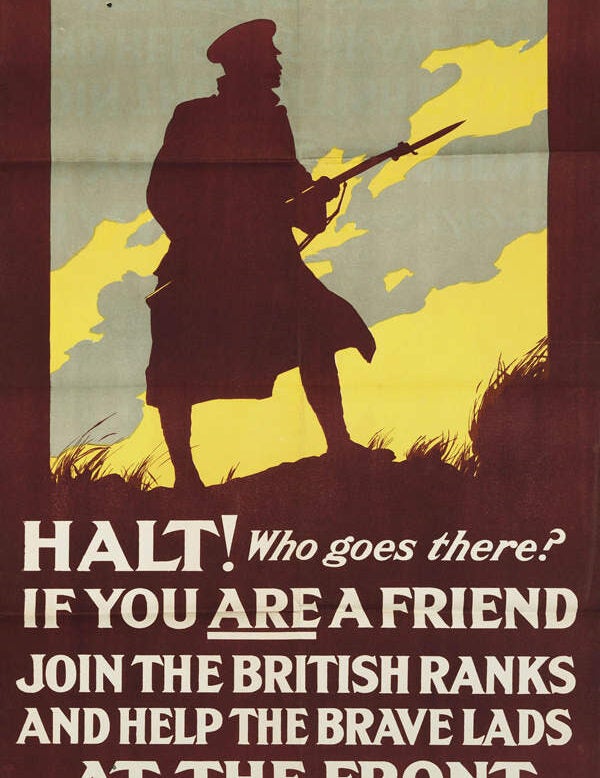 Taking place at its Knightsbridge headquarters, Bonhams' centenary auction is set to showcase an array of wartime ephemera – from medals to soldier's letters to photographs taken by Edward, Prince of Wales on a visit to the Western Front in France.
Included in the sale will be an unusual set of WW1 recruitment posters, expected to fetch between £5,000 and £7,000.
The posters were sent by the Parliamentary Recruiting Committee to High Court Judge Sir Frank Mellor to help him organise a Kensington recruitment drive. For reasons unknown, they were never used and remain in near perfect condition within their original envelopes.
The 'mint condition' posters date from 1915, before conscription was introduced the following year by the Military Service Act 1916.
Bonhams Head of Books Matthew Haley said: 'Most people are familiar with the famous Lord Kitchener recruitment poster 'Your Country Needs You' but, as this selection of material demonstrates, the government and army exerted all kinds of moral pressures to encourage men to volunteer.
'They are also worth considering as pieces of graphic design in their own right and how – as often happens in war time – necessity stimulated invention.'
Recruitment posters during this period played on concepts such as patriotism, shame and a 'fear of invasion'. They also targeted a female audience to encourage their husbands and sons to sign up to the military forces.
Take a look at some of the posters up for auction in the gallery below: