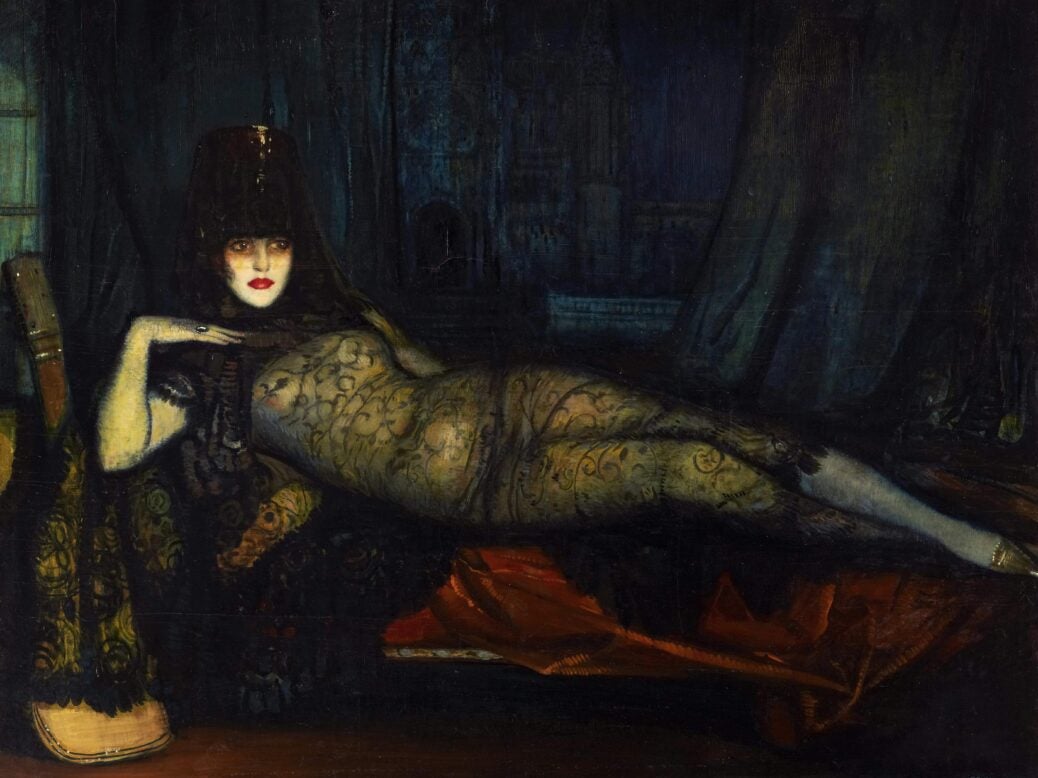 Guy Stair Sainty, proprietor of the Stair Sainty Gallery in Mayfair, on the overdue revival of a celebrity artist.
The celebrity artist is not a new phenomenon – from the Italian renaissance onwards artists have been feted by kings and popes, princes and plutocrats. Some artists' fame has never faded – Leonardo and Michelangelo, Titian and Rubens, Velazquez and Goya were always admired and sought after.
Federico Beltran Masses rose to fame at a time when Spanish artists were in the vanguard of the 20th-century artistic revolution. He initially found fame in 1915 when his painting of the lesbian Countess of Requena – seated between two clothed ladies and naked but for a mantilla – was rejected by the jury of the national exhibition of fine arts in Madrid.
The painting was then exhibited on its own with some 6,000 postcard reproductions sold to visitors. The following year he organised his own show, at Madrid's Palace Hotel, and the attendance of King Alfonso XIII, who purchased a painting, brought him considerable publicity.
In 1916, at the height of the First World War, Beltran moved to Paris, and his dream like fantasies provided an escape from the daily horrors of the war to a world of the night, mystery and sexual allure. Although Beltran himself presented a rather conservative appearance, he openly portrayed female same sex unions with no attempt at conforming to the conventional paintings of the female nude.
In his first years in Paris Beltran produced three of his most challenging works – Salomé, inspired by Oscar Wilde's play and Franz von Stuck's treatment of the same subject, shows the naked Jewish princess exulting in an orgasmic frenzy as she is presented with the Baptist's head; Las Damas del Mar (in a Barcelona private collection) shows two women, one nude the other in a transparent dress recumbent in a boat accompanied by a gypsy guitarist; and Maja Maldita, portraying the renowned dancer, Carmen Tortola Valencia, also a known lesbian, lying on a red draped canapé wearing a see-through lace body stocking, striking mantilla and dramatic eye make-up and lipstick.
Both Salomé and the Maja Maldita are included in the Stair Sainty exhibition along with Hermanas de Venecia, a smaller tribute to his Damas del Mar – the Hermanas is one of the very first works set in an imaginary Venice where, at the 1920 Biennale, Beltran represented Spain in a gallery dedicated entirely to his art. Such was his success there that the Italian government acquired his self-portrait to hang in the Vasari corridor of the Uffizi – a setting that included portraits of many of the most renowned artists in history.
Venice continued to dominate his imagination and became the frequent settings of both subject paintings and portraits. In the last work in the Stair Sainty exhibition, Rudolf Valentino, the archetypal Latin lover, stands before the Venetian lagoon along with three sultry seductresses in a painting done some eight years after the actor's death. Portraits of both Douglas Fairbanks junior and his first wife, Joan Crawford, are set in Venice and, in Passion, this glamorous couple are shown embracing in a gondola.
After a succession of much-praised exhibitions, Beltran was exhibited by the Wildenstein gallery in New York – the paintings there were priced from $800 to $25,000 with half the paintings in the show at $3000-5000 (in income status terms $5000 is today $355,000 and in economic power value, $990,000). This exhibition was followed by another in Palm Beach and Miami and Los Angeles. Some 54 works exhibited at the latter and the cream of Hollywood society were present at the gala opening. This show brought him the patronage of William Randolph Hearst and, thanks to his close friendship with Rudolf Valentino (with whom he stayed during his time in the city), sales to Charlie Chaplin among other well-known personalities.
In June 1929 Beltran presented his first London exhibition, at the Burlington Galleries but his decision to exhibit both Salomé and La Noche de Eve (now in a private collection in Barcelona) proved to be unexpectedly controversial with calls for both to be removed. The public support of the Spanish Ambassador and the attendance of King Alfonso XIII was sufficient to dampen objections and more than seventeen thousand paying visitors attended this show, twelve thousand catalogues were sold and the painter received a number of important portrait commissions (Sir Evelyn de Rothschild's mother was painted as an Egyptian princess).
Two more shows in London followed in 1934 and 1938; his last British exhibition before Stair Sainty's 2012 show took place in Glasgow's People's Palace in 1940. With Paris under German occupation Beltran was isolated from the world art market and was now without a solid dealer relationship. He was reduced to giving drawing and painting lessons and, as ill-health and failing eye sight made working difficult, he returned to Barcelona, dying there in 1949 at the age of sixty-four.
With Spain isolated politically and culturally during the Franco era, Beltran was forgotten, many of his major works remaining with his heirs until three Spanish museum exhibitions in 2007 (Museo Casa Lys, Salamanca), in 2010 in Barcelona (at the Museu Diocesa) and at the Royal Academy of San Fernando in Madrid in 2012 brought him to the attention of a new audience.
Beltran remained a figurative artist but was preoccupied by the relationship of shapes and colours, albeit in a figurative context, – one of his most brilliant paintings, Las Ibericas (in the Stair Sainty exhibition) was first titled Mosaic. In 2013-2014 the Centre Pompidou included Beltran's, Pierrot Malade, in their comprehensive survey of art of the twentieth century, a further indicator of the positive reappraisal of Beltran's reputation. The Stair Sainty Gallery exhibition is intended to broaden interest in the artist and bring him to the attention of collectors who have not had access to major works by this most interesting and unusual painter.
Stair Sainty Gallery, 38 Dover Street, London W1S 4NL until 24 March.