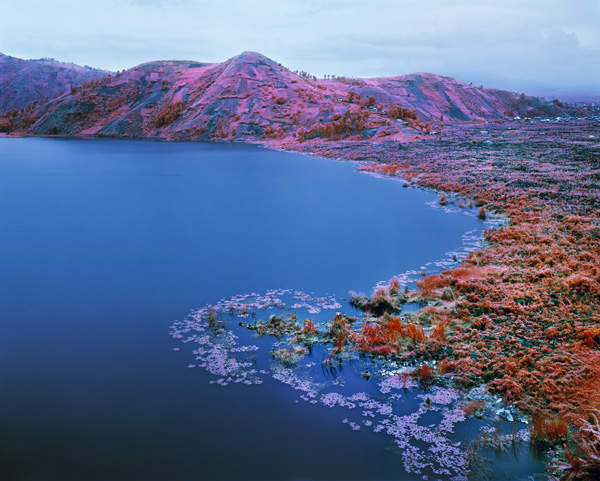 Irish photographer Mosse and his team spent three years in the Democratic Republic of Congo, shooting on infrared film – used to detect camouflaged targets. The result was a multimedia exhibition at last year's Venice Biennale, entitled The Enclave, last week crowned the winner of the Deutsche Börse Photography Prize 2014.
The discontinued 16mm surveillance film lends Mosse's visuals a surreal psychedelic beauty, in contrast to the coarse subject matter: a region where 5.4 million people have died of war related causes since 1998. Femininity meets extreme masculinity and paradise is intertwined with hell in a series of images which have been both praised and criticised for their distinctive interpretation of the country's ongoing civil unrest.
Brett Rogers, Director of The Photographers' Gallery, which organises the annual prize, said of the winning exhibition: "The jury awarded Richard Mosse the Deutsche Börse Photography Prize 2014 for his extraordinarily immersive film and photo installation The Enclave, which innovatively addresses the representation of war.
"They praised the manner in which Mosse combined form and content to draw attention to a conflict, which despite costing the lives of millions of people has largely gone unnoticed by the West.
"While building upon traditional forms of documentary, the resulting hyperreal images and multichannel films open up new possibilities for story-telling and engagement with the subject of contemporary conflict."
Mosse won the prize over three other shortlisted photographers: Alberto García-Alix from Spain, for his book Autorretrato/Selfportrait, German photographer Jochen Lempert for his self-titled exhibition at Hamburger Kunsthalle and American Lorna Simpson, for her self-titled retrospective at Jeu de Paume, Paris.
The Deutsche Börse Prize runs until 22 June at the Photographers' Gallery, 16 – 18 Ramillies St, London W1.
Poison Glen, South Kivu, eastern Congo, 2012, © Richard Mosse
Courtesy of the artist and Jack Shainman Gallery
Man-Size, North Kivu, eastern Congo, 2011, © Richard Mosse
Courtesy of the artist and Jack Shainman Gallery
Madonna and Child, North Kivu, Eastern Congo, 2012, © Richard Mosse
Courtesy of the artist and Jack Shainman Gallery
Of Lilies and Remains, Eastern Congo, 2012, © Richard Mosse
Courtesy of the artist and Jack Shainman Gallery
General Fevrier, Eastern Congo, 2010, © Richard Mosse
Courtesy of the artist and Jack Shainman Gallery
Beaucoups of Blues, Eastern Congo, 2012, © Richard Mosse
Courtesy of the artist and Jack Shainman Gallery