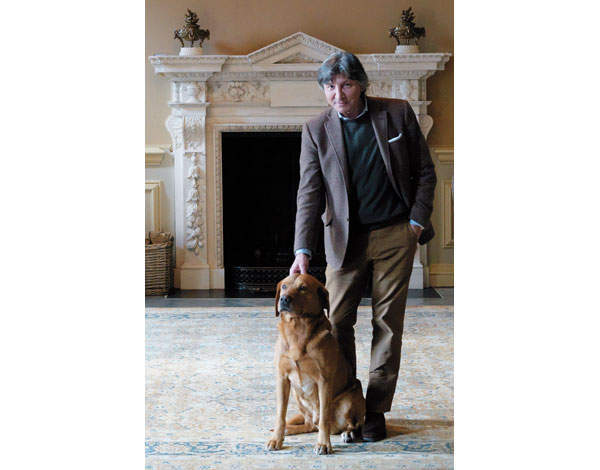 STITCH UP
Everything in China keeps getting bigger. Shanghai is an amazing metropolis that has mushroomed in the last decade and now has everything the civilised traveller might need.
Alas, I was there on business covering the twice-annual textile fair, which has grown to be truly enormous and now covers an area of sixteen football fields. No one can tell me that I don't do my research!
A side trip to Chengdu to meet with my licensee to review potential store sites revealed more explosive growth in the capital of Sichuan province as well. What is billed as the largest shopping mall in the world has been constructed there replete with enough marble to rebuild the Taj Mahal twice over. Perhaps the shopping mall developers are getting a bit ahead of themselves?
While every luxury brand is now amply represented in China, there seem to be very few shoppers. I'm told, however, that a single customer is perfectly capable of spending $20,000 during a visit.
Rocky landing
After China I spent a week in Vietnam at Aman's newest resort, which is set on spectacularly rocky landscape with a beautiful view on to a fishing village. The food, service and accommodation all were as one would expect, however getting there is a bit of a chore.
One cannot fly private for the lack of a nearby landing strip, so it's a commercial slog to Ho Chi Minh City and then a local flight to an airport close to the resort. While the resort is completed and functions remarkably well for something that's only been open a month, the road to it is still under construction, which makes for a tedious and bumpy ride.
Ring thing
I made a quick detour to Geneva for my friend David Wertheimer's 27th birthday party and had a very interesting discussion over dinner with Sheikh Mohammed El Khereiji about women drivers in Saudi Arabia — but I was somewhat distracted by the size of the diamonds on his wife's hands. Everyone at the table agreed that the best thing about Geneva is that the airport is only fifteen minutes away.
Over and under
My first shoot of the season was with Richard Caring at The Lakes in Somerset.
Unsurprisingly for the man who owns some of London's smartest restaurants, it must be one of the best organised shoots in England (or certainly the best I've ever been to). After massive clouds of high pheasants shot double-gun while rock 'n' roll was blasted from hidden speakers in the background, lunch was served in what looked like a Japanese teahouse. I hope I am invited back soon.
After a few days at home at Easton Neston for more shooting (sadly our birds don't fly as high, but the food and wine are always good), it was off to Powderham Castle in Devon, where William Dartmouth had invited me to shoot.
I don't know if it was the Gulfstream or just a beautiful day, but it was warm and the birds flew high. I'm looking forward to my last shoot of the season, which is going to be at Althorp with my neighbour Charles Spencer before I return home to winter in California.
Blow back
Back in London I went to the opening of the Isabella Blow exhibition at Somerset House, followed by the dinner Daphne Guinness hosted at Claridge's. Between Isabella, Alexander McQueen, Philip Treacy and Nick Knight, British fashion was given a remarkable creative jolt. It's so sad that two of these people are no longer with us.
Meanwhile, Christie's and Sotheby's had record-breaking sales of Contemporary art. It seems there is no ceiling to the prices. I went to Sotheby's Ralph Lauren dinner and preview of the Russian sale.
There are a few very good pictures by Aivazovsky, one of the highest-regarded Russian painters of seascapes. One can buy the lot for one twentieth of a mid-range Basquiat. Is something wrong with this picture?
PS: My girlfriend Yana has been wearing Leon Max and Max Studio clothes throughout all this. And she looked amazing.
>