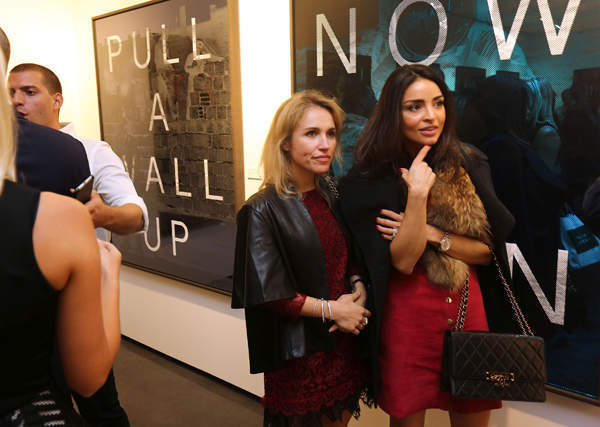 The show, which opened on 15th May, presents a selection of twelve works from Agostinelli's Palindromes series (2014), a sequence of coloured mirrored 'canvas' sheets imprinted in relief with iconic artistic and historical imagery. Dotted around the gallery, Agostinelli has assembled some of the most iconic images from across art history and popular culture to create a group of works that display a tongue-in-cheek wit and humour.
Appropriating stock images from Botticelli's The Birth of Venus to Peter Paul Rubens' Adam and Eve, each cultural snapshot is cropped, coloured and overlaid with a unique palindromic phrase that plays upon its individual subject. The whole becomes a game of unstable relationships: between image and text, layers of physical material (acrylic and mirror), and the slippery meaning of each text itself.
Speaking about Palindromes, Agostinelli said, 'I think about my art every second of the day, which I suppose is pretty standard if you're in love with something. This particular body of work has allowed me to develop the art into something truly different and unique. When you first encounter the work, you quickly realize that there's nothing more honest than a mirrored reflection of yourself.
Although there are elements of humour and deep-rooted wit to the works, it isn't immediately evident. The images that I work with are not simply well known, they're revered and epic icons, which, when coupled with the text, unlock a layer of latent meaning for each subject.'
He went on to say, 'Palindromes is about connections, both historic and timeless, giving us a sense of continuity and progression. In order to find the right balance, the viewer has to move in front of the mirrored reflection to learn and understand its multifaceted nature.
True art is found within a reflection of oneself, and what people see is a very personal quest evoking their imagination.'
The show sold out on the opening night and a somewhat jovial yet heated bidding war ensued between two buyers, a member of the Reuben family and one of the Barclay heirs over edition one of eight (1/8) for, NOW I WON, a 1969 depiction of the first astronaut on the moon.
The exclusive private view party was attended by a close circle of family and friends, the guest list included Princess Beatrice, model Alice Dellal, Made in Chelsea's Victoria Baker-Harber, fashion designer Ozwald Boateng, Hanneli Rupert, Alexander Soros and Joseph Nahmad, among others.
Palindromes continues at Hus Gallery until 31st May.
All photos by Getty Images, photographer Tim P Whitby