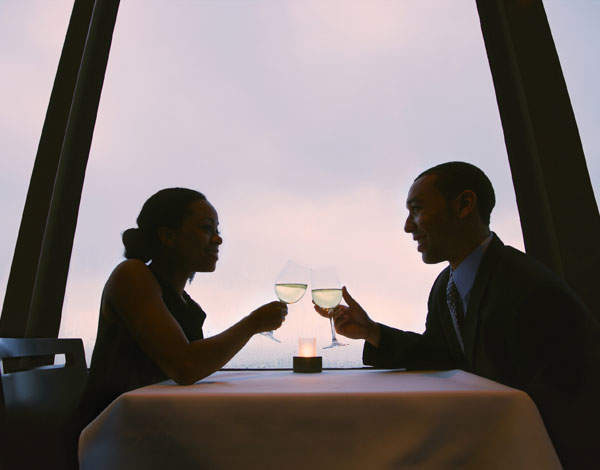 Despite opening a great many doors, the privilege of wealth rarely bestows one with the keys to the heart. Risk of exploitation, hectic lifestyles, squeezed social lives and fear of failure from those so successful in other walks can all affect the fortunes of HNWs looking for love. But it needn't be so: a number of bespoke 'introductions services' now specialise in finding the other half for those happy to put a price on (the path, at least, to) love.
And, the corollary to that, they help when love ends. As Jo Twyford, membership director at the Picnic Project says, 'We have had to break up with people on behalf our members. Most of our members are grown ups and are comfortable having those "relationship type" chats, however occasionally there is someone who is scared to pick up the phone and we don't mind at all stepping in and doing some damage limitation.'
This business is nothing new. 'Introduction agencies have been around for a long time, in some cultures thousands of years,' says Tina Bradley of Elan London Introductions. 'Internet dating could have decimated the industry but what's happened is people have found it more acceptable to go outside how they might have traditionally met a partner. Professionals and HNWs are very very busy, they just don't have time to trawl through internet profiles and many are high profile themselves and can't put their details out for public consumption, so many people see it as an intelligent way to find a partner.'
As a result a number of boutique introduction agencies have sprung up around London; Ziv Sigoura founded Central Quest after working for an agency in Chicago. 'It's my own life experience that got me to this role, I used to be a very shy person until my mid twenties, gradually I matured into the vividly social person that I am today. I realised a lot of people face various challenges in the field of romance, be it a demanding career, family pressure or simply bad experiences that lead to extra cautiousness.' Central Quest offer a complete service, charging an annual membership 'in the high thousands' and providing matchmaking as well as date coaching to clients ranging from their early 30s to their mid 60s and typically based in west central London.
Central Quest pride themselves on future proofing relationships: 'Many variables come into play later down the road that aren't necessarily visible to people at the beginning, which leads to them breaking- up. We try to ensure that such variables are identified before arranging an introduction for our clients.'
Another strategy he employs as part of the matchmaking is neuroscience: 'There are four prenatal hormonal personality types [director, negotiator, explorer, builder]. We identify which hormonal personality type each client falls under and match them up with a partner that best matches their personality type.' Sigoura claims a 65-70 percent success rate and, despite only running for twelve months, has already clocked three weddings in the last year.
Someone else looking to make a difference for lonely hearts is Suze Cook. A former head of online marketing at Microsoft, Cook found out firsthand how difficult it was for professionals and HNW singles to meet partners. Seeing a niche, she set up the Picnic Project three years ago to help busy singles looking for someone to share their life with.
'All our Picnic team members are former City professionals and understand the challenges of being single, busy and dating in London,' explains Jo Twyford of the Picnic Project. 'We are also unique in the fact that our members start from a much younger demographic than most other agencies. Our youngest member is 28.'
Like Central Quest, The Picnic Project spends a great deal of time in getting to know its members and drawing up potential matches. With such a jet-set client base it's not a surprise they've gone to extraordinary lengths to find Mr or Mrs Right: she cites flying to Ibiza just to meet a potential match while they were competing in mountain biking tournament.
The Picnic Project offers annual membership from £3,600 and a more relaxed match membership for £600. However they're happy to tailor to the demands of clients and the prices and service adjusts accordingly:
If you're a well known business tycoon or celebrity you might want to opt for a maximum discretion service such as Elan London's 'Privé' service. As expected they offer consultations and do their research and then 'if we can, we extend an invitation to become clients. We extend that membership to about 30 per cent,' explains founder and CEO Tina Bradley.
She's been in the business 25 years and has fine-tuned her service to a form of 'headhunting' via six degrees of separation. The Elan London service boasts a 75 per cent success rate at £3,500 for six months while the more exclusive Privé service claims 85 per cent success, but it plucks the purse strings as well as the heart strings, starting at £15,000 per annum.
'We do match within membership of course but, especially with Privé clients, we become their agents as such – we look globally and nationally for exactly the person they're looking for. We believe that perfect person is only ever six degrees away and we cut through those six to get to that person.'
The client remains at the heart of the matter and the specific 'client blueprint' can be as detailed as ensuring the introduced party went to a specific university. It's easy to see why the recruitment model is apt: 'We're basically headhunting for this person's soulmate; for us to introduce one person we may have interviewed twenty. We vet everyone and we do background checks. One thing we don't do is wealthy guys and cute girls. We don't do gold-diggers.'
And when it pays off, and the wedding bells ring, it's a win-win situation as the fixers invariably receive an invite. Bradley admits: 'I've got lots of hats.'