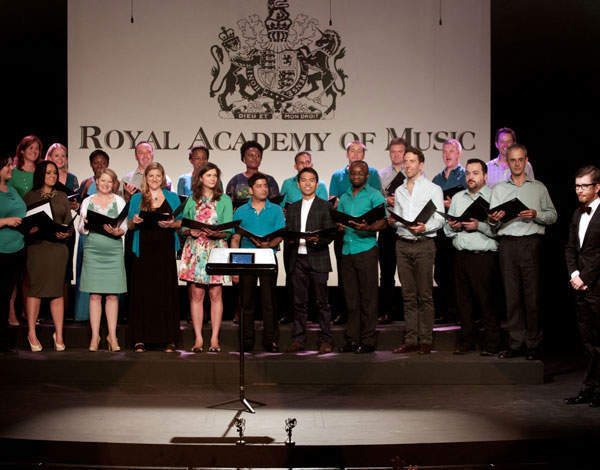 You can imagine my surprise when I turned on BBC2 the other night to watch The Choir: Sing While You Work, (X Factor meets Songs of Praise) only to see my friend Westminster educated David Poole, head of Citi Private Bank (and previous winner of a Spear's private bank of the year award), auditioning for a place in the financial behemoth's BBC competition choir, alongside cleaners, traders, receptionists and various Citi banking all sorts based at their Canary Wharf glass tower.
David didn't, alas, win the choir's solo part – which went to an American trader – but Citi's brave decision to submit a team of bankers (alongside such competition as the Cheshire Fire Service and P&O Ferries) was an interesting exercise in how even a much vilified industry (Citi received a bailout of $49 billion from the US Government in 2009) can succeed in shedding their stereotypical image as ruthless, selfish Gordon Gekko-esque society villains when they show their human side as a team. Having known David since we were at school together – with Nick Clegg – I know he is as far removed from any sort of Gekko banker as it is possible to imagine. He read English and Theology at university, enjoys his cricket at Lords, and is even a trustee of the National Foundation for Youth Music. Music – more so than painting, architecture or literature – is the most redemptive and emotional of the arts.
I thought it was clever of the bank and the choirmaster Gareth Malone to chose U2's 'One' as Citi's choir song, along with the line 'Will it make it easier on you now, you got someone to blame?'. Whoever said bankers don't have a sense of humour?  I also liked that David Poole (who was trained at Lazard) managed to somehow, in addition to not looking an idiot while singing a nursery rhyme, get away with casually slipping into the conversation on camera that Citi Private Bank looks after the financial affairs of more billionaires than any other bank in the world. How Poole managed to get that corporate plug past the the BBC high command says much for his
charm.
If Citi wins the corporate choir of the year award, just imagine the potential for other sectors of the financial industry whose corporate leaders and entrepreneurial stars can suddenly turn back the years to enter a reality talent show and lead corporate teams that can do wonders for their image and PR.
You could have the Spear's double winner Daniel Pinto, head of Stanhope Capital, or Jonathan Ruffer of Ruffer, both avid art collectors, entering for SKY artist of the year talent show. Or David Yarrow (pictured above), the veteran hedgie turned star wildlife photographer (whom I will be profiling in the next issue of Spear's) winning a Jerwood Prize for his brilliant and much acclaimed – not to mention brave, dangerous and royal approved  – photography. 
Pictured above: David Poole at Spear's Wealth Management Awards
You could have Anna Coutts Donald (former British eventing team, ex-KPMG and now the highly regarded UK head of top off-shore tax advisory firm Alter Domus) entering  for an equestrian reality talent team show-jumping programme, or even entering for next week's International Horse Show at Olympia. As the crowd erupts when she clears the final round in front of a national TV audience, just think what wonders that that would do for the image of accountants and off-shore tax advisors. 
When you consider the millions that banks and financial firms spend each year on PR – with £25-50K monthly retainers being the norm for such well connected firms as RLM Finsbury, Freud or Bell Pottinger – it's refreshing to see how spending nothing but rather singing alongside the office cleaner and security staff – in front of a national TV audience – can prove hugely more effective than any amount of over-priced Svengali PR advice.