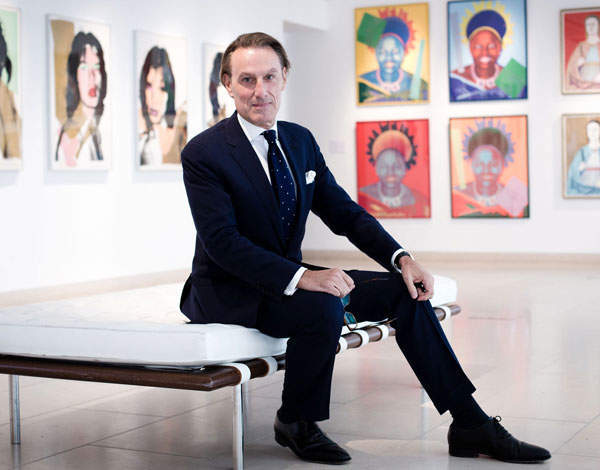 If you had any generous thought that rancour between Christie's and Sotheby's was over, you would have been contradicted yesterday when I put what one had said about the other to the other and got a not-overjoyed response.
At a Christie's press breakfast to preview last night's sale of Post-War and Contemporary art, I asked CEO Steven Murphy how he felt about the claim a rival house was putting about that Christie's made just over 1 per cent of its turnover from 50 per cent of its (low-value) sales.
Murphy's response was not ungracious but was rather pinched. 'My parents always taught me to be a gentleman, so I don't want to talk about the other house.
'But it's come to me through some members of your profession that the other house likes to say things about us which are not accurate. It's not true that 50 per cent of our items create 1 per cent of our turnover.' (Christie's did not reply to an email asking about their turnover broken down by value.)
'We're very glad to have Christie's South Kensington [where lower-value auctions occur], we're very glad to have that mid-market. We make a great deal of profit, frankly, with the middle-range items and the medium-range.'
Murphy went on to explain why Christie's kept its lower-price business (compared with Sotheby's, which doesn't tend to sell anything under £3,000 any longer), saying their top clients 'on average buy between five and seven categories'. They might buy a £20 million Yves Klein painting at Christie's King Street and a cheaper work on paper at South Ken.
At the high end, Christie's just pipped Sotheby's to a win this week, making £99.4 million at its Post-War and Contemporary sale, against £93.2 million at Sotheby's. (All prices include buyers' premium.)
Auction records were made at Christie's for Tracey Emin (her bed fetched £2.6 million) and for Peter Doig (£9.9 million), who had just had his record broken at Sotheby's the night before.
In last week's Impressionist and Modern sales, the tallies were reversed: Sotheby's made £122 million and Christie's £85.8 million, a rare loss for Christie's, which has been on a roll lately.
Update: The article previously said Sotheby's minimum lot price is £5,000; it is £3,000