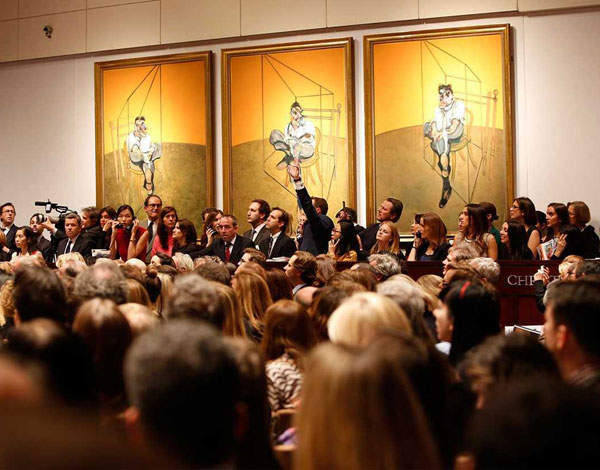 Auction house Christie's set its own record today: last year it made £4.54 billion ($7.13 billion) in sales, up 14 per cent, the highest total, per its press release, 'in the history of the art market'.
This is not surprising, following Christie's record-breaking auction in New York in November: it made $692 million, including a world-record auction price of $142 million for Francis Bacon's Three Studies of Lucian Freud.
CEO Steven Murphy said: 'With 16 per cent sales growth and 30 per cent new buyers coming in 2013, Christie's has succeeded again by focusing on the art and connecting it to the ever-increasing audience of enthusiasts and collectors. We continue to see a surge in interest across categories and across the globe, fuelled in large part by the online platform enabling greater connectivity between buyers, sellers and the objects of their pursuit.'
Christie's expansion to Asia, as the first auction house not partnering with a Chinese firm (unlike Sotheby's), bore fruit, with sales up 32 per cent by volume and 30 per cent in value. Chinese buyers spent 63 per cent more in 2013 than in 2012.
Murphy added: 'Our strategy to invest in new markets such as China, new channels such as private sales and online sales, and to build on our position at the leading auction house, has enabled Christie's to grow. Our continuing goal is to provide more to our clients and to convene new clients to enjoy art, be it through auctions, exhibitions or online.'
The Americas are still Christie's biggest arena ($2.8 billion), followed by Europe ($2.1 billion).
Partly responsible for the boom is the cheap supply of money thanks to quantitative easing; as this has begun to taper, there may be a knock-on effect on the art market, although buyers from emerging markets could offset this.
As Spear's has previously reported, private sales are an increasing part of the auction-house business, and in 2013 Christie's private sales hit $1.19 billion, up 18 per cent.
In 2013, Spear's interviewed Christie's owner, François Pinault, who said: 'It was an extraordinary brand that was going through a bad period. Now it is a great business.' These results undoubtedly reflect that.