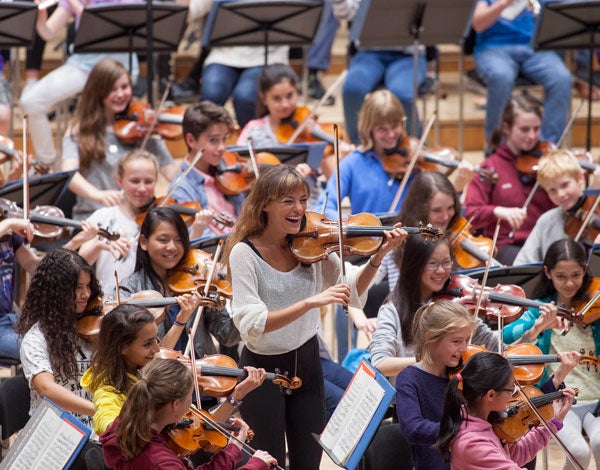 It's not every day that one of the best classical violinists of a generation premieres a work by one of the biggest names in modern jazz composition. Nicola Benedetti's world premiere of Wynton Marsalis' new violin concerto at the Barbican on 6 November promises to be a treat. But that's not the only thing the two have in common.
They've known each other for over ten years, Marsalis sharing Benedetti's love of the violin and of Scottish folk tradition. His concerto features a slow movement inspired by an African-American spiritual and explores Marsalis' jazz expertise in an orchestral setting.
Conducted by James Gaffigan, the concert will also feature Stravinsky's Symphony in Three Movements and Bernstein's Chichester Psalms, an apt complement to the fusion of genres in Marsalis' work, which Benedetti describes as 'similar to playing the music of Stravinsky or even a lot of Romantic or post-Romantic composers.'
Benedetti's career has been hitting the high notes since she won the BBC Young Musician of the Year Award in 2004, and subsequently agreed to a £1 million six-album recording contract with Deutsche Grammophon/Universal Music Group aged seventeen. More recently, Benedetti has played at the 2012 Last Night of the Proms and was awarded an OBE in 2013 for services to music and charity.
Benedetti's input to Marsalis' concerto has been considerable, with the two artists sending ideas back and forth across the Atlantic in advance of their first rehearsal. Such a close collaboration was a first for Benedetti, who says 'it was a lesson every minute of every conversation. On the one hand, he's Marsalis, he's one of the most full-on minds I've ever interacted with, but on the other hand, it was very humbling and comforting to see that he, like anyone else, struggles with coming to terms with the complexity of music.'
Benedetti was able to use her violin expertise in particular to help Marsalis with aspects of the concerto's orchestration. 'It amazed me how much I knew and how much detailed information I could pass on. It was quite nice!'
But this kind of collaboration is hardly the norm today, to such an extent that the BBC is filming the composition process and final run up to the concert to be released as a documentary in early 2016.
In a bid to improve recognition for the importance of music, Benedetti has committed countless hours to projects like Sistema Scotland, a government-funded music education and performance scheme in disadvantaged areas of Scotland. She has a full calendar with more than 100 educational activities a year, saying that music education 'requires a sustained consistent attack, and defence'.
Pictured above: National Children's Orchestra of Great Britain and Nicola Benedetti at the Royal Concert Hall (© Drew Farrel)
'Don't misunderstand what the arts are about,' she says. 'It's not about producing hundreds of thousands of violinists. It's about tackling all the parts of life that are invisible. It's for the betterment of life. If our education doesn't encourage people to be the best of themselves on that personal level, we could wake up one day, look around ourselves and think what have we done. What have we forgotten?'
As well as exciting plans with Marsalis, Benedetti has recently completed an eleven-concert UK tour sponsored by her new commercial partner, luxury watch brand Raymond Weil. After winning BBC Young Musician of the Year 2004, Benedetti avoided commercial partnerships, preferring to focus entirely on her professional career. 'I was very hesitant at first,' she says. 'The perception of something that isn't entirely music-based can be a bit of a grey area.' But Raymond Weil's long history of supporting music and arts charities was enough to convince Benedetti, whose 'Toccata' range of watches was released in September this year.
Benedetti is lucky not to have to rely financially on these partnerships to support her artistic career. But she's certainly an exception. 'I know quite a few new composers and it's not an easy life for them,' she says. 'It's tough to sustain a decent living just by composing unless you're absolutely top of the ladder.' Financial worries have put many young creatives in crisis, having to balance a desire to maintain their artistic goals with an ability to pay the rent, two things, Benedetti says, that are rarely synonymous.
'You can't say, "I don't care if people like this piece of music or not," and then complain about not getting commissioned enough,' she says. In the end, 'People are at the end of everything we're doing.'
And it's this commitment to human relations in the arts and to future generations that is so apparent in Benedetti's work. As with Raymond Weil, a common interest in supporting music and musicians seems to be a running theme in the collaborations Benedetti seeks out. Marsalis too has dedicated considerable time to improving access of classical and jazz music to young audiences. Benedetti says 'I don't know any other musician of his calibre who has worked so tirelessly with younger people. He has been my biggest inspiration in that respect.'
In the future, it seems that the educational projects of Benedetti and Marsalis will be instrumental in reviving a culture of creative collaboration at risk of disappearing completely.
Book tickets to see Nicola Benedetti perform Wynton Marsalis' Violin Concerto here
Main picture © Simon Fowler