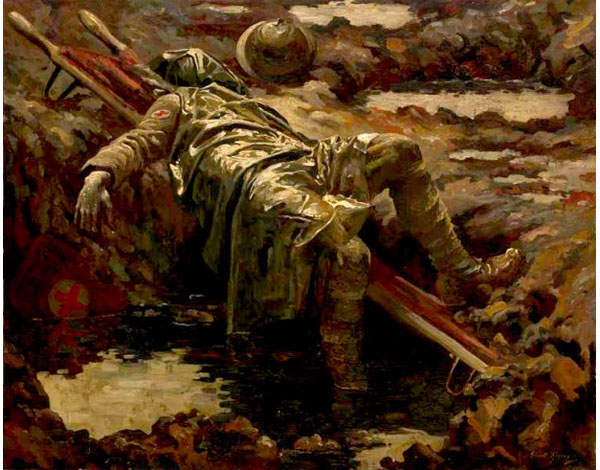 FIGHTING FACES
Facial hair, to judge from the evidence at the National Portrait Gallery's new exhibition The Great War in Portraits, was responsible for the outbreak and prosecution of World War One. The Kaiser's upturned waxed points are, like the man, practically certifiable.
Emperor Franz Josef's face terminates in an Imperial Baroque luxuriance of whiskers which his barber would have identified as the last pompous flourish of an empire in decline. Haig's upper lip bristles, briskly Scottish, while Foch's soup-stained handlebar flares with the buoyancy of a determined bon viveur. Hindenburg's face furniture looks sinister, Kitchener's overdone.
No less revealing is the inconclusive wisp beneath the nose of Gavrilo Princip, the anarchist who got the whole thing going by shooting an unloved archduke (good moustache, though) in Sarajevo.
I admit that occasionally the moustache lies. The baggy white teastrainer suspended like a pair of ancient underpants on a washing line beneath the nose of General Sir Herbert Plumer makes him look like an Oh! What a Lovely War caricature of a Western Front brass hat, likely to commit thousands of men to their deaths from a position well behind the lines.
In fact, 'Daddy' Plumer tried to keep casualties to a minimum. Physically, the moustachioed old guard look quite different from the next generation, the men who fought in the trenches, who didn't care for excesses of hirsute growth.
Recently, I made a personal voyage of discovery by researching the lives of the Fallen listed on an almost randomly selected war memorial in Devon: this book reconstructed lives that would otherwise have been forgotten, to tell the story of Everyman at war. The village turns out every Remembrance Sunday to pay tribute to them. It knew little about who they were as individuals. I found photographs of them. Images gave them identity. Suddenly, I was face to face.
The NPG, where the exhibition shows until 15 June, is all about faces. Emperor Franz-Josef's whiskers make him seem infinitely remote, but the fresh-faced images of the boys and young men who fought in the trenches might be my children's friends. Of course, portraits don't show the terrible teeth and malnutrition from which working people suffered — nor the fact that so many of them were so short.
Pathos of glory
It is not a large show, but devastating. Some images were painted to evoke pathos. Subjects weren't hard to find, although it was difficult to devise the forms to encapsulate them, particularly given the squeamishness of the home audience. Gilbert Rogers's The Dead Stretcher-Bearer (pictured above) says as much as a poem by Wilfred Owen. The photograph of a Maori warrior, his bravely grinning face encased in a balaclava, is poignant in a different way. The man had volunteered and come halfway around the world — for what?We see artists, painted by themselves — vain (William Orpen), combative (Isaac Rosenberg), dehumanised (Ernst Kirchner). We see prisoners and heroes, the jaunty and the defeated — images that raise the anxious question of how we would have responded to the ordeal of human degradation that was the reality of this war for so many.
Artists saw warfare through different eyes. CRW Nevinson's Cubist style suited the hunched intensity of a machine-gun crew. Orpen, the suave society portrait painter, could be too smooth at times — but that makes his depiction of a row of wounded men waiting to be treated seem all the more painful. Eric Kennington's Gassed and Wounded, showing a stretcher bearer, sunk in shadow, bringing a man with a bandaged head into the fetid air of a clearing station, is worthy of Caravaggio.
My book, War Memorial, followed a group of men whose stories ended in death. But 88 per cent of the soldiers who fought in the First World War survived. Trauma ran deep — if it wasn't all too horribly exposed. Max Beckmann shows a group of hideously distorted German mutilés de guerre around a café table. Equally horrific are the studies of men with facial wounds made by Henry Tonks.
Do they suggest a crumb of comfort? Plastic surgery improved. But Tonks's pastel studies, using a technique more associated with intimate portraits of society women and their children, are hard to look at. Unlike the poetry of Owen or Siegfried Sassoon, they don't overtly express an attitude. They don't need to. You cannot stand before these mangled faces and do anything but weep.