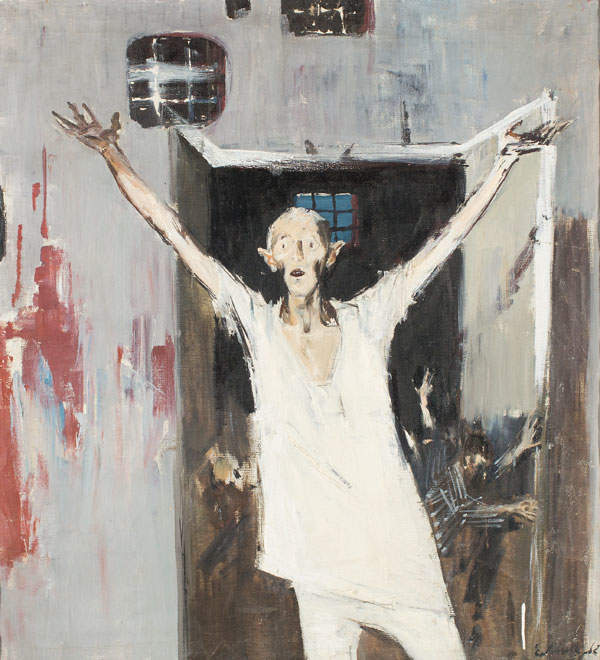 Evgeny Granilshchikov stops speaking Russian and answers directly in English: 'Of course, absolutely,' he says, affirming he has felt pressured by the state because of his art. 'It happened in Russia in 2011, the manipulations in the elections. Quite soon after that a lot of tragic events started to happen – those people who participated in the peaceful demonstrations in 2011 were accused and imprisoned for fabricated reasons – the second film speaks about it.'
He is referring to 'Untitled (Reenactment)', the shorter of his two films currently on view at GRAD Gallery's inspired exhibition 'Borderlands'. 'Untitled (Reenactment)' and the longer 'Courbet's Funeral' feature fast-cut scenes of young Muscovites revelling and philosophising, gently holding a book of Raphael's etchings and being beaten by riot police.
Speaking now through a translator, he explains his films are like a manifesto. 'I want to make it simple but at the same time with complex historical connotations. That's why it's stitched from torn patterns which altogether compile into quite a tragic story. It's an activist film.'
Granilshchikov's work isn't alone in its activism. It's joined in the gallery by Nikita Shokhov's 'Without Dictatorship of the Gaze': warped photos of the demonstrations in Moscow ('the epicentre of national absurdity') and ZIP group's 'Spring Fashion', surreal agitprop, constructivist costumes. There is also 'Brain-twister – Elementary Work Book', a po-faced swipe at the absurdity of a state ham-fistedly swatting itself free of imagined 'liberal' threats.
It's angsty album inlay stuff but a valid two fingers. Which all this art is – direct rather than subtle, signposted rather than sophisticated. They're insightful but not astute or pretty pieces. Adoration would be mislaid and unwarranted, but that doesn't matter: it is your interest they want.
Borderlands' centre piece is a brick wall forming a silhouette of Ukraine, black on one side with kitsch flowered, Soviet-style wallpaper on the other (Pictured top- 'Untitled', courtesy of GRAD). It's in a state of disrepair, surrounded by crumbling and broken bricks. Were it intact it would pivot on the Crimea but this has been broken off and lies several metres away across the floor.
Sitting on a sofa in GRAD's back room Zhanna Kadyrova explains the thinking behind it: 'The initial idea was to take an actual piece of the wall near Maidan in Kiev but those walls were already too fragile, burnt and destroyed,' she says, also through an interpreter.
Being both Ukrainian and Russian, Kadyrova has worked closely with the artistic community in both countries: 'There were joint projects with young Russian and Ukrainian artists around the world and nobody thought about dividing them by nation – so definitely, as an artist, I need to express this now the country is being broken apart so violently and rapidly. It's something vital at the moment.'
Having exhibited already in Vienna and now at a Russian gallery in London she says, 'It's a good sign that not all Russian citizens are the same, not all Putin-oriented,' making it clear the artistic community is not intimidated by the Russian president. (That said, Kadyrova is not showing this in Moscow.)
'Stalin Approving a USSR Model of the Pavilion for the World Exhibition in Paris', Alexsandr Bubnov
The results of political intimidation can be seen in the Saatchi Gallery at the Art Russe exhibition 'Exploring the Legacy of World War II in Russian Art'. There appears to be some confusion about this exhibition: I was told it was about the legacy of World War One when I rang the Saatchi Gallery to enquire (it isn't listed on their website), and the Russian ambassador's website says it closes on 6 April while the Art Russe/Filatov Art Fund website says 10 April.
Anyway, it's there now but arguably no less confused in its subject matter. Art Russe, formerly the Filatov Art Fund (Andrey Filatov owns most of the art on show), has given itself the mission of promoting better understanding of Socialist Realism and while this particular exhibition holds a number of impressive works it is hard to look at many of them and see anything but the curios of postcard politics.
Rubinsky's 'A Feast Day Parade' and Bubnov's 'Stalin Approving a USSR Model of the Pavilion for the World Exhibition in Paris' are the most gallingly saccharine and banal examples of Socialist Realism. It's probably not really fair to call them art, they're just stills from the technicolour narrative the Soviet leaders played in their heads to justify their atrocities.
That need for justification is something this exhibition does succeed in demonstrating. There's plenty of propaganda, images of Mother Russia statues and brigades of robots as well as a collection of British wartime posters underlining the premium on coercion of unity in extreme times – Churchill and Stalin, comrades in arms, comrades in circumstance.
The bipolar narrative continued after the war as former allies found themselves enemies, both citing victory over Hitler as proof of a superior ideology. East of Berlin, that victory, and therefore the Great Patriotic War, was eternal – there are touching impressionistic family scenes and rural landscape showing how heavily the legacy was pushed into Russian art, not because it was a kernel for creativity but because it was state-sanctioned.
Moiseenko's poignant 'Freedom' (1962 – above) shows the perversity of a frail, emaciated figure seemingly celebrating their release. It might be too much to suggest the artist wanted to paint what liberation looked like in Stalin's Russia as well as internment in Hitler's Germany.
If Art Russe's aim is to showcase the wandering forms of Socialist Realism then it succeeds but the art remains in a political vice, trapped by an official version of history. In 2015 there are parallels as an official and convenient history leans heavily on the narrative propagated by an increasingly autocratic Kremlin. Back at Grad, Kadyrova talks about the future of her wall installation: 'There were ideas to kick off the eastern regions, but I'm not ready yet. There's still hope that they'll stay there.'
She shows me images of her next project, photographs of the Kiev skyline on which acid has been dripped. 'We don't have the war yet in Kiev but everybody is thinking about it, anticipating it. This anxiety is present all the time.' That anxiety is justified; as both these exhibitions show.
'Borderlands' is on at GRAD until 16 May
'The Legacy of WWII in Russian Art' is on at the Saatchi Gallery until 10 April