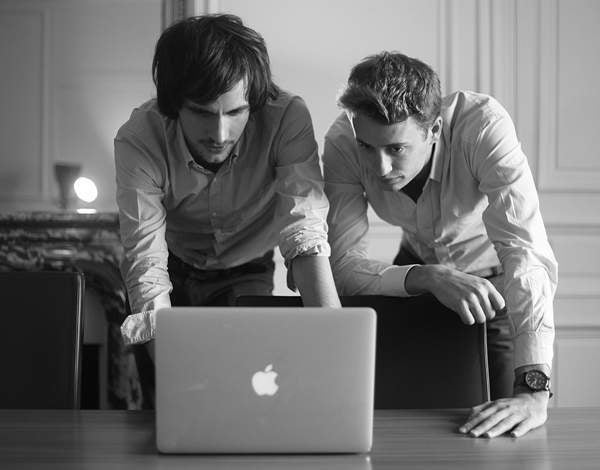 The art world is a friendly place. You can turn up at a high-end gallery with fistfuls of cash, says François-Xavier Trancart of art-selling website Artsper.com, and say that you want to buy a work of art, only for the gallery to refuse to sell it to you. 'It's not good for the artist if you anonymous people buy my artist' is the unspoken rebuke.
This sort of placing pictures – to make sure they go to prominent collectors or respectable museums – is common and unwelcoming, and that's why, Trancart says, Artsper is not working for those snoots. (The other side of the canvas, of course, is that the top galleries don't want to work with anyone else to protect their brands and their artists from over-exposure, or indeed to reveal their prices.)
Still, Artsper stock a good number of galleries from the less snobbish end of the spectrum. Trancart says there are overall four thousand in France, 2,500 in Paris, and Artsper is now a portal for over 200 of them, with prices ranging from €100 to €25,000. It now sells three or four artworks a day with an 'average cart' of €1,500, and it made 'a little bit less than' my quick calculation of €1.4 million in sales last year. Now, it is expanding into Britain, having already signed up a dozen galleries, which makes beautiful sense given our high populations of gallerists, art collectors and French people.
The idea for a 'marketplace for galleries' belonged to Trancart's business partner, Hugo Mulliez, now an ancient 27 to Trancart's 25. Both had been students at the same business school near Lille, but Trancart only learnt about Mulliez's idea on an exchange programme in Bangkok through Mulliez's girlfriend. While they gathered galleries for the site, Trancart provided editorial content and social media to give it some life, and as partners they launched Artsper in March 2013.
The marketplace for marketplaces for galleries is now rather humming, after a slow start. Artsper is strong with French dealers, but you can also buy art online from Artuner, Artsy, Articurate, Paddle8 (an auction site), Artfinder (direct from artists) and Saatchi Art (formerly Saatchi Online), for whose lack of selection Trancart has particular odium: 'For Saatchi I did a little drawing on paper, created my own artist profile and put my drawing on Saatchi for €200.' You might think Trancart's scribble is a naïve masterpiece, but it seems like he thinks the people who shop on Saatchi Art are the naïve ones. (He also likens it to the free-for-all online noticeboard Craigslist.)
The selling-point of Artsper, he says, is that they have selected galleries who have selected artists, a double refinement. If you add to this plentiful information on the artists, their practice, their exhibitions and so forth, you end up able to choose more discerningly, more comprehendingly. As an experience, it should not be 'like an Amazon book or like ASOS shoes'.
Artsper's name summons up entrepreneurial connotations and techie pioneers (Tinder, Twitter, Tumblr), but it has an apt origin: 'Hugo has always been a huge fan of Jasper Johns, the painter, and Jasper was already taken by an accounting company in the US and so we said, okay, Jasper… Artsper.' You can find Johns (auction record: $36 million) on Artsper but as subject, not artist: there is a portrait by Shepard Fairey, who made the Obama Hope poster, and a photo of his studio by Gautier Deblonde.
One of the more entrepreneurial aspects of Artsper is that it offers galleries social media and marketing support, which can be expensive for small companies to develop for themselves. So, they can use Artsper to send out newsletters, e-marketing blasts and similar. This makes them more valuable than a simple conduit.
In today's art world, galleries need all the help they can get. Under threat from auction houses at the top end and pressured to appear at too many time-consuming, money-consuming art fairs, the middle and lower reaches are being squeezed, so they need outlets like Artsper. Lucky, then, that outlets like Artsper need galleries. It may be one way through the thicket.