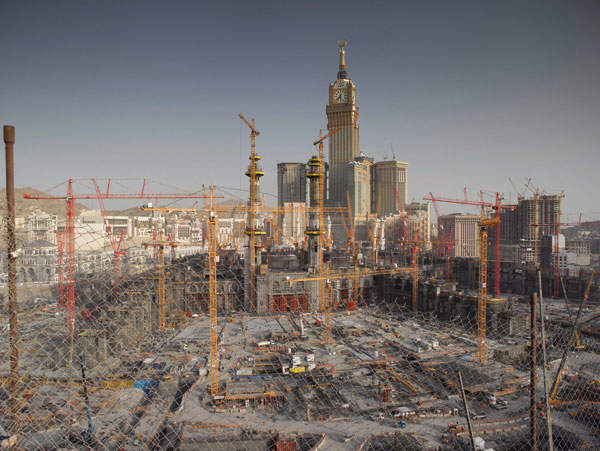 The summit gives Art14 heft and importance: other art fairs, to their presumed jealousy, cannot bring together so many grade-A, wallet-opening, institution-building collectors, says Josh Spero
As Spear's has written before, private museums are a major modern phenomenon: collectors are putting the art they own into museums and galleries which the broader population can enjoy. This is happening all over the world – from the Rubells in Florida to Wang Wei in Shanghai – but the end of this month will find many of these collectors in London for the Global Private Museum Summit at Art14, in association with Citi Private Bank (and media-partnered by Spear's).
The summit (as I shall call it, for it is less of a mouthful) is in some ways not the main business of Art14 – the fair formerly known as Art13 – which is bringing together Contemporary-art galleries from regions traditionally under-represented in Western fairs: Africa, Latin America, most parts of Asia.
But the summit gives Art14 heft and importance: other art fairs, to their presumed jealousy, cannot bring together so many grade-A, wallet-opening, institution-building collectors.
Over the phone from some distant museum (or possibly just London), Philip Dodd, chairman of Art14's London advisory board and convener of the first summit last year, told Spear's why the collectors were returning. 'I can put it down to my charisma, but the real reason is that wherever you look in the world, new private museums are blossoming.
Pictured above: Athr Art Gallery, Ahmed Mater's Golden Hour, Desert of Pharan series
In Shanghai in the next three months two major museums of Contemporary art will open. If you think of London, there's the Dairy opening. There's going to be another big one opening in Notting Hill.
'The real problem with private museums,' he says, 'is they're all solitary. There's no traditional network, so they want the opportunity to sit opposite their peers… The ability to spend the morning in private conclave with your peers is an unmissable opportunity.'
'
DAIRY KING
The summit this year has the owner of Russia's biggest private museum in attendance, as well as names like Li Bing (China), Ramin Salsali (UAE), Dominique and Sylvain Levy (France), Patrizia Sandretto Re Rebaudengo (Italy) and Lord Edward Spencer-Churchill (UK).
Also attending is Nicolai Frahm, collector and co-founder (with Frank Cohen) of the Dairy Art Centre in Bloomsbury, which shows the owners' art, borrowed work and artist presentations.
At Frahm's Pimlico home, in a rectory right next to a church still in business, there is art on every surface: here a Richard Prince James Bond still, there two Chinese pots on either end of a ceiling-height piece of bamboo by Ai Weiwei, on the floor a Superstudio lamp which casts a pink glow on Frahm as he speaks.
Pictured above: Kashya Hildebrand Gallery, Lalla Essaydi's Bullets Revisited #15, 2012
He doesn't stint on praise for the idea ('I think the whole concept is pretty close to brilliant') or its execution in getting '40 of the most powerful people around the world' around a table, complete with headphones for translators to work their magic.
Frahm says that he and Frank Cohen came up with the Dairy Art Centre because 'we wanted to find a quirky building that was different, that didn't have the feel of the white cube, we wanted it to be a very relaxed atmosphere – you'd walk in and have a good time whether you knew anything about art or not.'
They could combine their collections but also 'invite artists or curators or people from the art world in general to create something that was bigger than us – or maybe more interesting than us'. Their first show last year was John Armleder, their next one in April will be Julian Schnabel, with both artists providing work in addition to Frahm's and Cohen's.
He is quick to squash the suggestion that private museums are about a display of wealth: 'At the end of the day we're all in the art world because it's our great passion. One of the great enjoyments of that is sharing that with other people. In a private museum you can do that to a greater extent than in any other way.' They can also be fleet of foot ('Private museums can move extremely fast andreally be much more current in a way than public museums can'), inspiring for other collectors and a good deal of fun for the owners.
It's perhaps less fun to collect today, however: 'It's definitely much more difficult to collect, no doubt about it. It's a very different world. The amount of new buyers coming into this market over the last five years has been incredible…
Any person that has some money today, they somehow want to be involved in art. You read so much about it. Art is now everywhere. It's not that exclusive club that it used to be.' (He laughs when I point out that he has in fact joined a very exclusive new club at Art14.)
Ideas discussed at the summit last year included how to connect with other collectors, curators and artists and how to make a show travel; as Frahm says, 'You put a show on in your museum and unless it goes somewhere else, it dies.'
'
ZERO-SUM GAME
In addition to the ideas of connection and travel, Suzanne Gyorgy, Citi Private Bank's head of art advisory and finance, suggests another couple of topics: 'How do you sustain the museums? How do you structure it so the next generation continues to work with it?'
Both Dodd and Frahm also raise the idea of sustainability and financing. Dodd: 'If you're thinking of trying to find a sponsor and your exhibition is going from Shanghai to Indonesia to Russia to London, you've got a lot more chance of finding a sponsor if you can offer four international destinations.'
Pictured above: Sumukha Gallery, Paresh Maity's Duality, 2011
Frahm: 'Some of these Chinese museum owners, they have museums the size of shopping malls. One of the big questions was how do we finance that, without just putting your own money into it.'
This, it seems, is a potentially problematic area: should UHNWs' private museums be competing with public museums, which are largely run on a shoestring, for corporate sponsorship? Frahm says it's not a zero-sum game ('It's not like you're taking BMW away from the Serpentine, for example. It doesn't work like that'), but I'm not sure I agree with him: BMW aren't going to double their pot because there are double the number of museums.
'
COME TOGETHER
Private museums may nevertheless soon play more of a role in our cultural life. Suzanne Gyorgy says the blow-up in Detroit and consequent potential sale of the Detroit Institute of Art's numerous masterpieces shows that not all public collections will be sustainable; the extension of this line bears on private museums (many of which are already well-established in America).
Often we don't think of modern museums as former private collections, says Gyorgy – she cites the Frick in New York, which sits in Henry Clay Frick's Gilded Age mansion on Fifth Avenue and offers a first-rate collection of Rembrandts, Gainsboroughs and van Dycks. (The British Museum was founded with Sir Hans Sloane's bequest.) For the owners, private museums 'complete their collecting vision', she says.
Dodd, who is also chairman of Made in China UK, has a grand but not unreasonable hope for the summit this year: he thinks museum-owners might start co-operating, curatorially and logistically, on shows. This could lead private museums to surmount even great public collections by working together on shows: 'If you pooled the resources of private museums, you could produce a definitive exhibition of global Contemporary art.'
This is in contrast to many major museums which isolate regional strands or, as in the case of the Tate, don't have great holdings from beyond Europe and America.
'We have,' says Dodd with irony but also with pride, 'Napoleonic ambitions.'
Art14, in association with Citi Private Bank, runs at Olympia's Grand Hall 28 February-2 March