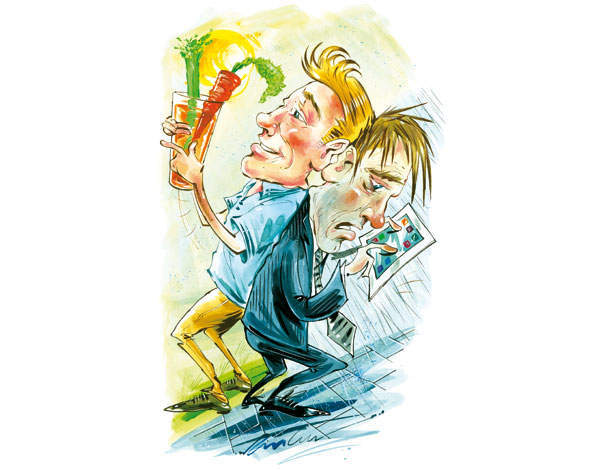 WRONGFUL ARREST
After the rudest of cardiac wake-up calls, Sebastian Gibson found a new lease of life in Austria as the Viva Mayr clinic lived up to its lofty reputation
Six months ago I set out on my Saturday routine — 9am British Military Fitness in Hyde Park followed by brunch with my two co-athletes, Jane and Georg. They are high-achievers and therefore go in the elite group — the greens. I gingerly join them, but that Saturday I felt a chest pain and, having tried to jog through it, dropped down to the intermediate level. The pain remained half an hour later.
I stopped, inhaled water like oxygen and waited for my pals to finish so we could go for our usual eggFlorentine and acai berry smoothie. That would sort me out, I reasoned.
Forty minutes later, I couldn't bring myself to eat. Georg suggested a hot bath while Jane commented mirthfully: 'You're not going to have a heart attack on us,' when I headed home mid-brunch. Every speed bump caused a shot of pain, so with some reluctance I asked the taxi driver to divert to St Mary's Paddington, though I felt like a fraud even walking through its automated doors.
Read more by Sebastian Gibson from Spear's
I was told, in A&E, there was a four- to five-hour wait, but I'm not one for queues so I collapsed on the spot. My heart shut down for seven minutes while they attempted to resuscitate me. I was operated on immediately.
It was a success, but I was shocked. My health had never let me down in my 40 years: visits to the doctor's surgery were rare, to hospitals non-existent. I'd never been on antibiotics, am not overweight and exercise four times a week.
Yes, I drink and smoke occasionally. I run a residential property business — but in comparison to my clients, who juggle businesses and fortunes worth millions or billions, livelihoods, houses, wives, husbands, lovers and jet timeshares, I feel my life is unfettered by complications. Clearly it wasn't the case.
Dark chamber
Cardiovascular problems are related to health, stress and genetics. I was told that night by the doctor on duty doing his rounds that I was 'very unlucky for this to have happened at your age given the good shape you're in, but you're lucky that you had it where you did — otherwise, given the severity of the attack you'd be…' and he let his words drift into the ether. Genetics I could do nothing about, but health I could improve and stress alleviate.
A spa to reset my way of living seemed indulgent, but I wanted a reboot. After extensive research all roads pointed to Viva Mayr, the ne plus ultra of clinics. It differed from those more indulgent retreats — where a cheeky glass of champagne may be offered after a long day — for at Viva Mayr you immerse yourself in 'the cure' and see a doctor daily.
Core to Mayr's philosophy is adapting to changing health concerns. The biggest rise in the past decade is burnout and stress. Dr Harald Stossier, the medical director of Mayr, told me: 'People strive to maximise technology and achieve wealth in order to make their lives easier. Ironically, this can come at a huge price to their health.
The number one problem we see at Viva is patients who have lost touch with their natural daily rhythms and are burdened by severe adrenal stress. Our treatments are uniquely designed to help patients cope with the physical and emotional impact of burnout and reconnect with themselves.' I promptly booked myself in for a week.
This is spartan
The clinic is in a corner of Austria that borders Slovenia and Italy — forested hills rise above it and it sits on a beautiful lake. I imagined myself, blanket over legs, reclining with a book in one hand and warming herbal tea in the other. Not quite Dirk Bogarde in Death in Venice, but perhaps not far off. On arrival I was put in mind of another Thomas Mann novel, The Magic Mountain, which tells of a man who arrives at a sanatorium for a week and spends seven years there.
I showed myself to my room and was met with a rather spartan affair: a single bed and a bathroom not with the usual array of expensive unguents for us to pilfer, but rather a utilitarian refillable liquid soap dispenser and a minuscule bottle of body lotion. This is hardly deluxe, I thought to myself, and wondered at the oligarchs, Saudi royalty, movie stars and presidents who were rumoured to visit.
The first night I ate avocado mousse and spelt bread, which I was instructed to chew 50 times. The idea is to get saliva and the digestive system going. You should not drink during meals but only in between, ideally three litres a day. You never have anything raw after 4pm, as it takes the body too long to digest — so all those salads you have been eating in the evening are a no-no.
I was also prescribed magnesium citrate and a base powder to balance the stomach. The idea is to flush out the gut, where 70 per cent of our immune system sits, before rebuilding it, and when I met Dr Christine Stossier, the wife of the medical director, the next morning, she keenly inquired not just after my input but also my output, shall we say. Unsatisfactory, it turned out. More magnesium citrate!
Another part of the cure is a ban on distraction by anything electronic, with no wifi anywhere, though you can connect a computer in your room. I chatted to a fellow guest, a master of the universe, over a herbal tea: 'I was permanently attached to my Blackberry,' he told me. 'I didn't enjoy my house in the Hamptons or ski lodge in Vail because I was never present when there, and then it got me — I had a heart attack. Pure stress. It's the problem of my peers. We're always chasing, always after more. I needed something to jolt me out of myself.'
'Well, it's a wake-up call,' I offered cheerily.
Second wind
As the first day turned to the second, I settled comfortably into a routine. The treatments include a daily massage, applied kinesiology for allergic testing, nasal treatment to clear the sinuses — this involves sticking a cotton wool bud far up the nose and moving it three times (on each nostril), colonic irrigation and the doctor manipulating your stomach to ensure that the intestines are moving as they should and checking for spasms and air. Your blood is tested and the daily doctoral meeting updates you on your progress. There's something reassuring about being given your vitals in an Austrian accent.
By the fourth day, I was bounding with energy and as I talked to the guests I realised in one way or another that they were all suffering from burnout. The fast-paced, materialistic world of Western consumerism, worse because it's more pervasive among HNWs, and the 24/7 social media torrent can engulf us all, and part of the spartan feel of the hotel is, on some subliminal level, counter to that. The food is good, if not bountiful, and sourced from local farms.
The emphasis is on enjoying it, understanding what you are eating and really savouring the produce. Instead of lying with a blanket round my legs on the pier, I was jumping into the lake daily, swimming the 100m to the pontoon in the sunshine and bribing the electric speed-boaters to take me waterskiing.
I thought that I was detoxifying my body and my mind, but in fact I found myself re-engaging my mind. The chance to be still and unfettered by the outside world is rare.
My stress levels dropped, my energy became buoyant and, far from wanting to leave after a week, I could have stayed another fortnight. My master of the universe friend felt the same, he told me as we lounged on the deck by the lake and compared notes. When I did leave, I felt as if I'd put heart attacks behind me — now if only we could bring a little Viva Mayr to Mayfair.