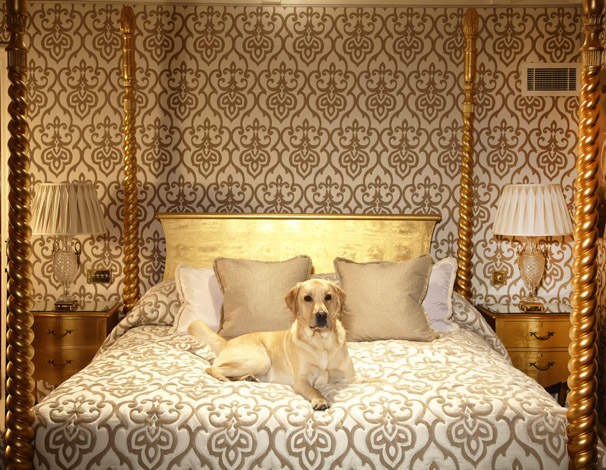 Author: Aoife Moriarty


Mirroring the lives of their affluent owners, the dogs and cats of West London are beginning to indulge in spa treatments, hotel breaks and 'Doga' – e.g. yoga for dogs (yes, you heard right).
So while you might think your lifestyle is one to be envied, in reality it probably doesn't come close to that of a Mayfair Cockapoo or Labradoodle – who get all the perks of your finances but with none of the drawbacks.
As we all know, the UK is a nation of dog and cat lovers. According to the Pet Food Manufacturers' Association, there are nine million pet mutts in Britain, while 17 per cent of households have a cat. We spend approximately £2033m on 1184 tonnes of food for our canine and feline companions each year. But what about the extras? For the affluent at least, no price is too high when it comes to the wellbeing of our treasured pets.
Here, Spear's takes a look at how the privileged pets of West London spend their time in 2014. It truly is a dog's life…
'Doga'
Perhaps what your dog really needs is some simple relaxation and downtime with you, their owner. For stressed out Shih Tzus, a new craze is sweeping London's most affluent postcodes. That craze? 'Doga'.
It's exactly what it sounds like: Practicing yoga with your dog. West London Doga Instructor Mahny Djahanguiri insists it's not as ludicrous an idea as it may initially seem.
"Dogs join in when they calm down, when they see that we slow down and our breathing slows and our movements," she says. "They start sitting on our yoga mats and that's when we can do the poses and the sequencing. Some dogs will stay, some will go away again. You cannot force them."
"A larger dog will be like a large bolster for certain type of poses and a smaller one you can lift up, but it doesn't mean you have to lift up your Labrador – that's not the point! The point is bonding."
So is it for the dog or the owner? According to Mahny, both benefit equally from the sessions: "Basically the dog copies the owner's breathing patterns – they pick up on the breathing, the way a child picks up on the mother's breathing. It's exactly the same."
It all sounds almost logical, but there's no denying our pets are becoming more pampered than ever. Does she think there's any particular reason behind it?
"I think a lot has changed in the relationship between dog and owner," the West London based instructor reflects. "It's not traditional anymore. You still have the owner and the dog but… Dogs are a phenomenon now. They've become the new child, they really have. And maybe we're trying to relate to animals a bit more to find our inner softness? I don't know."
"I think it's perfect for stressed out, high powered people who have a dog and feel guilty about leaving them at home – that feel like they're not spending enough time with their pet. It's perfect for that," she adds sagely.
Spa Treatments
Stephanie Mehanna is Director of The Pet Spa in Chelsea. Formerly located in Harrods, this one-stop shop for pampered pooches offers a 'wash and fluff dry' and full body grooming with additional spa treatments. Pedigree pets can enjoy everything from a 'pawdy cure' (like a manicure) to a blueberry facial and even anti-ageing treatments at the luxury pet spa.
But why are customers booking in their dog for treatments once a week or more? "I think a lot of it is guilt," admits the former City worker. "We lead such busy lives and a dog is a pack animal – it's not like a lone animal like a cat – so it wants to be with you and every time you leave it, it's sad… And the dogs actually quite enjoy the entertainment of the day and seeing other dogs so it keeps them busy as well," she says.
The Pet Spa's animal customers range from Great Danes and Labradors to Persian cats, rabbits – even "the odd tortoise after hibernation", according to the salon owner. But what about the humans?
"Of course they are affluent," says Stephanie. "We deal with a lot of maids and housekeepers, PAs… that kind of thing. We have bodyguards, and the van opens and the dog gets out with the bodyguard and gets picked up later on."
Naturally, many of her canine clients are also jetsetters: "A lot of the dogs that we treat are coming in and out of the country. They have passports, they fly private jet, so they are all off to Tuscany or France for two weeks etc. They've all gone skiing for Easter."
Luxury Pet Friendly Hotels
Not willing to leave your prettified pooch at home when you head off on your weekend break? The Milestone Hotel in Kensington is just one of a growing 'breed' of West London hotels which cater to the jetset pet.
"Off the top of my head, I'd say we have a good 10 or 12 regular guests that always stay with their pets," says General Manager Andrew Pike. "Then we'll have adhoc guests who are literally just passing through and have seen that we're pet friendly and want to try us out. But it's a growing market for us."
Like many hotels in the area, the five star urban retreat offers a range of extras for your animal companion – including a luxury 'pet menu', featuring steak and mashed potato for dogs and fresh salmon and cream for feline guests.
"For all intents and purposes, we treat it with the same respect and seriousness as a couple who are staying with a young child," explains the hotelier. "There's no difference in the way we approach it."
(DOGA – Yoga for You and Your Dog by Mahny Djahanguiri will be published by Hamlyn in February 2015)