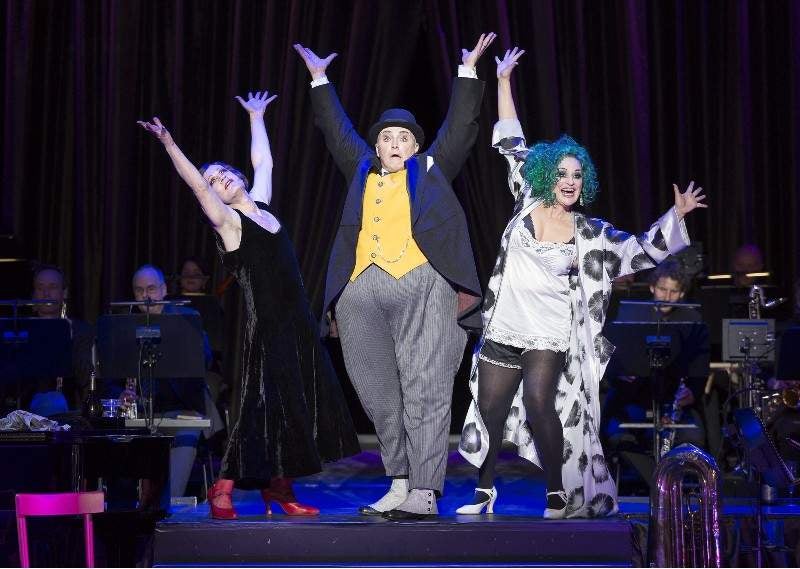 Melinda Hughes travels back to Weimar Berlin to take in a classic, if compromised, cabaret
I'm your go-to girl if you want to know anything about Weimar Cabaret. In fact I'm obsessed with the era. I've been many times to Berlin and have often looked for proper Berlin Cabaret shows from an era made famous by Brecht, Weil and Friedrich Hollander.
Back then performances were packed with sharp political satire, cross-dressing themes, and sharp theatrics, which imploded with the rise of Nazism and the Third Reich.
Surprisingly there isn't much to find today; there's Bar Jeder Vernunft but the others are more shock transvestite shows such as  Kleine Nacht Revue  and Travestie Show.
There are walking tours, I highly recommend one given by the very knowledgeable and amiable Brendan Nash, but there's precious little for tourists who come to seek out old style cabaret and get a taste of old Berlin. So when I heard through the grandson of the Russian Jewish composer Mischa Spoliansky that a production was planned at the Komische Oper in Berlin, I snapped up tickets and booked a flight.
Heute Nacht oder Nie (Tonight or Never) is a classic revue that was one of the hits of the day. Mischa Spoliansky's beautiful music isn't performed enough so it is fantastic to see it given an airing, particularly when many of his songs written in the late thirties have such resonance today.
The Komische Oper is an opulent theatre in central Berlin that's well worth a visit. It has an excellent repertoire of sumptuous operas, musicals and operettas so words cannot express my disappointment with director Stefan Huber's production of Heute Nacht oder Nie. The direction was trite, clichéd and gawdy, rather like a student review (I almost burst out laughing when a shaking, traumatised lesbian played by Christoph Marti crawled under the grand piano after a striking a series of Marlene Dietrich poses on a wooden chair.)
Perhaps Huber wants to white wash the time or perhaps he wants to parody it? Either way, it was a rather shallow romp of a show. There were the obligatory wooden cabaret chairs superbly straddled and fantastic 1930's costumes designed by Heike Seidler, but there was little atmosphere and the visual gags were childish. I simply didn't feel like I was in 1930's Berlin. This was mainly due to the fact that it was semi-staged with singers often lost amongst orchestral players, preventing any effective use of dramatic lighting or focus. It made for a muddled mis-en-scene lacking in intimacy.
The cast came partly from a celebrated Berlin Cabaret Trio Der Geschwister Pfister. Christoph Marti played the lesbian, Tobias Bonn the Bonze, Andreja Schneider the whore and the voluptuous Mirka Wagner the wealthy young lady. These key archetypes drift through an evening in Berlin singing celebrated songs such as Leben ohne Liebe, Where Flamingoes Fly, Wenn die Beste Freundin (made famous by Marlene Dietrich) and Auf wiedersehen. Sadly though the beauty of many songs was missed as they were sung way below the original key and were too heavily orchestrated.
I couldn't fault any role; each character was clearly defined, delivering a strong vocal and theatrical performance and the upbeat numbers were fun. I particularly liked the tenor Johannes Dunz and soprano Mirka Wagner as the two lovers. The mix of cabaret and opera singers worked well. (It's something the ENO could learn from when mounting musicals such as their recently semi-staged Sweeny Todd.) I was also very much taken by Kai Tietje as the pianist, supposedly Spoliansky himself.
If you do go Berlin, it is definitely a must to catch a show at this beautiful opera house where pretzels are served outside on the steps and the sekt is flowing. It's a real Berlin experience. Perhaps afterwards, pop next door down the alley by the stage door to a über trendy speak-easy style bar and restaurant CookiesCream.
If you really want to make a weekend of it, I advise staying in the opulent, yet funky, Hotel de Rome where the rock stars stay. Last time I was there, I hung out with Rick Wakeman… as you do.
@melhugsopera
Melinda Hughes will be performing Weimar and Back as part of the London Festival of Cabaret on Monday 2 May
Melinda Hughes CD Smoke and Noise features songs by Mischa Spolianksy
Photos by Robert Recker