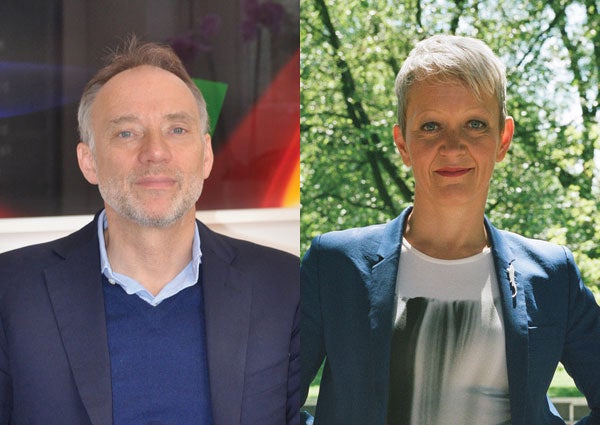 If we don't support the public art institution then the ecosystem between public and private becomes unbalanced, Thomas Dane says
The Giver: Thomas Dane, owner of London's Thomas Dane gallery
Lasting support
Before opening a gallery I worked on collections and in backing various artist projects. I was a co-backer on 'In and Out of Love', Damien Hirst's first show in London, in 1991. I've been a trustee of Nottingham Contemporary for five years, which has given me an insight into public art galleries, how they are financed and the challenges they face. The way I see it, public and private are interdependent, and if we don't support the public structure then the ecosystem between public and private becomes unbalanced.
It is clear to me how difficult it is and how much more difficult it will be. It is incredibly important that we maintain our public spaces. They need financial support and, for collecting institutions, it's not just a case of money but also of donating artworks to keep those collections alive and current. That is the primary reason for making a gift to the Whitworth.
The other reason is Maria Balshaw, who is an inspiration to many people in the art world. She has transformed the Whitworth galleries into a world-class space with a relatively small budget. Her work has put the Whitworth in a league of its own in terms of a collecting institution outside London. Visiting the re-opened gallery in 2015 ignited a discussion with Maria and gave me the confidence to start to give things. Between [art dealer] Ivor Braka and myself we've given six works, but I hope to continue to gift pieces over a period of time. That's the ambition — that this isn't just a one-off donation but that we continue to gift.
The Whitworth has commissioned an outdoor Anya Gallaccio sculpture for the surrounding park for 2016, so it seemed natural to gift a significant indoor work [Red Door with Handle] that can complement the commission. I gave a Rebecca Warren [Sylvesternacht], which was included in the Turner Prize show, to support Maria's ambition to bring more women artists into the collection. I hope someone will add more works by Rebecca so she's better represented.
The Whitworth already had Michael Landy pieces in its collection, so that gift [Appropriation 3] was intended to supplement those works. The Paul Graham photograph [Paint on Road] was something I just showed to Maria and asked: 'Is Paul Graham relevant to the collection?' It was from an Irish series he made in the 1990s and Maria felt it related to Willie Doherty, already represented in the collection. It was a reference she wanted to include, so she said: 'Absolutely, it does make sense.'
The imbalance is huge between London and the regions. Recently, there has been growing recognition that cities outside London should be empowered to look after themselves. I hope that more wealthy people from different regions will do more to help cultural organisations in their cities. Manchester has changed so much over the last twenty years and the transformation Maria has made at the Whitworth helps in this process of regenerating the city. One of the things Maria did when we announced the gift was invite local supporters, who have since pledged further help.
It was the Whitworth's reopening that was the key, because they've made such a beautiful transformation. By keeping the Sixties renovations intact, they've retained the layers of history but also made it very much a gallery for the future. It's great to be able to collaborate with the Whitworth, as well as Maria Balshaw and Ivor Braka.
People have said to both Ivor and me 'congratulations' on the gift, but the best result is if we have encouraged others — dealers and collectors — to do the same.
The Gift: Dr Maria Balshaw, director of Manchester's Whitworth Gallery
Local pride
The Whitworth was established 126 years ago now. It was founded with great philanthropic gifts: the owner and editor of the Manchester Guardian, John Edward Taylor, gave 266 watercolours, and there were many, many other gifts in the early decades of the gallery's life which helped establish a collection that really is of international importance.
We're part of the University of Manchester, which itself is international, ambitious and takes very seriously its role as a civic partner and has a sense of social responsibility to the wider city. The gallery sits in a lovely park and is right on the edge of the city centre. That means we're facing the really culturally diverse communities of Moss Side, Hulme
and Rusholme.
In terms of the collection, what we've been striving to do over the past ten years is really strengthen the Contemporary relevance of our collections and the Contemporary art that we hold here so that we match the fantastic historic strength of the collection. We've got more than 60 works by Turner in the collection, and the Whitworth acquired the first Picasso of any public institution in the UK, so you've got this fantastic tradition of major artworks. We have Francis Bacon, Lucian Freud, Jacob Epstein — all the 20th-century greats — so our 21st-century challenge is to make sure we have truly great works by Contemporary artists.
As with all good things, the gift grew out of a much longer-term conversation and the building of a friendship. I've known Thomas for seven or eight years — he represents some artists which we've shown in the gallery — so we've built a good professional relationship and he's been following what we've been doing in expanding the building and our collections.
Over the last twenty years we've focused on artworks that sit between different collection areas — pieces that are both Contemporary art and textile. In a sense, the Tracey Emin blanket [gifted by Ivor Braka] gets to the heart of the significance and the generosity of this gift. We need that piece in the collection in terms of the relevance of its connection to what we hold and in terms of reflecting the very best of Tracey's work. We've now been able to do that because of Ivor and Thomas's generosity.
In London or New York you've got many hundreds of people who want to — and can — support galleries, museums, theatres, when actually what people need to understand and remember is that they could probably make a much bigger difference in the medium-sized regional cities they come from. We're on a campaign to remind the philanthropists, the entrepreneurs, the industry leaders who were born and raised in Manchester that they could give back to their home city in exactly the way that you see very commonly in the US.
The artists gifted are part of that small number of artists in the art world that everybody recognises. There's real delight when people go into our new gallery spaces: you get this sense of 'Ah! I didn't know we had one of these here in Manchester!' When the team tell them about the gift and Ivor and Thomas's generosity, there's a huge sense of local pride.
The great thing about giving art to a collection like the Whitworth is that it's in the collection for ever. In a hundred years' time people will be sitting down and looking at what was important in the art of the 2010s, 2020s. It gives to the nation and to the UK public. Individuals can make a tremendous difference to galleries like ours over a very long period of time.