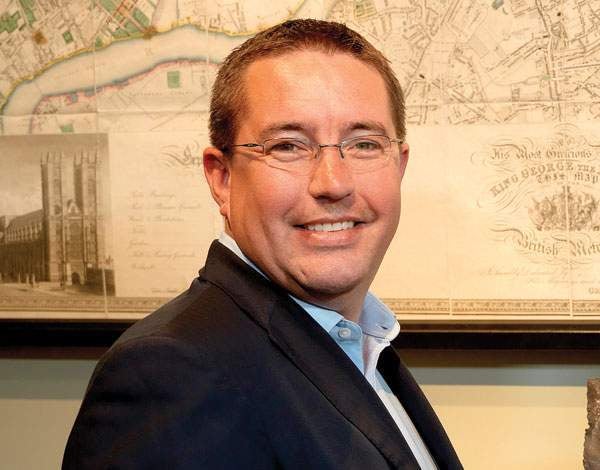 The atlas and antique map expert funds the British Library's digitisation of 50,000 items in the King's Topographical Collection.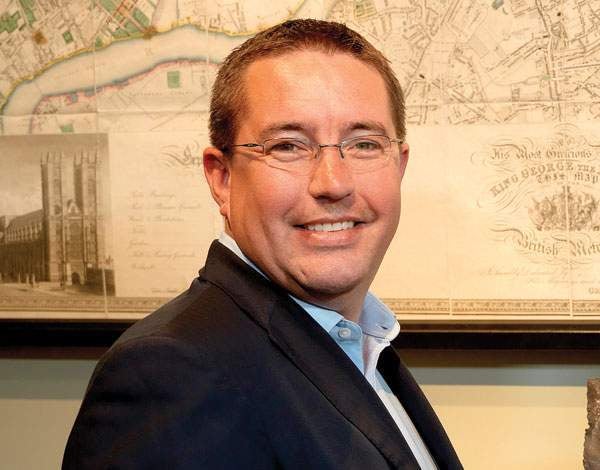 THE GIVER: DANIEL CROUCH, RARE BOOKS AND MAPS DEALER
I worked at Sanders, the rare book dealers in Oxford, through school and university, and when I left university I had nothing else planned, so I went back to what I always did. One day the owner, Chris Lennox-Boyd, came in, having pretty much got rid of the management, and said: 'Looks like you better run the place, then.'
So I did that for two years, then I went to work for an auction house and for the rare books dealer Bernard Shapero, before a couple of customers in 2010 suggested that Nick Trimming, my business partner, and I start our own business. I never thought you could actually have a career doing this job that I loved.
My special interest is in rare maps and atlases. I think we are more interested in place and geography now than historically anyone ever has been, probably because we encounter maps more, online, but also we travel more: we emigrate and we go on holiday and we get about more for business than ever before in history.
Maps tell us all sorts of stories; you can learn a huge amount from cartography that is non-geographical, for starters. If you imagine a map that shows you internet usage around the world, it has huge holes over Africa and China. You have maps of epidemiology too: one of my favourite is the 19th-century John Snow Broad Street map, where he marked out cholera deaths in Soho around a water pump to show the connection between cholera and water.
I'm a keen user of the British Library — in fact, they're very good customers of mine too — so I'm aware of the cartographic treasures that they have, which are in my view colossally underappreciated by this country.
Peter Barber, the former curator of antiquarian maps at the British Library, and Tom Harper, the current curator, very wisely realised that they had this identifiable nugget of material that warranted public appreciation, and because it's all in albums, it's not something that's usually displayed. They wanted to make it available to more people as individual images, so as someone who's been keenly involved with them in the past, they asked me whether I thought it was a viable project to raise funds to digitise this.
When we started our business in 2010, Nick and I decided we wanted to give away a proportion of our profits to things we believed in, and what better a thing to give a regular sum of money to than something that needs regular funding? It needs a contribution so they can keep going, and it will be with us all for years to come.
We have an initial programme that we've given a certain percentage of money, to digitise the atlases in the King's Topographical Collection, in particular the Klencke Atlas. As long as the digitisation project continues, we'll support it as best as we're able.
The Klencke Atlas is a symbolic item. It is filled with wall maps from the Dutch Golden Age, and it's really where the expression of the previous 200 years' worth of discovery reached its zenith, because we're able to show Australia and America in the new worldview, using the best engraving and printing and colouring and binding. You have this extreme beauty done by very talented artists which is also scientifically accurate. The Klencke Atlas is the summit of all that in one book.
crouchrarebooks.com
THE GIFT: TOM HARPER, CURATOR OF ANTIQUARIAN MAPS, BRITISH LIBRARY
The British Library's map collection is the national map collection of Great Britain and it contained, when we last counted, about four and a half million maps. That makes it the second biggest map collection in the world, behind the Library of Congress. However, we have material that goes back further in time, dating back to as early as AD15 — it's a map symbol that appears on a Roman coin.
We understand mapping here in its widest possible context. Mapping is pieces of paper and maps in digital form, but also maps as objects, as globes, relief models, cartoons, on coins, on medals, on badges. Anything that shows or is a representation of space is a map.
The King's Topographical Collection is a historical collection of maps owned by George III that we have in the British Library. Many of these maps are representations of geography, but they're also works of art in that they are copperplate engravings, with artists using their not inconsiderable skill to create something that is quite beautiful as well as functional.
George III liked maps, we think probably because he didn't really like to travel that much. We understand his geographical collection, which numbers around 50,000 maps, as a sort of surrogate travelling exercise, because the king was an armchair traveller. He saw the world and his empire, his possessions, through this incredible map collection, which came to the British Museum (when the British Library was part of it) in 1828.
It has maps as early as the 16th century that were produced and given to Charles II, and that includes really the centrepiece of this collection, and arguably the centrepiece of the entire national collection, which is the Klencke Atlas.
The Klencke Atlas is an extraordinary thing; it was until 2012 the largest atlas in the world, and by large I mean about two metres by two metres when open. It was big for a reason, and the reason was that it was presented as a gift to Charles II on the occasion of his restoration to the throne in 1660. If you want to give a king a gift, you make it a good one, don't you?
The atlas was compiled by a Dutch sugar merchant called Johannes Klencke, who was very keen to patronise the king, but he was also very keen to get something in return. He wanted trade allowances with Britain and so this gift was intended, yes, to glorify the king, but also it was very much as a commercial thing to extract some sort of licence.
We've been digitising our collections for decades, but this collection of 50,000 items is a large undertaking. Digitisation now is better than it's ever been before, and we're very keen to get this collection out to people for free, that's really part of our remit as a national library, not just in our reading rooms but throughout the world.
Daniel has been an ongoing supporter of the King's Topographical Collection project, and more generally of what we do in the
British Library. We've been speaking with Daniel about how he could help us, and he has provided money for different parts of the project. But it seemed at this point like a really good idea to tackle the jewel at the centre of the collection and Daniel was up for that as well.