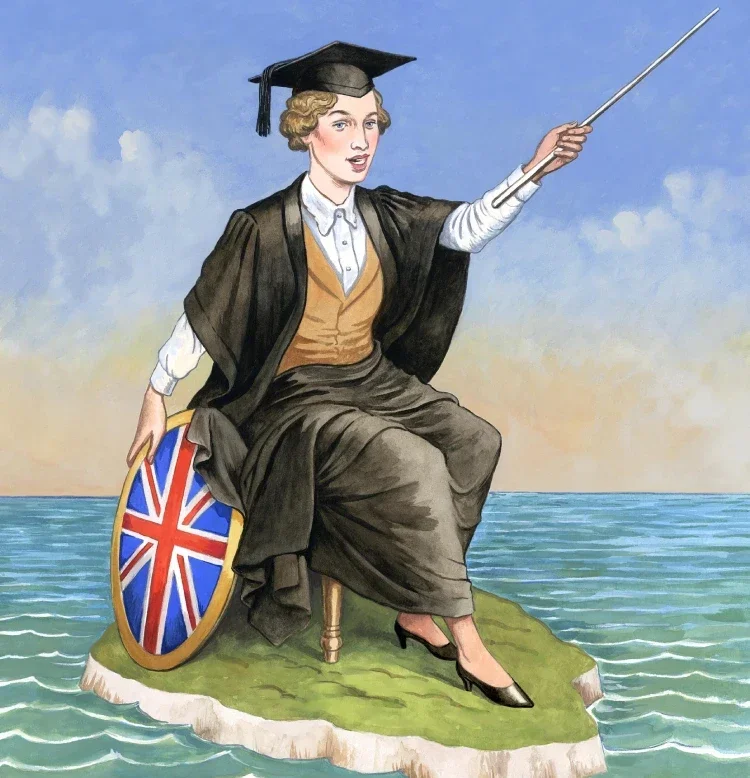 In independent school development offices across the UK, people are talking about expansion. Not just about music blocks and sports centres, but also about international relations. Schools are not only talking about attracting a wider variety of students but also considering opening outposts in other countries, spreading their brands far and wide. This is the growth of the 'branded school' (the term most often used) or the 'sister school'. And they're taking over the world.
The phenomenon can be traced back to 1996, when Dulwich College, the 400-year-old boys' public school in south London, opened a co-educational day and boarding school in Phuket, Thailand. Michael Wilson, now the principal of Cranleigh Abu Dhabi, was part of the team that set up Dulwich Phuket, which is now known as the British International School, Phuket. 'It was like a replica of Dulwich in the UK,' he explains. 'The founders physically built Dulwich in a very similar style to Dulwich in the UK.'
The school opened successfully, catering for the needs of locals as well as expats, but few people back home noticed. 'It was so new that it was just something that somebody else was doing,' says Wilson. Jonathan Hughes-D'Aeth was teaching at Rugby School at the time and recalls Dulwich's Thai outpost opening. 'People thought, "What on earth are you doing?" They said, "You can't replicate good schools overseas in that way."'
But then another school had a similar idea. Two years after Dulwich Phuket opened, Harrow School established a co-educational day and boarding branch of its own boys' public school in Bangkok. A year later, Barnaby Lenon took over as headmaster of Harrow. 'Dulwich's example was important,' he says, 'because it showed that it could be done.' Even when Dulwich and the owners of the school in Thailand parted ways in 2005, 'it didn't really damage them that much', says Lenon.
This moment marked a key point, he says, 'for people like me who were thinking about setting up schools [abroad]'. To make the Bangkok school work, Lenon assured the governors that he wouldn't spend too much time away from Harrow. Governors were appointed specifically to manage the international outpost – 'one to deal with the money side, an accountant, and one to deal with the quality of education, a retired headteacher'.
During Lenon's time as headmaster of Harrow, the school opened two further international branches – in Beijing and in Hong Kong. 'We were approached by many other countries asking if we would set up schools, but we decided that the most we could cope with was a school every three or four years,' he says. But why do it at all? 'It was about money,' says Lenon. 'Harrow needed extra sources of income to fund bursaries without us having to put the fees up too much.'
Although the 'initial objective', he says, was financial, 'I'm glad to say that these projects developed into something more than that. There were close relationships between the schools – pupil exchanges, music tours – and they began to have a much more valuable educational purpose.'
Harrow parents at home, he adds, were happy with the setup 'once it was explained that it wasn't going to distract me from the purpose of educating their sons, and once it was made clear that there was an additional source of money which was to be used to hold down their fees'.
Today there are ten Harrow schools abroad, including the newest branch in Appi, Japan, which opens this autumn. According to the Independent Schools Council's 2022 census, there are 93 branded school campuses operating worldwide, educating almost 60,000 pupils.
There are, the census notes, 'more pupils being educated in overseas campuses than there are overseas pupils in [Independent Schools Council] schools in the UK'. The British Schools in the Middle East group has 150 schools on its book, 14 of which are branded schools from the UK, while according to ISC Research, which tracks the international schools market, China has the most branded schools from around the world.
Other countries are cashing in on branded outposts too: Branksome Hall, a day and boarding independent school for girls in Toronto, opened a branch in South Korea in 2012, while Dwight School, an independent school on New York's Upper West Side, now has branches in Shanghai, Seoul and Dubai.
More are planned from the UK independent schools market too. Malvern College International will open schools in Tokyo and in Barbados next year, while Repton School has signed an agreement to open a second school in Cairo, as well as one in Qatar and another in Sofia, Bulgaria.
This might not be the most obvious location for such an outpost, but 'we found a partner there', says Daniel Lewis, managing director of Repton International Schools Ltd. Repton doesn't like to use the word 'franchise' about its schools, says Lewis, as that suggests 'a model where there's a manual that you hand over and say, "Fine, get on with it." We're deeply connected to the schools, and there are a range of management services that we provide to each of the schools – we don't just give our name. We sit on the governing board, I have weekly calls with the heads, and we have educational projects that we do across the group.'
While schools in the UK may work closely with their sister schools abroad, it would be wrong to suggest that these are all carbon copies of their motherships. Just like the Harrow international schools are co-educational, other well-known single-sex schools in the UK have gone co-ed abroad. The high-achieving North London Collegiate School educates 1,100 day-girls in Edgware, but when it opened a branch in Jeju, South Korea in 2011 it went co-ed, and boarding.
One wonders at what point a school's domestic identity becomes irrelevant – and whether that even matters. For the schools, it's about deciding what the core elements are, says Fiona McKenzie, head of Carfax Education in the UAE. She remembers doing a workshop with staff from another school and asking them: 'What is your core ethos – where won't you compromise?'
'North London Collegiate must have reconciled themselves with the fact that their core ethos is high academic standards,' she says. 'It's not just about being single-sex.'
Others have thrown out different elements from their UK offerings. When Michael Wilson was involved in the foundation of Cranleigh Abu Dhabi, the school was initially going to offer boarding, as it does in the UK. During one meeting he realised: 'I didn't need boarding, I needed what boarding brings to a school – a home from home. We reckoned we didn't need boarding provided that we had break-out spaces around the school, and allowed kids to socialise.'
The minutiae of a UK school don't matter so much in a new country, says Selina Boyd, editor of the Good Schools Guide International – it's the UK brand itself that matters. 'Parents are attached to the perceived track record and trust of branded schools,' she says. 'Branded schools can almost short-cut the process when they're setting up – it might take an unbranded school years to develop their name and demonstrate their credibility.'
But is there something about British schools in particular? Anne Keeling, communications director of ISC Research, believes the investors who help to set up branded schools in their own countries are often attracted by familiarity: 'Some of them will have gone to boarding schools in the UK, where they had a great experience and want to replicate that in their home country.'
Having established which model of international education they most believe in, Keeling adds, 'they then look at the school brands that have got the highest reputation, tending to base that on where students from those schools go to university'.
Of course, the branded schools model is not for everyone. 'There are some schools that have said that they will never do it – I think Eton is one of them,' says Lewis. 'They tend to be schools that have no need to, since they have huge endowments and know that they are totally secure. They don't want to be bothered with it, which is a perfectly reasonable position to take.'
For those who do open abroad, geopolitics must be considered – earlier this year Harrow Beijing was forced to rebrand as Lide Beijing, following tightening of controls in China. But, as these schools are proving, there is strong demand for what they are selling – as long as it's good value for money. Boyd, who lives in Singapore, hasn't observed any snob factor in favour of higher fees in Asia: 'People judge schools on their results, on their rigour, on what other parents are saying. If a school isn't delivering, it doesn't matter what they're charging.'
Considering the landscape of the branded school, one might wonder if there is still more room for growth. Absolutely, says Hughes-D'Aeth, a former headmaster of Repton Dubai. 'They are worried here that there's going to be an under-supply of between 10,000 and 20,000 school places in the next few years. They're saying the population is going to grow by another million. The fastest I've seen them build a school is in 18 months – because they can.'
Eleanor Doughty is currently writing a book about the aristocracy
Illustration: Martin Hargreaves
More from Spear's
The 2022 Spear's Schools Index
The best UK Prep Schools in 2022
The best private UK senior schools in 2022
The best private schools in China and Southeast Asia in 2022