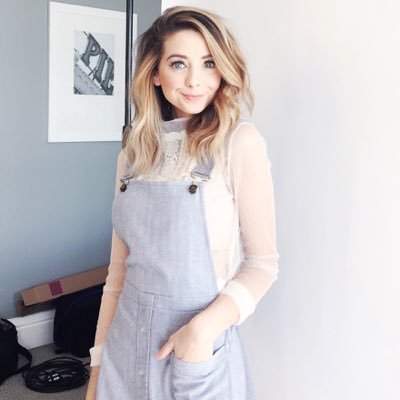 British beauty and fashion vlogger, better known as Zoella, Zoe Elizabeth Sugg's net worth is estimated to have crossed £2.5 million.
Zoe Sugg was born to Graham and Tracy Sugg (a beautician) on March 28, 1990 in Lacock, Wiltshire. Completing her A-Levels (Art, Photography and Textiles) from The Corsham School, Sugg began working in an interior design company when she decided upon starting her blog zoella280390, dedicated to beauty and fashion, in February 2009.
Collecting a thousand followers by year end—while employed by English fashion brand New Look—the blog metamorphosed into YouTube's Zoella. She then created MoreZoella, her second channel, for her 'daily activity' videos.
Other YouTubers such as her boyfriend Alfie Deyes (PointlessBlog), Tanya Burr and Louise Pentland have featured on her channel.
Inking a two-book deal with Penguin boosted by a £100,000 advance in 2014, Girl Online, her first novel, was launched on November 25, 2014. Selling 78,109 copies in the first week, it broke the record for highest sales by a debut author (beating Fifty Shades of Grey and even Harry Potter).
The novel has sold upwards of 298,310 copies until now, raking in about £2 million. October 2015 saw the launch of its sequel, Girl Online: On Tour.
Sugg's awards include Cosmopolitan's 'Best Established Beauty Blog' (2011), 'Best Beauty Vlogger' award (2012), Radio 1 Teen Awards' 'Best British Vlogger' (2013 and 2014), 'UK Favourite Vlogger' at Nickelodeon Kids' Choice Award (2014) and Teen Choice Award's 'Choice Web Star: Fashion/Beauty'(2014 and 2015). Channel Zoella stood fourth in the UK in terms of popularity in 2014.
In 2014, Sugg featured in various ads on Billboards, print media and TV and also unveiled Zoella Beauty, her own beauty products line.
As per CelebsNow, YouTube vloggers earn approximately '£0.0007 per view' and Sugg's channels draw 22 million clicks per month on average, equating to monthly earnings of £15,000. Attracting 264 million video views from February 2014 to February 2015, Sugg has earned £170,553 in just ads, according to CelebsNow.
CelebsNow also reported that her written blog Zoella.co.uk makes around £4,000 per month from ads, with approximately 7.4 million clicks each month.
According to CelebsNow and Superdrug, Sugg's beauty line has sold around £1,430,000 worth of products. Overall, brand Zoella has reportedly earned £3,884,338 in the last one year.
Sugg has written blog has recorded over 540 million clicks as of September 2015, while views for Zoella have crossed 663 million (over 9.9 million subscriber base). MoreZoella claims over 290 million clicks (subscriber list: 3.4 million plus). Her Twitter following is over four million and Instagram, seven million. Zoella has an approximate viewership of 12 million a month.
Sugg's TV appearances include Loose Women and This Morning (2014) and The Great British Bake Off's comic relief edition (2015).
Image credit: Twitter