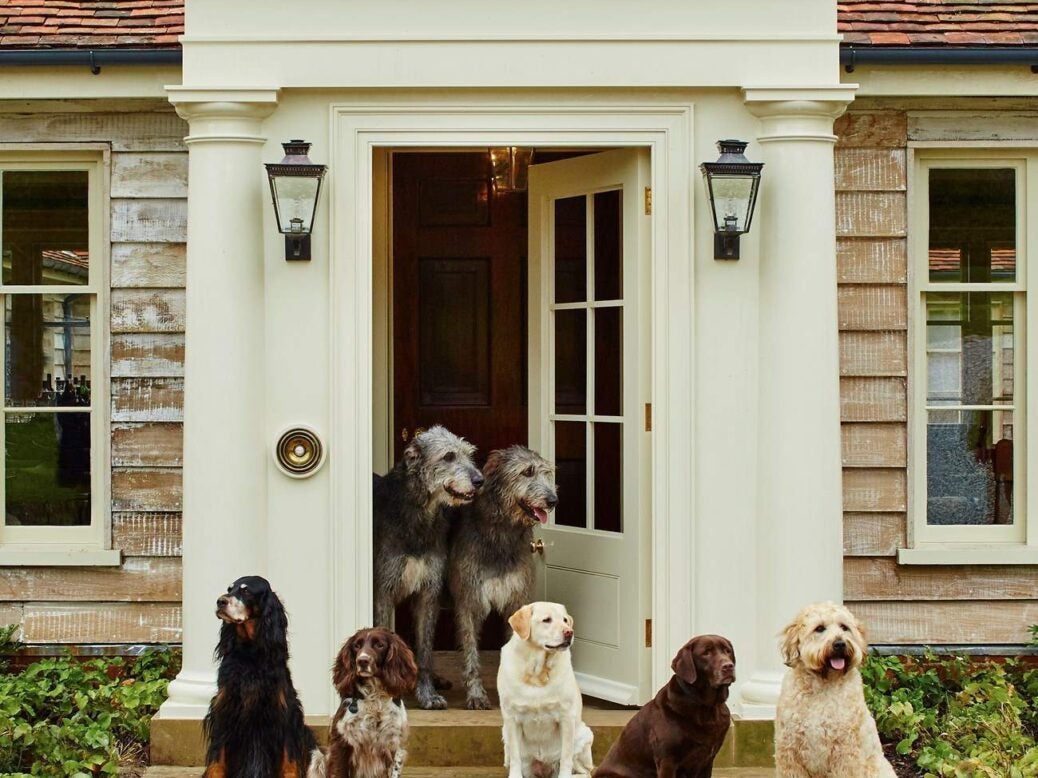 William Cash on Hound Lodge — a former stately dog house — and the rise of the buy-to-holiday-let market.
Ten thousand pounds a night to stay in a former 18th century dog kennel on the Goodwood Estate may seem pricey. But once again the Earl of March is ahead of the curve when it comes to getting 'Absolute Estate Return' from his family's 12,000 Sussex acres. Back in 1697, when the first Duke of Richmond moved to the estate, his stately dog kennels – fitted with central heating before the main Goodwood House – were described as 'the most luxurious dog house in the world'.
This holds true today –  only guests are HNWs not hounds. After a two-year refurbishment, Hound Lodge, which families or corporates can rent by the night or the week, is a perfect example of how entrepreneurial aristos are turning the old traditional estate model on its head.  Instead of the land (and tenanted cottages) paying for the upkeep of the 'Big House',  it's now the other way around with the house and grounds – and holiday let properties – paying the estate bills, with a tidy profit (Goodwood's revenue is over £70m). High margins can be made from from fixing up a crumbling old Dower House or six bedroom Cotswold period farm house, and renting it for £5,000 a week to wealthy foreigners or international families wanting a 'serviced' mini-Downton 'Escape London' experience.  Put the gardener in tails and you have your butler.  To create this 'Mayfair Country House' look, hire a decorator like Vivien Greenock whose houses include Badminton for the Duke of Beaufort.
I can see many a tycoon or hedgie eyeing up Hound Lodge for their 50th birthday party – along with black tie dinner for ten couples, and classic car motor racing or a day's pheasant shooting on the estate. I will be reviewing the property in the next issue but highlights include a complete re-build by the country's top conservation architect Ptolemey Dean with interior design by Cindy Levenson (who was Lord March's former 'stylist' when he was a budding photographer) who also decorated the private side of Goodwood House.
What makes the house special is that, like the success of Robin Birley's 5 Hertford Street, it feels like a boutique private home rather than a hotel or an OKA showroom.
The beautiful rooms have been meticulously put together by Cindy from an eclectic range of both 'old' and 'new' sources that tie in subtly with the dog-loving and sporting history of the former kennels, where the comfort of dogs (and horses) was always more important than the guests. So when you arrive you are allocated a room named after a favourite Ducal hound (mine was Dido), who is your house guide. Every room has a butler buzzer to provide everything you need, mitigating the trip to the local Tesco to stock up on milk and Pot Noodles for the duration.
Indeed, a new HNW property fund, Villarum Estates (backed by a family office and some property HNWs), is shortly launching to capitalise on this buy-to-holiday opportunity with a series of investor breakfasts held at — where else — 5 Hertford Street. Sick of packing up the nanny and extended family for a £30,000 a week abroad (probably with no snow or a holiday ruined by the typhoon season), why not spend £6,000 staying in England? The model is to apply the Alpine chalet holiday idea to the English country manor or coastal country house. For international HNWs, especially for those with children at school in London, 'serviced' renting — rather than buying — is second nature. So is being surrounded by uniformed staff.
I know of no country house in the land that actually has a butler buzzer — not even my friend Leon Max at Easton Neston, who has almost perfected the art of running a stately home like a private hotel. What makes Hound Lodge certain to succeed is the fact that March has pulled off the difficult trick of making guests feel at home and comfortable in this faux fantasy version of modern English country life whist also keeping the experience 'authentic'. One way to do this is to mine the rich lineage of family heritage. The vast landing strip of a dining room table comes from Gordon Castle (the March Scottish estate). Yet while the exquisite Georgian-style polished doors may look original, they actually were bought for just £5,000 at auction by Cindy; other furniture came from eBay and antique shops.
We know about the luxury 'serviced' apartment in London. But the idea of luxury serviced country houses or rental holiday homes, with uniformed butlers on call 24 hours a day, is a pioneering concept. Actually HRH the Prince of Wales is doing something similar at Dumfries House in Scotland, where guests can rent holiday lodges decorated by Annabel Elliot. But they are not at the level of Hound Lodge. Marketing 'full service' country or coastal properties  to HNWs — who regard £5,000 a week as a bargain compared to a week in Mustique or the Maldives — is a good idea. Not least as families now want 'multigenerational' holidays (bring the grandparents) with some educational, cultural and sporting appeal. I expect the buy-to-holiday-let market will soon have more appeal than the buy-to-let property market, which has been targeted for punitive tax raids by George Osborne.
At £10,000 a night, expect Hound Lodge to be quickly snapped up for Christmas and New Year. With little snow in the Alps yet again this winter, the idea of staying in a 'fully serviced' country house in England has never had more appeal. Book early. As Charles March told me at the launch: 'We may have priced Hound Lodge too low.'