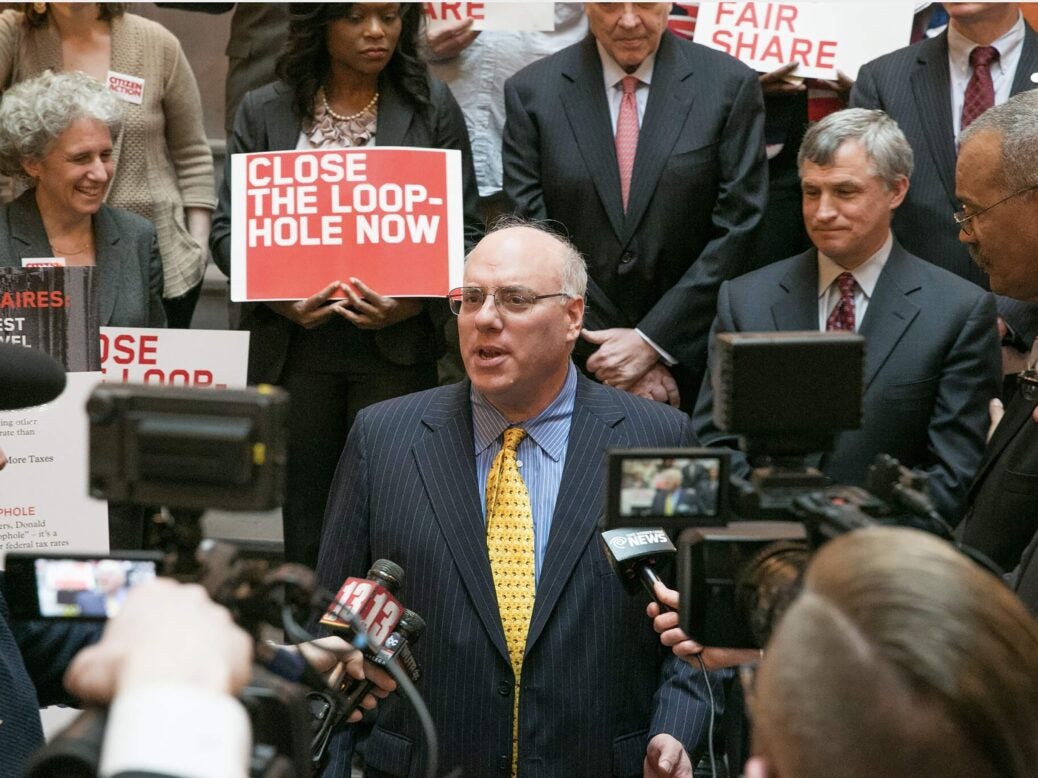 A former BlackRock managing director wants to raise taxes for the rich
Morris Pearl, chair of the Patriotic Millionaires
The basic premise of the Patriotic Millionaires is that there is so much gross inequality in the US that it is causing the breakdown of society – it is approaching civil unrest, so we need to do something about it.
The areas that we work in are raising taxes for the rich, decreasing the influence of rich people within politics and raising the minimum wage.
Inequality happens over a long period of time. It wasn't that long ago that black people could not do things that white people could, and that included getting certain types of subsidised mortgages. I was able to get a world-class education because my parents could pay for it, partly because they had a government-subsidised mortgage.
My kids went to college and never had to get student loans or part-time jobs. My granddaughter's parents are already talking about putting money in her trust fund. Those differences that started generations ago persist today.
Mark Zuckerberg was able to work without getting paid for years because his parents gave him a stipend when he started Facebook. I'm not saying he's not brilliant, but there are more brilliant people who haven't had the opportunity to become billionaires.
The minimum wage in the US is $7.25 per hour, or $2.13 per hour for people in jobs that get tips. We believe it should be higher.
Our members, who are big business people and investors, meet with elected officials and say: 'No, actually, we don't first decide how much profit we're going to make and then pay our workers based on that; we pay the workers what we need to pay the workers, and then whatever is left at the end is the profit.'
Literally anyone in the world would be preferable to our current president. We're not endorsing particular candidates during the primary season, but I would be in favour of those with big, bold ideas who are actually in favour of changing the system. There are people such as Senator Elizabeth Warren and Senator Bernie Sanders who have proposals to address our gross inequality.
We're supporting a lot of different policy proposals on taxing the rich. The US had a 70 per cent tax bracket for much of the 20th century and it did very well. But the number is not important; what is important is that we use the tax system to decrease inequality. Warren Buffett has published his tax admission – his rate is below 20 per cent. And this is only on taxable income – he makes billions a year as the main shareholder of Berkshire Hathaway that he doesn't count as taxable income.
I don't claim to be purely altruistic. It is in millionaires' enlightened self-interest to support policies that support a robust middle class which can afford to pay bills and buy stuff. What makes billion-dollar businesses work is the millions of people who are making their mortgage payments every month, paying their iPhone bills, paying for cars and vacations. It is money trickling up from the population that makes people rich.
We've been successful. We supported the Raise the Wage Act. We supported the For the People Act [expanding voting rights and limiting the influence of private donations]. We opposed the tax cuts that were passed at the end of 2017.
But we've also helped move the national narrative. Five years ago, no one was talking about wealth tax or taxing capital gains; now these things are part of the debate.
WEB: patrioticmillionaires.org
Interview by Anna Solomon
Image: Patriotic Millionaires 
Read more
Why 'blended finance' is the best way to do good with private capital
Blackstone's Stephen Schwarzman on philanthropy, business and what keeps him up at night