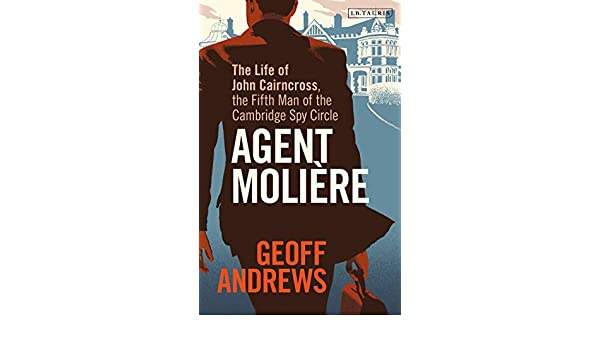 Arun Kakar talks to the author of a new book about John Cairncross to discuss the elusive 'fifth man' and why the five remain a subject of national fascination today
During the Second World War, a group of five British spies were found to have passed on information to the Soviet Union. The national scandal, known as the Cambridge Five, continues to be a topic of national intrigue today. Why did they do it? Who knew they were doing it?
Now, a new biography of the 'fifth man' Cairncross attempts to unravel the motivations and life of the groups most elusive member. Spear's caught up with the author of the book, historian Geoff Andrews, to talk about what separated Cairncross from the rest of the group and why the Five continue to remain an object of national fascination.
When was it you realised that Cairncross was worthy of an extensive biography?
I came across Cairncross in his connection to James Klugmann and talking to Gayle Brinkerhoff (Cairncross's widow). She passed me his papers and I realised [other books] hadn't really got him at all. They didn't really understand his motivations for espionage, they misrepresented his background.
For example, he wasn't what I'd call an ideological communist, someone who believed in class struggle and the Soviet Union other than as an ally against fascism. He was quite different from the others. He was from a lower-middle-class background near Glasgow so he didn't share the relatively privileged background of the other four.
What were some of the most interesting things you discovered from his papers?
I think the most interesting thing was a diary he kept during a 1932 cycling trip to Germany and Austria. Before the diary had been made available it had been assumed that he'd been in 1934. The difference is quite significant because Hitler came to power in 1933 but also it was significant in trying to understand Cairncross. In 1932 he was a 19-year-old Glasgow university student leaving Scotland for the first time. He spoke fluent German already, he was a very good linguist, that was his area of study. So he was able to talk to the locals, talk to young supporters of the growing Nazi movement as well as the unemployed, Jewish professors. He got quite a lot out of his conversations, and at the same time visited various galleries, opera and so on.
At this point he hadn't read that much. He'd read a bit of Moliere – he'd become an expert on Moliere later. He had a bit of admiration for Scottish nationalism but his political ideas were not formed. He was searching for principles to live by and was really quite naive in many ways. When he was in Germany and Austria it gave him the idea of moving his studies to Paris, being somebody who'd taken to European culture very easily. In 1933 in Paris he had a very significant meeting with members of the Italian anti-fascist resistance, many Jewish intellectuals who were in exile in Paris.
They told him of the importance of working underground and that conversation he had with them in addition to the cycling visit were the two factors that really influenced his anti-fascism. We might think there are significant differences with Italy under Mussolini and Britain in the later era of appeasement, but nevertheless gave him this idea of what he regarded as necessary, and in some cases of taking part in underground espionage.
What were some of the things that you found particularly fascinating as you embarked on your research?
The diaries I would say are the most significant. His own MI5 file hasn't been released although a lot have been. I spent quite a lot of time looking at Klugmann, who had an MI5 file in the national archives. That's interesting because you're looking at various documents – in the case of Cairncross, summaries of interviews he gave after he resigned – you can sort of build up a picture of him, how he is perceived by others.
Plus, his brother Alec was a very distinguished economist and became chief economic adviser to the government, and his diaries are exhaustive. Letters and correspondence that was very interesting, plus the correspondence between John Cairncross and the writer Graham Greene in an over 50-year period.
Can you talk about the relationship between Cairncross and Graham Greene?
He met Greene when he was at MI6 towards the end of the war after he left Bletchley Park. He got to know him as a colleague, and they had this meeting on a train where an apparent stranger sat opposite Cairncross and then talked about Greene's books without realising who he was talking to. It came to light that the author he was talking about was sitting opposite him.
I argue in the book that it was the most important friendship of Cairncross's life. Over this 50-year period, Greene had different roles. In one sense [he was] his academic referee when he started applying for academic jobs having resigned from the treasury. Then he's a kind of mentor when Cairncross was a significant scholar in his later life.
Greene became someone he looked up to. When Cairncross was exposed as the fifth man, Greene was able to offer advice himself and offer some people who may be able to help him, advise him on how to deal with this public exposure at the same time and made suggestions to Cairncross on how he should deal with it.
When he was writing his memoirs, Greene gave him some literary advice as well as on how to handle the security services. Right up until the point Greene died in 1991, he was a very significant friend. Greene was a long-standing resident in Capri and Cairncross spent his honeymoon there.
What picture of Cairncross emerged from your work? What kind of man was he?
My interpretation of his personality and character changed to some extent. In the period when he left Cambridge and went into the Foreign Office in 1936, he was then in the Spanish section of the foreign office during the time of the Spanish civil war and he had various differences with his colleagues and superiors.
On the one hand, he was an outspoken critic of the government's position of non-intervention. He was a supporter of the Republican side and frustrated that the government couldn't take a stronger position. On the other hand, he didn't fit in easily into the Foreign Office and civil service tradition. Although he'd done very well in his foreign office and civil service exams they didn't really prepare him for the diplomatic relations within the office. So he was quite prickly, awkward, difficult to deal with, slightly resentful of what he regarded as very traditional forms of elitism and in fact he was a poor administrator.
He didn't pass his probation, he had it extended. He also found himself in the German section of the Foreign Office at the time of the Munich Agreement in 1938 and that sort of wrangled with him. Ideologically, he had a position on that and was frustrated with the government's position.
His character, personality and politics were out of step with the tradition for the Civil Service.
When he resigned in 1962, he went to Italy and they get a very different character. Italy mellowed him. He became much more free, liberated from MI5, KGB, British traditions and was much more at home in the social and literary circles he enjoyed in Rome. Also, the Italian lifestyle, a capacity for living Italians have – he took to that very easily.
I spoke to friends, former colleagues, people who knew him in Rome and you get the sense he wasn't any longer this prickly character that you find in the thirties and forties. Until the early fifties in a way, there is a certain intellectual arrogance about John Cairncross to some degree.
Perhaps that's behind his decision to be a spy in the first place: that he knew better than the government and didn't have any faith in the opposition, stood his ground and went his own way, led a life of secrecy.
And in Rome, he certainly was someone who was extremely well-read, a great linguist, saw himself very much as an intellectual. There may have been a certain arrogance about that. But of all the people I spoke to, you get a sense of a charm, a warm, vivacious side to his character that we didn't find earlier in his life.
Why do you think the Cambridge Five – and indeed Cairncross himself – a topic of continued interest today?
In a way it comes across as a classic British story. You've got aspects of class, you've also got something that Davenport Hynes argued in his book, this obsession with the establishment and the way in which the establishment covered up and the class backgrounds, with the spies in and out of the establishment. In the case of Antony Blunt for instance, he was given immunity from prosecution.
Cairncross stands apart from that. He was never a part of the establishment and indeed resented the establishment in many ways. He didn't get the immunity Blunt had. When he left in 1964 he wasn't given the assurance that he could return to the UK without facing prosecution. There was a certain degree of uncertainty.
I suppose the fictional portrayals have often glamorised them and are particularly unfair to Cairncross. For example, in the Imitation Game, he is presented as this rather ridiculous blackmailer of Turing. He didn't work with, let alone know, Alan Turing and of course these fictional portraits play to a certain interest.
What I'm hoping that the book will do is perhaps rescue Cairncross from the way he's been depicted in fiction. He's a very complex character, and didn't do himself many favours with the decisions he took in his life. But he was later in life quite a distinguished scholar. His plays were broadcast on radio, and he couldn't attend the rehearsals because he wasn't given the go-ahead from MI5 to return to the UK.
But his work was quite admired and I think that deserves some recognition as well.
Read more…
The Visit review: Lesley Manville shines in a 'scathingly powerful reflection of society'
Why the Star Wars universe is more morally complex than you might think