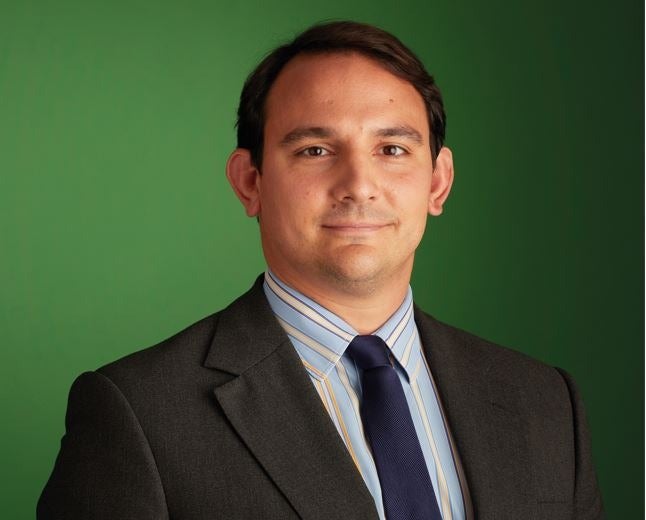 Ruffer's famously conservative approach to wealth management suits its head of UK wealth Luka Gakic, who has seen first-hand what it can be like to lose everything, he tells James Ashton.
As a six-year old, Luka Gakic fled his home city of Sarajevo in the care of his mother. She had just $100 and a suitcase to her name. As the Yugoslavian republic crumbled in January 1992, they boarded one of the last departing United Nations evacuation planes as refugees just a handful of months before the Bosnian War erupted.
Thirty years later, he is head of UK wealth at prestigious wealth manager Ruffer. He is also unapologetically risk-averse. 'I had the misfortune to live through pretty dramatic things early on in my life,' he says, speaking slowly and deliberately. 'That stays with you and you're probably more inclined to look for problems.'
Few of Ruffer's clients will have experienced their currency becoming worthless and the scourge of rampant inflation. Gakic remembers his engineer father, who had stayed behind in what became Bosnia and Herzegovina, reporting in autumn 1993 that the newly issued 500 billion dinar note was worth 'roughly one cabbage'.
But many who have ridden a decade or more of rising asset prices are worried about interest rates, the draining of liquidity brought about by quantitative easing and, of course, geopolitical uncertainty. 'When private clients are besotted by chasing returns they tend not to bother with us,' Gakic says. 'When they start to think maybe they don't want to take the volatility that comes with those returns, then they tend to pick up the phone and get in touch.'
Gakic oversees Ruffer's private client, charities and wholesale operation (where external investment managers make use of the firm's funds) that together account for just less than half of its overall £24.5 billion under management. It is a career path he is unlikely to have embarked on unless the headteacher of his primary school had put him forward for a scholarship from the Peter Beckwith Harrow Trust after he settled in the UK and raced to get his English up to speed. Since 1992 the property investor has funded two boys from state schools through two years of prep and then on to Harrow.'
I was incredibly lucky to get one of those things,' he says. 'It was 120 per cent scholarship: there was full fees but also uniforms, add-ons, stationery, you name it. My mum couldn't afford a third of the uniform, let alone any of the fees.' He is encouraged today to see so many schools expanding their bursary programmes that improve the mix for all pupils.
From Harrow, where he was made head boy, Gakic studied philosophy, politics and economics at Oxford and then joined Lehman Brothers in 2007 as an equity financing analyst. Little more than a year later, when the investment bank was declared bankrupt in one of the pivotal moments of the financial crisis, he saw up close once again what downside risk looks like. 'Confusion reigned. Sitting in our office in Canary Wharf, it very quickly became clear that my boss's boss's boss's boss didn't know what was going on.' The way he describes it, life at Nomura, which acquired his Lehman unit, was just as traumatic, as his graduate intake was whittled down in endless rounds of cuts.
Ruffer, which has 6,400 worldwide clients and a 350-strong team, had its own period of upheaval last year when Clemmie Vaughan decided not to return as chief executive after her maternity leave. That appears to have ended after former communications director Chris Bacon became chief executive in January this year.
Gakic, 36, who was recruited as an investment associate in 2011, joined the board in September 2020 when founder Jonathan Ruffer stepped back from day-to-day management. He praises Ruffer and long-serving chief investment officer Henry Maxey for their 'amazing stillness' that prevents knee-jerk reactions in times of market turmoil. 'We spend a lot of time worrying about some of the difficult and challenging things that may happen and when they do start happening, that gives you the luxury of not quite being able to ignore them, but thinking beyond them and ahead.'
Jonathan Ruffer has poured tens of millions into his Auckland Project, aimed at revitalising the former mining town of Bishop Auckland in County Durham – levelling up before politicians had dreamt up the slogan. Gakic says the founder is not the sort of person to urge colleagues to follow his lead in giving generously. 'He doesn't really need to say very much because he's doing so much.'
According to its own data disclosure, the firm has underperformed the FTSE All-Share Index in seven of the past ten years, but over the firm's 27 years it claims an average return of 9 per cent after fees and charges, versus 7.2 per cent for the index over the same period. Despite its careful reputation, however, it did make an eye-catching $1.1 billion profit on Bitcoin in the space of five months after investing about $600 million in November 2020. The firm prides itself on not being constrained from any asset class, but Gakic says the crypto adventure is over for now. 'It seemed to be more correlated with defensive assets like gold at the time we bought it and there was this growing idea that it may be a digital store of value. We sold it because, if it ever wasn't, it definitely swung back into being a highly speculative token more correlated with things like Tesla shares.'
There is expansion afoot. Taking Ruffer to the US is something 'we are actively working on', Gakic says, as a response to global clients pondering what to do with bonds that are yielding little. A fund specifically designed for US investors has been set up. 'We hope to build on that. Does that mean we open an office there? Who knows? I'd love to, because that would mean it's going well.'
Gakic relaxes by singing. He was in a choir but more recently has been attempting operatic solos, when family life (he is married, with a son aged seven and daughters of five and four) permits. His parents, one Serb, one Croat, met through their choir, and he has good memories of listening while sat at the back of rehearsals.
That childhood happiness jolts him back to the task in hand at Ruffer. 'If I can give a feeling of safety to people, then I will feel fulfilled and that I have used my talents well,' he says.