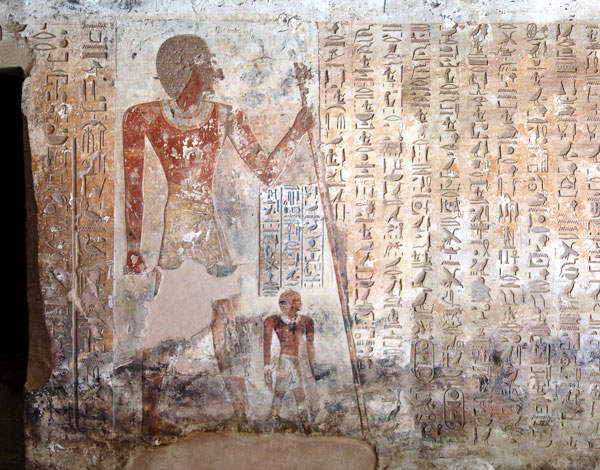 The document itself measures almost 1.8 metres long and is on display in the Egyptian and Nubian gallery of the Ashmolean Museum in Oxford, and though it may be over three thousand years old, the will of Naunakhte has lessons for those thinking of their wills today.
It is an old story and yet a familiar one. Naunakhte made her will with one predominant motive: to disinherit three of her children who had not looked after her properly.
'But see,' she says to the fourteen-strong village tribunal of the village of Deir el-Medina at Thebes (modern Luxor), 'I am grown old, and see, they are not looking after me in my turn. They shall not participate in the division of my one-third, but in the two-thirds of their father they shall participate.'
Naunakhte and her family belonged to a community responsible for excavating and decorating tombs in the Valley of the Kings. She and her second husband Khaemnun had eight children, four sons and four daughters. We know all their names because they are listed in her will and, amazingly, in the estate accounts which have also survived.
The documents allow us to compare England's modern laws and practices for dealing with the potent age-old family issues of one's inheritance with those of Egypt's New Kingdom.
One of the will's most notable aspects is that Naunakhte had a degree of freedom as to how her estate would devolve. This is all the more remarkable when considering the severe limitations on married women's ability to own and control property in their own right in England prior to 1882. Today, a person in England can leave an estate here to whomever he or she chooses – even the gardener – but this is not the case in countries where forced heirship rules apply.
If you have a house in France or reside there, for example, French law insists that your property passes on your death to particular relatives, regardless of what your will says. A single child has a reserved right to half their parents' estates, and two children will receive two thirds.
There are ways to purchase a property which can protect the surviving spouse from the children's entitlement, and importantly, there will be greater freedoms for foreign owners of property in France from August 2015 when new EU regulations come into force there.
Confidentiality is another dimension to will-making which bears historical comparison. There was no secrecy about Naunakhte's wishes or her reasons. Wills likewise become a matter of public record in England, but only after death. Given the many sensitivities around inheritances, this may be a real concern to those making wills.
Today a discretionary trust will can allow the ultimate disposition of an estate and the identity of beneficiaries to remain private, which is a rare privilege in an age of increasing disclosure agreements and threats of registers of beneficial ownership of trusts and companies. For the workers of Deir el-Medina, confidentiality was not even an option.
These papyri also emphasise that disputes over wills and inheritance, which continue to make headlines to this day, reflect deep and universal human sentiments. As Machiavelli said, 'A son can bear with equanimity the loss of his father, but the loss of his inheritance may drive him to despair.'
A form of codicil to Naunakhte's will anticipated a possible challenge by the disinherited son Neferhotp and records him swearing an oath to say, 'If I reverse my undertaking so as to contest the will I will be liable to one hundred blows.'
Thankfully there are legitimate ways of structuring a will making unequal distributions or disinheriting a person so as to minimise challenges which do not involve corporal punishment. These include making a gift conditional upon the recipient not challenging the will (a no-contest clause), diverting assets outside the will by writing a life insurance policy into trust or passing assets through the will to a secret trust.
Wills which do not make reasonable financial provision for children and cohabitees are still vulnerable to challenge – but not if the testator is domiciled outside England and Wales. A foreign domicile may help in more ways than just tax mitigation.
The relative value of goods may change: aside from a bronze washing bowl – which was indivisible and therefore passed to the favoured son Kenhikhopshef – the most valuable item in Naunakhte's will is likely to have been the papyrus upon which it was written.
Yet issues of inheritance are as old as time and property itself, as are the complex emotions and family dynamics that underlie them.
For those considering the future of their estates, let alone a solicitor dealing with wills and matters of inheritance, the will is of great interest. In fact, the day I first lectured on this will, I received an urgent message from a client wishing to disinherit a relative. By the end of the day, a new will had been signed and a valuable inheritance potentially lost.
James Greig is a wills and tax partner at Blake Morgan