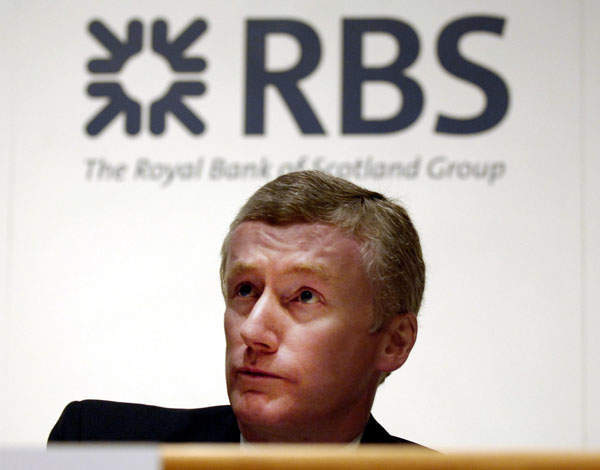 Author: by Stephen Hill
Since the beginning of Global Crunch 2008-2013, when just about every bank in the UK and US was insolvent and needed rescuing, with the notable exceptions of JP Morgan and HSBC, not one banker has gone to prison; and only five junior traders, who lost billions and falsified their back office losses, have been incarcerated.
Meanwhile, JP Morgan has been fined $8 billion for mis-selling mortgages and its 'London Whale' trader lost $5 billion with not one director noticing, while HSBC was fined $800 million for running a money-laundering scam for the drug-cartels of Colombia through its Miami office.
The bank that epitomises the sheer dishonesty, greed, incompetence and recklessness that engulfed the western banking system is the Royal Bank of Scotland. First it needed an overnight loan on no notice from the Bank of England to avoid immediate bankruptcy: you would have thought that the directors of a bank would have known that their bank was running out of money before they realised they couldn't refill their ATMs that night.
Read more on RBS failures from Spear's
It turned out that they needed £88 billion from the taxpayer to stay alive. Again, it is hard for a director of a bank, who can add up and subtract and drink champagne at the same time, not to know that his bank is short of such a huge amount of capital.
The downfall of RBS was triggered by an utterly reckless takeover, however, launched with no due diligence worthy of the name, on the Dutch ABN/AMRO bank, a known sluggard on the international circuit. RBS's hysterical speed of takeovers was triggered by its frenetic CEO Fred the Shred Goodwin, who bought businesses and sacked as many people as he could, so that the profits bounced before beginning a slow decline from lack of investment.
Fred launched his improbable consortium takeover bid with Santander and Fortis Bank which itself unfortunately went bust, as a move to thwart Barclays' equally daft takeover attempt. Fred thought that Barclays must have done their due diligence, but they hadn't either, as Barclays' retail side was desperately trying to expand its consequent deposit base and as Barclays Capital, under the now disgraced Bob Diamond, was growing so fast and getting so big they thought they had to get bigger still. Bob had launched a bid for Lehman Bros just before that bank went bust too.
Then as Global Crunch rolled on around the world, bankrupting millions and creating massive unemployment in its wake, the real horror-story slowly came out. There was false accounting, bad debts, under-provisioning, over-stated profits, hidden liabilities, non-consolidated subsidiary conduits, non-disclosed loans to directors, and other accounting irregularities.
Then came straight thefts from customers' accounts: mis-selling of life assurance cover, mis-selling of interest rate swaps to borrowers, overcharging on credit cards and other loans. Then the great global theft of undermining the entire global credit system: the systemic and systematic LIBOR-rigging scandal, designed to make all borrowers pay more on their debts, so as to boost bank earnings and thus the same bankers' bonuses who were doing the market-rigging, while their co-directors' bonuses went up without them knowing why or seeing anything amiss.
And now the latest scandal from RBS: allegations that their global recovery unit forced struggling customers into bankruptcy and then seized their property assets at fire-sale prices.
Throughout the last five years RBS has not turned a profit yet has paid billions in bonuses to its bankers: in the week that the last disgraceful allegations hit the bank, RBS announced £500 million in bonuses.
The bank is being sued for millions of dollars for mis-selling mortgages in the US, and those investors who subscribed to the RBS rights offer to fund the Dutch bank takeover are likely to sue as well for being misled; and especially as RBS is an 83 per cent subsidiary of HM Treasury, which is all of you and me. And they paythemselves £500 million for making fools of themselves in public, and at our expense.
You couldn't make all this up even if you tried. And what have the authorities done about all this, apart from taking Fred's knighthood away and kicking Bob's arse out of town? Nothing. Vickers wrote a report, and what has been done? Nothing. What should be done now? RBS should be broken up, NatWest floated off, the US banks sold off – along with every other operation – and every main board director fired, their bonuses clawed back, the front door shut and the key thrown away. Now that really would take the Royal out of the BS, forever.