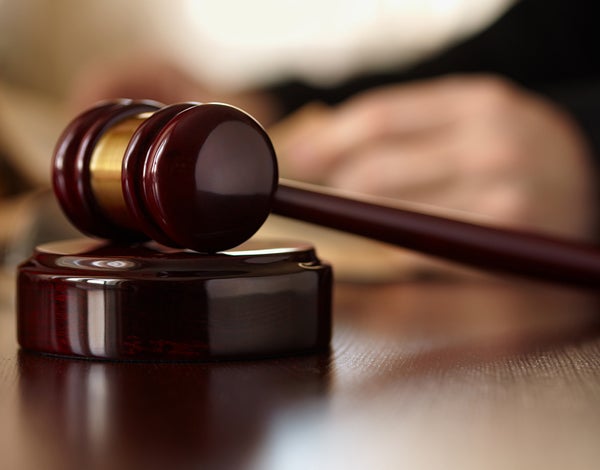 Decree nicer
'Slowly, we will find that some sense is made.' Martyn Gowar, our eminent legal columnist, writes this about how the knots and snarls of inheritance law are being unravelled across Europe. Soon you'll be able to die without your last thought being, 'But what if they tax my estate under the Belgian law of site?' However, this is a rare area where the law is making progress towards clarity; a clutch of recent divorce cases shows precisely the opposite.
Take Wright v Wright: Mrs Wright cannot expect her ex-husband to support her for the rest of her life, the Supreme Court has affirmed. She will have to go to work, in contrast to a decade of exes who have received more money (deserved or not) than they could ever spend. By contrast, in Vince v Wyatt it seems that while maintenance need not go on forever, a divorce can run ad nauseam; that case featured a separation over three decades. It is 'completely bonkers', says lawyer Camilla Baldwin, 'that you should be married for life and then divorced for life'.
English law, charming for its quirks until you have to litigate against them, almost seems unfit to divorce two people. The virtually unbounded discretion awarded to judges to reckon up the asset split means going to court is a crapshoot: you might end up with half an infinite amount of money or you might end up with a house, a car and a copy of The Lady open at the Situations Vacant page.
The potential jackpots which can be won (or fortunes which can be lost) keep spouses in court, burning through money and life.
Such unpredictability is 'a bit of a disgrace', as Maggie Rae in our Family Lawyer Index puts it. We agree: it's out of step with the rest of the world and needs to change.
One spring of hope is not a mathematical formula into which you plug how many millions one partner earned and how many hours the other spent reading bedtime stories to the children, but the flourishing culture of alternative forms of dispute resolution: arbitration, collaboration, mediation. These involve talking in human terms, not legalese; listening, not litigating; understanding, not stonewalling. Many in our Index are trained in these fields and wish their clients would use them more frequently, not because it will earn them more money (it won't) but because it saves heartbreak and heart attacks.
Until the courts stop using a random-number generator to sort out settlements, Spear's urges anyone with a divorce in mind to consider litigation a last resort and to look at ways which can restore a little sanity to the process.
Clear as mud
We at Spear's, as you might hope, believe in terminologically exact non-disingenuous pellucid utterances — that is to say, plain speaking. Not everyone does, or rather not everyone rewards it. That is why Alex Matchett's piece from this issue is so interesting: he speaks to three politically engaged individuals, all of whom have got into trouble for saying what they thought. Ironically, the more openly they spoke, the easier the media found it to twist their words.
It's no wonder politicos speak predominantly in soundbites, euphemisms and platitudes. Unfortunately, the same is true in the wealth management world. Too often Spear's has asked private client advisers what makes them special, only to receive the mantra 'The level of service here is exceptional', a claim rarely true at best and highly implausible frequently.
Service may go beyond the exceptional and be 'bespoke', 'holistic' and full of 'end-to-end solutions' which work 'across the piece'. A company's 'independence' ensures that 'relationship managers' 'don't push products' from their 'full-service offering'. Lawyers have in fairness become somewhat quieter of late about 'effective tax structuring', but 'jurisdictional choice' is still around. And heaven help you if you encounter someone in 'business development': they want your cash.
Worse, it tends to make advisers opaque when it comes to fees, charges and even outcomes: once in a euphemistic mindset, it's easy to justify a certain delicatesse about where you've gone wrong. Think of 'corrections' and 'negative flows'.
These phrases do not simply pixellate reality, they promote a paternalistic obscurity: they carry the suggestion that the client cannot understand what is going on or needs to be protected from the consequences of their or their advisers' actions.
You might argue that the politicos' stories show we need to talk in harmless platitudes, but the lesson is different: it's that those who hear harsh truths should accept them maturely, instead of seeking comfort beyond clarity. Something for wealth managers — and their clients — to consider.
Suits you sir!
According to Don Corleone, a lawyer with a briefcase can steal more than a hundred men with guns. (Lawyers featured in Spear's are all distinctly non-larcenous, of course.) A briefcase has room for loot — but capacity aside, the archetypal City accessory is falling out of fashion. Why occupy a hand when you've got emails to send and a set of shoulders that aren't pulling their weight?
Lucia van der Post discovers that the luxury man bag industry is booming, with almost six million sold last year. Briefcases are out, backpacks and 'weekenders' are in — all in boardroom-friendly colours and catwalk-worthy materials, from opulent woven leather to indestructible military twill. There's still no substitute for the battered heirloom satchel, stained with ink that hasn't been wet since before the war, but gentlemen of the Square Mile are finally embracing what's chic.
Our distaste for gaudy officewear (think: the Eighties) has a prosaic cause: the recession prompted a huge spike in sales of plain white shirts as workers smartened up and bosses toned it down, leaving offices looking positively funereal. Perhaps identikit suits and sober ties, subtle messengers of trust and solidity, help to win clients, but equally they can be a uniform which stifles what's different and vibrant about each person, and what clients really want is not a robot but a human.
Now that the FTSE is up and the sackcloth is back in the wardrobe, it's a chance for City workers to move beyond navy suits and take some of their own advice: their clothes should be as creative, diverse and, yes, bespoke as the solutions they tell us they devise for their clients