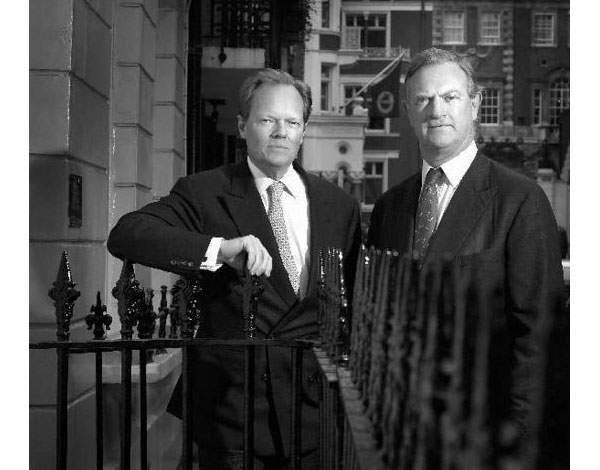 The engagement was announced today of two of London's most exclusive wealth management firms – the multi-family office Sand Aire and the private investment office Lord North Street. Families need more than £25 million of investable assets to apply to be clients at either.
It seems to be an engagement and not a marriage because, as co-founder of Lord North Street and vice-chairman of the new firm William Drake told Spear's, 'We're going to keep both companies running as regulated entities for a little while and use both names and over a year take advice on which brand to use or whether to come up with a new brand.'
However, Drake (pictured above right with Adam Wethered) said it was more like a marriage than an engagement because, subject to regulatory approval, the merger will definitely happen.
For the immediate future, there will be no merging of back office staff, all clients will stay with their current relationship managers and both firms will keep their investment processes. The new merged firm will have 50 people and 40 clients, which suggests a minimum of £1 billion assets under management, though it is likely to be several times higher.
One Lord North Street-er Spear's spoke to was either genuinely happy about the merger or toeing the line very effectively: 'It's excellent news for both firms and for our clients and everybody is extremely excited.'
An impetus behind the merger, said Drake, was cost and complexity: in the UK, 'it's getting more and more expensive to be an asset management company so a bit more size will make it a little easier to do the things we wanted to do.'
Another spur was international development. Lord North Street already have an office in Switzerland and an affiliation with MdF Family Partners in Spain while Sand Aire have an office in Singapore and are part of the Wigmore Association, a body of seven family offices worldwide. A merger gives the combined company extensive global reach.
Drake, his co-founder Adam Wethered and Alex Scott, founder of Sand Aire, had been discussing the merger since last autumn when they realised 'the businesses, through separate routes, had come to a very similar business model and we shared values. In terms of people, there are huge complementary aspects to it.'
This proposed merger comes as the latest in a series of consolidations in the wealth sphere: Schroders Private Bank bought Cazenove Capital, Quilter and Cheviot merged. Drake said he could see other firms merging to increase their international presence, but not with banks who produce their own products as this would compromise the independents' integrity.
In a Spear's debate in 2010, Charlie Hoffman of HSBC Private Bank suggested to William Drake that banks had the advantage over independent wealth management firms because they could cover more asset classes more deeply. While the merger seems like tacit confirmation of that, Drake today said independent wealth managers and banks could co-exist.