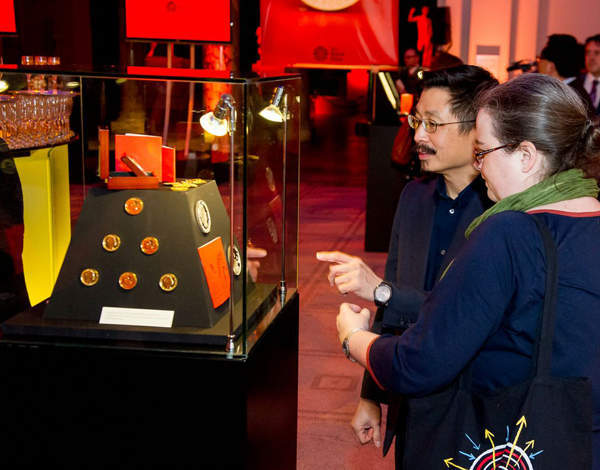 With the coins acting as investment assets, as collectables and as a safe and traceable medium for buying bullion, the government-owned Royal Mint is hoping to secure big orders from a huge Chinese market, says Alex Matchett
As David Cameron led yet another trade delegation to China, he emphasised the intertwined future of the two countries. Writing in the Chinese news magazine Caixin, Cameron stated: 'Put simply, there is no country in the Western world more open to Chinese investment, more able to meet the demands of Chinese consumers, or more willing to make the case for economic openness… And there is no country more ready to forge a dialogue of mutual respect and understanding that can address issues of concern and advance our shared interests in the world.'
Read more on business and entrepreneurship from Spear's
Big words but it seems the UK is keen to forge more than just dialogue. Last week Spear's attended the launch of the first ever Chinese Lunar coin to be struck by the Royal Mint as part of its new Sh?ngxi'o Collection. Shane Bisset, director of Commemorative Coin at The Royal Mint, echoed David Cameron's words this week, telling Spear's: 'The recent delegations from the UK to China have established that, from luxury fashion to our most revered malt whiskies to our finest motoring exports, Britishness – and a British approach to manufacturing in particular – has found a new market in China. As a business that has long-standing relationships with existing collectors in these markets, we understand that our customers have a genuine respect for the combined heritage that our Lunar collection embodies, bringing British craft to a Chinese tradition.'
The setting for the launch, inside the iconic Victoria & Albert museum, certainly credited the design and luxury culture from both British and Chinese heritage. The coin itself depicts a leaping horse, bringing to life the active characteristics of those born in the Year of the Horse (2014) – supposedly gregarious, charming, lively and strong. Beneath the horse's feet lies the famous Uffington Horse, a pre-historic white horse carved into the chalk hills of Oxfordshire.
Referencing both cultures was important to designer Wuon-Gean Ho, who said: 'I wanted the design to draw upon my British and Chinese heritage… The Uffington Horse is part of Britain's history as well as mine, as I grew up in Oxfordshire close to this famous chalk monument.'
The minting of such a coin instigates a series of annual coins cast by the Royal Mint to celebrate the Chinese new year and zodiac. With the coins acting as investment assets, as collectables and as a safe and traceable medium for buying bullion, the government-owned Royal Mint is hoping to secure big orders from a huge Chinese market. But the Royal Mint will be playing catch up in a market that sees the Australian Perth Mint's second series of Lunar coins already popular in Asia while the Royal Canadian Mint has been striking Lunar coins since 1998.
Earlier this year George Osborne announced the sale of Chinese currency bonds through the London FX markets, with an increase in Chinese tourists and Cameron's pledge to allow unlimited Chinese students to study in the UK, the sale of commemorative coins, can only benefit. Not only this but bonding traditional cultural symbols on two sides of the same coin speaks volumes diplomatically.
Paul Beesley, of London based bullion merchants Baird & Co Ltd, told Spear's: 'Hong Kong residents have already been buying the coins from us via our website and we're shipping them there right now.' Beesley believes 'the advantages are there for the UK-based Chinese and general gold and silver investor as the coins are CapitalGains Tax exempt, making it a tax efficient investment.' While he expects most buyers to be from the UK, US and Europe, Beesley does see Lunar coins as 'a start for the Royal Mint… it's a suck it and see moment…. appearing on the global Chinese markets can lead to a snowball effect as people that have purchased create interest through talking about the coins, which are well designed and produced'.
The Royal Mint currently makes 15 per cent of global coin currency for approximately 50 client states, like almost every other sector in the UK's globalised economy, in order to survive in a competitive market it clearly wants to count the Chinese among its customers.