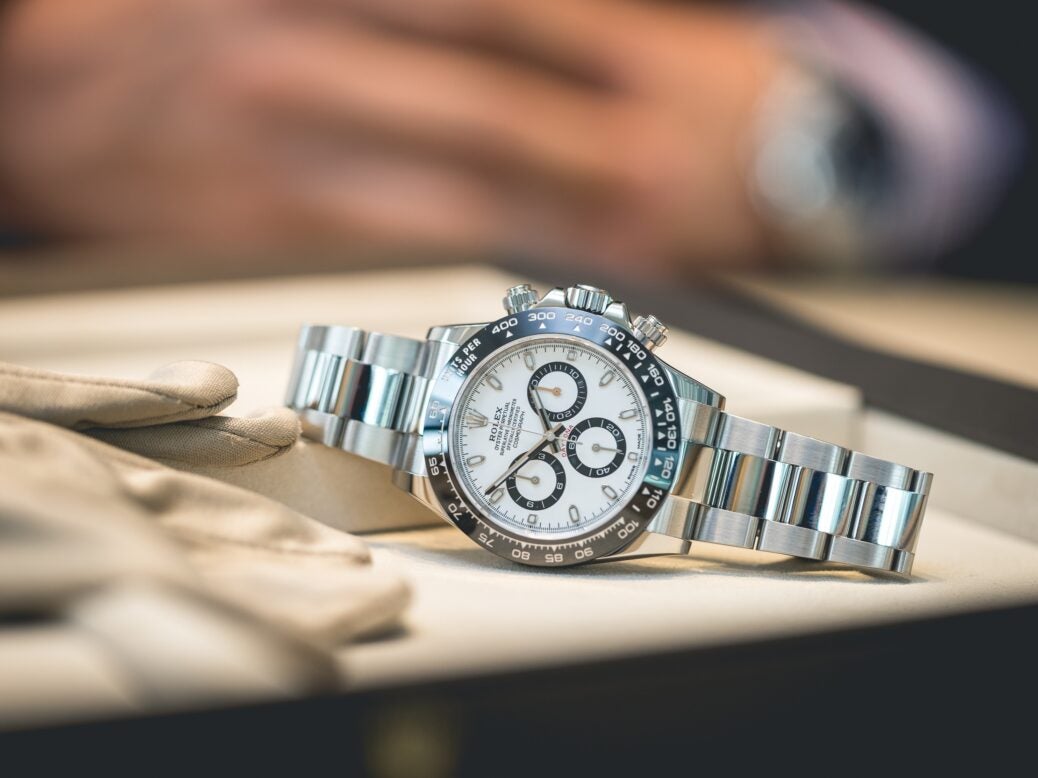 When it comes to producing sustainable products, Rolex might be the blueprint off which companies should base their efforts, writes Nick Foulkes
The more topical and widely used the term 'sustainability' becomes, the less easy it becomes to define. Even if it is only on the domestic level of sorting garbage into classes of recyclability, or the entry into common usage of terms such as 'upcycling' or 'carbon neutrality', sustainability now informs our daily lives. And if the days of corporate virtue signalling are not yet over, then they soon should be as sustainability becomes the norm, something that a company does as a matter of course, rather than something which confers corporate social responsibility bragging rights.
But as the definition widens, so does interpretation. For instance, there is the oft-used defence employed by vintage car nuts as to whether, say, an old Bentley is more sustainable than a brand-new electric car. It may consume petrol comparatively inefficiently and have been manufactured at a time when natural resources were more profligately used but the fact that it can be repaired, and that I see examples that have been on the road for 70 or more years (presumably relieving owners of the need to purchase a new car at regular intervals), suggests that building things to last rather than to be replaced has its virtues.
Alas, I can no longer afford to own a vintage car; these days I drive something smaller, more contemporary, and change it every couple of years.
However, the sustainability of the mechanical timepiece struck me when I was writing a book called Time Tamed and considered that many of the clocks and watches about which I wrote were still in operation. In the introduction I explained how from the age of 11 or so, I started buying old watches, which were considered obsolete (this was the first age of the digital watch, and yes I am that old). I clearly bought a great many as I wrote that 'my younger son retrieved a carrier bag full of old watches from the shed in the few square feet of open space behind our house that we ironically refer to as the garden. What amazed me was how many of them he coaxed back to life by merely applying thumb and forefinger and winding them up. He was able to enjoy them just as much as I once had.'
I believe that the Swiss mechanical watch is a born out of a 'sustainable' culture in which an innate appreciation of quality is expressed not solely in the transgenerational longevity of the product, but also in the far-sighted vision of such men as Hans Wilsdorf, the founder of Rolex and Tudor. Even if he did not use the word, Wilsdorf was clearly a man of a sustainable mindset opposed to built-in obsolescence – that much is suggested by the name of his most famous product, the Oyster Perpetual. Then in 1945, at the age of 64, he wanted to make his entire business perpetual and created a foundation to which he turned over his shares, the dividends to be distributed by the foundation's board according to specific instruction.
'Owner of Rolex, the Foundation provides the watch manufacture with structural strength and absolute independence to help perpetuate its success,' states the company, describing the Hans Wilsdorf Foundation as 'a leading actor, albeit discreet, in terms of patronage in the fields of education, health and societal matters'.
I do not know if that fits any definition of sustainability doing the rounds right now, but I believe it should, because it demonstrated a vision for the future that has proved its worth for more than three quarters of a century. When talking of luxury watch brands, no one can deny the strength of Rolex or the quality of its products. Maybe this strength and quality are entirely unconnected to its ownership structure. Then again, maybe because it is freed from the Sisyphean short-termism of delivering quarterly results to the stock market and the disruption and distraction of owners changing as the business is bought and sold, it can concentrate on making watches.
This year Rolex has issued new models of two of its most famous watches – the Rolex Explorer I and II – obliquely referencing the brand's environmental credentials.
'For the founder of Rolex, Hans Wilsdorf, the world was like a living laboratory,' reads a company statement. 'He began to use it as a testing ground for his watches from the 1930s, sending them to the most extreme locations, supporting explorers who ventured into the unknown. But the world has changed. As the 21st century unfolds, exploration for pure discovery has given way to exploration as a means to preserve the natural world. Rolex continues the legacy of its founder, supporting the explorers of today on their new mission: to make the planet perpetual.'
Rolex has succeeded making its watches perpetual – so why not the planet as well?
Image: S-Studio/Shutterstock