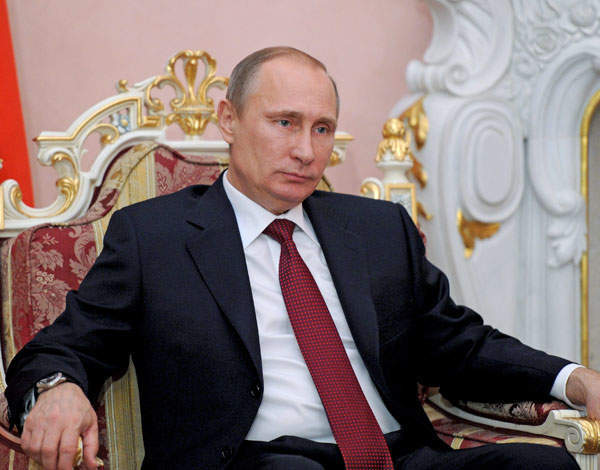 It's official: Russian president Vladimir Putin owned 2013. Even after Forbes named him the world's most powerful man, Putin closed out the year in grand style, handing down a surprising series of amnesties and pardons for political prisoners, including the Greenpeace Arctic 30, Pussy Riot and Mikhail Khodorkovsky.
Nobody has been fooled into thinking that there is real change taking place in Russia, but that wasn't the point in the first place. Putin's gesture had less to do with clemency than with a raw expression of power.
It was the theme of 2013. Throughout the past year at nearly every level on the international stage, Putin has run circles around Barack Obama and other Western leaders, outmanoeuvring and out-strategising to solidify Russia's role as the troublesome geopolitical spoiler.
Read more from our legal and international affairs columnist Robert Amsterdam
With the domestic opposition hopelessly mired, the president appears to be striding through a Mugabe-esque second decade of power, even enjoying the typical mantles of legitimacy like hosting the Winter Olympic Games and the G20 Summit.
However, with Russia's unreformed economy beginning to grind down and a pervasive culture of corruption rotting throughout the 'horizontal of incompetence', it appears highly unlikely that 2014 will be smooth sailing for Putin.
Russia under Vladimir Putin is not yet a geopolitical kingmaker, but it is determined to throw its weight around with regard to any issues in Eastern and Southern Europe, the Middle East and Asia. Motivations and interests are not always clear, but in many cases it is rather the projection of influence itself that is the Russian strategy, creating greater uncertainty in the international system.
The Wall Street Journal columnist Bret Stephens wrote that Putin has become a master of offering solutions to problems that he himself has created. For example, as the Syrian uprising enters its third year of catastrophe, it would be impossible for President Bashar al-Assad to hold on to power without a steady flow of arms and credit from Russia.
Read more on Putin from Spear's
Putin notched his most important foreign policy victory of the year following a chemical attack in mid-August, claiming the lives of approximately 1,400 Syrians, directly crossing one of Obama's so-called 'red lines'.
As the United States prepared for a military response — even achieving Senate approval — Russia stepped in with an offer they couldn't refuse: avoid a politically unpopular war by letting Moscow play the role of peacemaker to oversee a decommissioning of Syria's chemical weapons.
The move represented a rare moment for Russia to seize a slice of international credibility. Most other countries and the American people had little interest in seeing the US go to war yet again, despite the humanitarian disaster.
At the time, Putin captured this mood in a New York Times opinion article lecturing Washington against the reckless use of military force, commenting that 'millions around the world increasingly see America not as a model of democracy but as relying solely on brute force, cobbling coalitions together under the slogan "You're either with us or against us."'
Whistle stop
Analysts described it as a 'diplomatic victory' for Putin, but the embarrassment has been much greater for the US leadership. This role reversal was further exacerbated by Russia's offer of asylum to NSA whistleblower Edward Snowden, whose revelations have
done more than WikiLeaks and the Pentagon Papers combined.
As a world-class surveillance state, Russia seemed like an odd landing place for Snowden, radically inconsistent with the values of privacy and non-abuse of powers by the state. But Snowden's search for asylum also presented an irresistible opportunity for Putin to showcase again the shortcomings of the West and extend his position as an arbiter of disputes outside of Russia.
Lastly, Russia closed out the year with a pyrrhic victory in Ukraine, where the Kremlin worked to sabotage a basic economic cooperation agreement with the European Union and draw Kiev back into the fold. Citizens were furious.
In some of the largest and most dramatic protests that have unfolded since the Orange Revolution, Ukrainians poured into the streets to denounce President Viktor Yanukovych for acting against a majority preference to expand economic ties with Europe. Putin's win in Ukraine did not come cheap — Russia had to dole out a $15 billion loan and slash gas prices by almost 30 per cent.
But what is the long-term return on investment for the Kremlin's diplomacy, and how do they expect the trend to carry on into the future?
Russia is now inextricably tied to Assad, who is responsible for over 100,000 deaths and the near total destruction of Syria. The political risk of propping up Assad may begin to exacerbate problems among Russia's own Muslim population, especially following the twin bombings in Volgograd ahead of New Year's Day.
Even closer to home, Russia has created an unnecessary financial dependency in Ukraine, which may not necessarily act as the safe buffer between Russia and the West that Putin was hoping for, but instead could quickly descend into financial collapse.
As for Snowden, many supporters are grateful for his safety, but given that Russia itself is running an online spying and censorship programme described as 'PRISM on steroids' during the Sochi Olympics, Moscow is unlikely to be a safe home for any whistleblower.
Problems at home
Putin is also facing a potentially difficult economic situation. Forecasts for GDP growth are very tepid, at about 1 per cent this year, while consumer demand is expected to continue falling. Despite all the entertaining glamour at the Sochi Winter Olympics, that $50 billion probably should have been applied to other structural reforms, while any unexpected weakness in oil prices will have immediate consequences.
What the West has so often failed to understand is that Russia's diplomatic strategy is a function of domestic politics. Putin is determined to 'restore' some version of an imagined past glory to the state, so the exercise of influence abroad is often the object, rather than the tactic, of the nation's foreign policy.
The outside world is steadfastly portrayed to the average Russian as dangerous, violent and full of disdain for their values — to wit, the Kremlin recently dissolved the relatively respected news agency RIA Novosti and appointed an extreme nationalist as head of all state news. To be outwardly aggressive in diplomatic affairs is to be inwardly controlling.
The outsiders
It is a pity that the politics of empire and nationalism continue to work so well in Russia, as it does a great disservice to the Russian people. Instead of expanding Russia's ties and deepening economic, social and cultural engagement with the rest of the world, Putin has cultivated an isolationist kingdom built from the scraps of a dark and challenging history. This not only limits personal development and aspirations of her citizens, but also constrains Russia's economy from reaching its full potential.
The current negative trends in Russia are not softening, but rather are becoming institutionalised both locally and regionally. Over the past year, Putin has presided over a constitutional takeover of the independence of the respected and functional commercial court system, which results in the further cementing of the state's power over the legal system. Regionally, he has sought to promote a
'Eurasian Union' multilateral system bereft of any consideration of democratic legitimacy. This attempt to create extra-territorial legal structures that actually promote lawlessness represents a great danger, one that ultimately will prove the false politics of Putin's legacy.