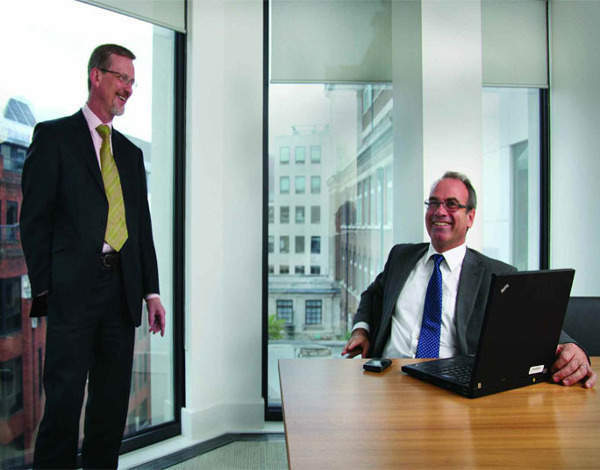 Perhaps heralding a new era of private-client law firm mergers, it was announced yesterday that Penningtons Solicitors had joined with Manches to form Penningtons Manches. Promising a combined £58 million turnover, the new venture is already being dubbed a 'super firm', with seven offices across the UK.
The deal sees all 265 Manches employees, including 46 partners, join the 360 staff, including 67 partners, at Penningtons, with offices arebased in London, Basingstoke, Cambridge, Godalming, Guildford, Oxford and Reading.
Read more on Manches LLP from Spear's
'This agreement fits both our firms' strategic aims and responds to the ever-changing legal environment in which we now operate,' commented David Raine, chief executive of the new firm.
Pictured left: Chief executive David Raine
A senior partner at Manches who did not wish to be named highlighted the reason for the merger and the areas both firms would benefit in from the merger: 'Practitioners who act for wealthy individuals are under a much greater pressure to provide a holistic service to such clients,' they said. 'Penningtons has an excellent and large private client team and a small but good family team. Manches has the opposite.'
The merger may well be timely for Manches, who failed to merge with Halliwells in 2009 and last year posted a ten-year low for net profit, with average profit per equity partner falling below £200,000. By contrast, Penningtons has been in ruder health, merging with Dawsons and Wedlake Saint in 2011, as well as opening offices in Cambridge and Guildford in Spring 2012.
When asked whether the merger was due to financial difficulty at Manches, the senior partner did not deny the weight of debt but said it wasn't a key factor: 'The merger wasn't created because of the fact Manches had a large overdraft. There was a lot of synchronicity between the firms. Manches has had a large overdraft for years.'
A problem shared is a problem halved and CEO Raine is bullish the new firm will be greater than the sum of its parts, echoing the ability to dovetail for strength: 'The synergy between Penningtons and Manches was evident early on in our discussions and by joining together we will be able to offer an enhanced level of expertise to all our clients.'
The diverse portfolio of offices reflects a broadening in expertise as existing corporate, commercial, employment, property and litigation practice areas are complemented by the integration of Penningtons' well-respected private client team with Manches' market-leading family practice.
Offices in Oxford and Cambridge also reinforce strong sector capabilities in technology and life sciences where both firms recognise future areas of growth for law.
Pictured above: David Raine (right) is heading up the new venture
Such mutual and dynamic growth is key for Penningtons Manches: 'The legal market is constantly evolving and we do not believe that standing still is an option,' said Raine.
This completion of a successful merger goes against the grain. In the last twelve months both Speechly Bircham/Withers and Field Fisher Waterhouse/Osborne Clark proposed unions have hit the rocks.
Read more on the Speechly Bircham and Withers merger from Spear's
Prior to yesterday caution seems to have prevailed over ambition as mercenary partners changing horses often precluded bigger boardroom movements.
However, the Penningtons Manches merger shows where interests are mutual then perhaps large legal mergers are inevitable. It will be interesting to see whether yesterday's news was an exception or a sea change.