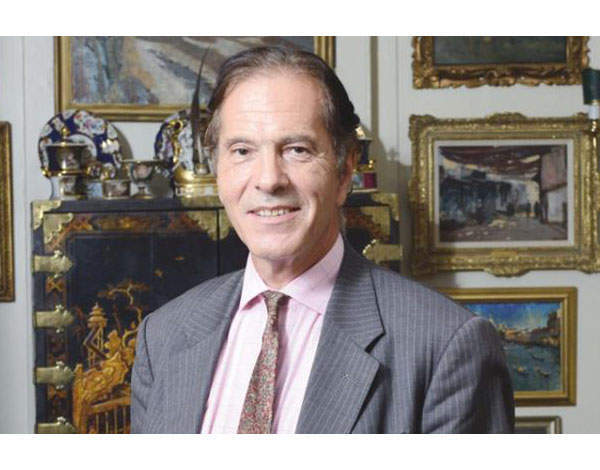 Metro Bank was the first new high street bank in over a century when it got its licence in 2010, as part of the government's desire to create more retail-banking competition. A private banking arm was not initially intended, he says, but his own story, about the financial crisis and a crisis of service, indicates why HNWs started asking for one.
While awaiting croissants from the Aga (his house may be in Westminster but it definitely has a country-supper vibe), he says that he moved from Coutts to Hoares 'during that awful week when it wasn't clear whether RBS was going to be bailed out in time'. Then, despite having moved back to Coutts and there being 'a decent amount of money sloshing round' his several accounts, 'I get a letter saying, "We're going to charge you so much for each account." It provided a convenient time to move things to Metro.'
He is not the only one, he says: 'Metro has benefited from clients of Hoares and Coutts moving to Metro as they don't like the fees the former are charging them.' This is a curious crumb because it suggests that whether your bank is well-regarded (Hoares) or slightly besmirched by the crisis (Coutts), clients will leave over fees.
What he and other clients – who include Tory MP and would-be party leader Adam Afriyie, who set up accounts for his children there – also wanted was pure banking, ie no asset management and no product-pushing, with 'simple, excellent service' with no charges. The bank makes money in the old-fashioned way, on the difference between interest received and interest paid.
Hiring Kirsty MacArthur, who had worked at Coutts and UBS, helped bring in clients, as did opening branches in areas less well-served for private banking: 'Bromley went frightfully well, Croydon went frightfully well, Reading went frightfully well. Fulham was slow, Earls Court was quite slow.' Lord Flight talks about a Metro Bank boom in Borehamwood with Jewish entrepreneurs from St John's Wood buying houses up there, though the telling is slightly unclear.
Enterprise credit
Through a mouthful of charred croissant and marmalade so thick-cut it is mainly peel (delicious though), Lord Flight talks about his role as chairman of the Enterprise Investment Scheme Association, 'which exists to assist in the flow of capital and resource available to British small to medium-sized enterprises', according to its website.
The principal incentive for flow is EIS relief: 30 per cent income tax relief for up to a million pounds of investment; inheritance tax relief; GCT deferral relief; loss relief; and no capital gains tax on profits. All in all, a thoroughly attractive proposition, which became more attractive in the 2011 Budget when the chancellor increased both the tax relief and the amount that could be invested; the government talked about helping SMEs, and this was one of their actions.
'I would take credit for having persuaded David Gauke [Exchequer secretary to the Treasury] early on that that was an important thing to do.' His argument was that it's better to fund established SMEs who wanted to expand rather than smaller, riskier start-ups. 'I persuaded him that the parameters were far too narrow and he, to his congratulations, braved the EU to go back and renegotiate.' Labour reduced EIS relief opportunities fearing the EU would see them as impermissible state aid.
EIS relief is one bright spot, Lord Flight feels, in a business landscape strewn with red tape and dominated by bureaucracy: 'I sit on the Lords EU Economic and Finance Committee, which has to see all of the stuff coming out of Europe and advise government on it, and every week there's more crap, which entails work for somebody, and these people have nothing else to do and it's a way of increasing their power. Absolutely crackpot.'
For HNWs who want to get involved in EIS, Lord Flight doesn't recommend trying to source your own deals: 'Although I don't like the complexity of funds, they are necessary and desirable because you get essentially proper management of the investment and the early investors aren't shat on, which they tend to be otherwise.' He himself has money with Oxford Capital, Oakfield, DFJ Esprit and Octopus, while he sits on the board of Tim Guinness' energy funds and he and his family have 'substantial investments' there.
Flight of the bankers
Howard Flight was himself somewhat of a financial entrepreneur, setting up HSBC's merchant bank in India in the Seventies and creating Guinness Flight Global Asset Management out of Guinness Mahon; Guinness Flight was taken over by Investec, of which he is now a director. He was MP for Arundel and South Downs from 1997 to 2005, for part of which he was shadow chief secretary to the Treasury, and he was elevated to the House of Lords in 2011.
His career in the House of Commons ended in that very modern form of scandal: a secret recording of a speech he gave in 2005 was released. He had said the Conservatives could cut spending more than promised in the general election campaign, and although his local party supported him, Conservative Central Office intimidated them and he stood down as a candidate.
He is bullish on the current rebound: 'I think there's very clearly a recovery underway and it's got quite a while to run yet. The positive is that to some extent that will automatically reduce the deficit and secondly, which is what Osborne is looking to do, it will provide an environment where you can make cuts to rein back the deficit as well without that upsetting the economy too much.' Cuts, unacceptable in 2005, are now quite the thing.
A recent theme in the political-economic debate has been the protection of pensioners and the hammering of the young – the prime minister regularly takes aim at the under-25s and their benefits, while preserving free bus passes, TV licences and such even for the wealthy elderly. Lord Flight (a sprightly, perhaps significant, 65) has no truck with this.
'Don't forget that the older population has been the main body subsidising very low interest ratesÉ The main point is that Brown exploded welfare spending to buy votes and as you know at the last election, 65 per cent of the electorate were either receiving benefits or employed by the state, which was a deliberate contrivance which is why it was difficult for the Tories to win an overall majority.
'This issue is you have to decide what makes sense to cut. Where there is a big tricky issue is that the world's gone global; we and most of Europe have slipped into a situation where the living standards of the bottom half of society have been pretty generously subsidised in order to keep people happy.'
Our spending priorities should be defence ('defence spending has been over-cut quite dangerously') and education ('it's crucially important to get people trained up'); the NHS needs trimming: 'I don't think it's possible but I think the best arrangement for free healthcare is Germany, which has an insurance scheme and that automatically rations because it doesn't cover everything. One of the problems with the NHS, along with lots of others, is that it's open-ended.
'The second point is that hospitals in Germany, a lot of them are charities but they're independently run so you tend to get a better, more efficient level of service as a result. The cost is the admin, BUPA as it were, but I think it's probably worth having.' He says, however, that he doesn't think this would be politically possible.
As we scrape off the croissant flakes into the bin and Lord Flight, returning to his seat, lights up a cigarette, I ask him who's going to be prime minister after the next election.
'My guess is there'll be another Tory-Liberal alliance government because I don't see the Labour party winning and because the boundaries are rigged, it'll be very difficult for the Tories to get an overall majority. I think that despite some appearances to the contrary, the Lib-Tory alliance has worked quite well and they're quite happy. The Libs that have got government office far prefer the devil they know than the devil they don't know.'