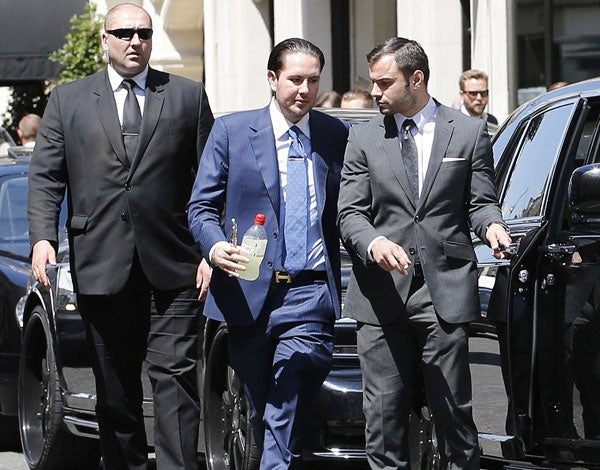 I noticed that James Stunt, husband of Petra Ecclestone, has been shopping for art this week. Those pictures of his entourage hefting his new purchases out of Sotheby's had me thinking. It's one thing to choose and pay for a rare and beautiful piece, but how do you maintain stunning acquisitions like those, so they can become your family heirlooms of the future?
With the spectacular price tags attached to the kinds of pieces Stunt was taking home come very specific requirements: for transportation, security and presentation. There are so many factors that help a painting stay in great condition for centuries, from wall positioning and light to humidity and temperature, as well as managing the riskiest moments when it is not hanging on the wall.
Most private households are multicultural places, incorporating staff from a whole range of backgrounds. Often, that background has not included cleaning or moving priceless works of art. To showcase art in the very best way, and keep it safe for the months, years and decades to come household staff need specialist training and guidance.
To illustrate this need, imagine spending £115 million on a Picasso only to have a member of household staff to clean the painting with a feather duster, accidentally scratching its surface with the metal end – within weeks of the piece being hung in the house. The result would be a hefty insurance claim, a long spell of not being able to enjoy the piece while it is restored, the potential for irreversible loss in its value and plenty of upset in the household.
The right training is the only way to give staff the confidence to do the job properly. Spending a little on educating staff upfront can save a lot of time and money later, and give you reassurance that your collection will be properly cared for.
The first hurdle is making sure your new purchase makes it to its final destination safely. I worried for Mr Stunt's new paintings when I saw press images of the clumsy and impractical way they were being manhandled into waiting cars.
Staff should understand that a painting should always be carried using two hands, one on the side and the other supporting it from the bottom, making sure the picture is facing in and carried the correct way up, and only ever touched with very clean and dry hands. Larger pieces and paintings with glass are heavy and should be carried by two people. Your team should set paintings down in an area away from doorways, furniture or passing people and animals, and rest them on and against something padded to protect the frame.
As with most things, your artwork will occasionally need dusting. Some households employ a specialist to do this but if your regular cleaning team is given the role, it is paramount they examine the painting each and every time beforehand for paint flaking. They should not attempt to dust it if they spot any and report it to the appropriate person. If they come across any pieces that have fallen off, they should put them in an envelope and inform their superior.
It goes without saying that they should never attempt to carry out repairs themselves, as this is only for a qualified conservator to take on. If a painting is safe to clean, staff should use gentle strokes with a very soft, non-metal brush.
For security, valuable pieces should be hung with an anti-theft device. I heard of one house where a Matisse was found to be missing after a dinner party, causing some disquiet. It was later located in the children's bedroom. They had had the wonderful idea of borrowing it to copy, and moved it while the staff were busy. If you do decide to alarm the artwork, this is done best by attaching the alarm to the frame and not the canvas.
If, like Mr Stunt, you plan to spend money on beautiful art, a small outlay to make sure your staff have the skills to take care of it is also a wise investment.
Michael Shaw is the founder of Franklin – lifestyle assistance, household management and private staffing