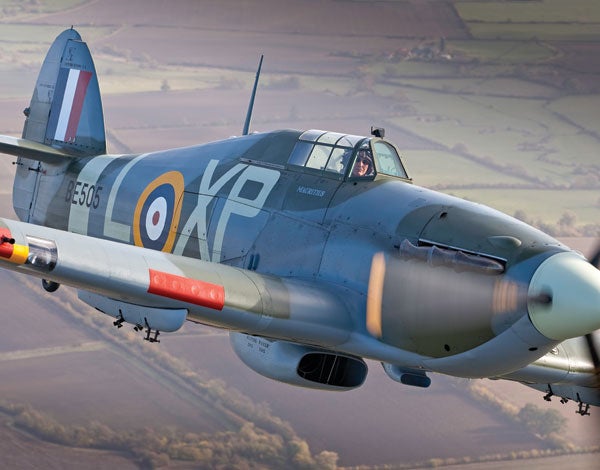 Seventy-five years ago, young airmen were fighting for King and Country as the Battle of Britain raged in the skies above England. Pilots of the Royal Air Force, whom Prime Minister Winston Churchill famously labelled 'The Few' due to their meagre numbers, saw off a determined assault by the Nazi Luftwaffe, Britain was spared invasion and the story became a legend that persists to this day.
This summer, the anniversary of the battle was marked by a series of stunning flypasts involving examples of the aircraft involved: the Spitfires and Hurricanes that proved as pivotal to the victory as the pilots who flew them.
Foremost among these was an ultra-rare Mark One Supermarine Spitfire, which first flew in February 1940 and was recovered from a beach near Calais. Known as the Cazenove Spitfire after pilot Peter Cazenove, who was shot down while flying it, the aircraft recently went under the hammer at Christie's for a world record £3.1 million. (The buyer is thought to be King Abdullah II of Jordan.)
Despite the record, this is a relatively modest price for such an immaculate machine, particularly when collectable cars are changing hands for eight figures.
It is not just pilots of a certain vintage who would sell their grandmothers for a chance to get their hands on these stars of air shows and museum displays. Collectors and investors covet them, having found that the values of their portfolios can be boosted with the addition of these mythical aircraft.
Platinum Fighter Sales is one of the world's leading dealers in rare and exceptional aircraft and warbirds (ex-military machines). Simon Brown, based at the group's headquarters in Redondo Beach, California, says: 'Warbirds are great investments. P-51 Mustangs are selling for £900,000 to £1.9 million and Spitfires sell for between £1.5 million and £3 million.'
Many factors go into assessing the value of classic aircraft, Brown explains, including their state of repair, how original any restoration work is and the machine's heritage. For example, one of the best- known aircraft the company has sold was a P-38 Lightning known as Glacier Girl, which was rescued from the icecap in Greenland where it had made an emergency landing en route to Europe in 1942.
Just like classic cars, the rarer the better when choosing aircraft as an investment. Brown has noticed a developing trend. 'Traditionally people have bought them to fly them but this is changing. Prices of certain types of warbirds have risen so much that investors are now buying them and holding on to them, much like they have done in the classic car market.'
One man with experience of restoring both historic racing cars and Hurricanes and Spitfires is Tony Ditheridge of Suffolk-based Hawker Restorations. He knows where he's focusing his efforts in future.
'We are going after people who want to own something beautiful but don't necessarily want to fly it,' he says. 'It's interesting that we would have a C-type Jaguar in the hangar under the wing of a Hurricane and people would look at the aircraft and say, "Wow!"' They wouldn't realise that the C-type is worth £3 million but the Hurricane considerably less.
'We have a big car collector as a customer who has never had a pilot's licence, doesn't fly, but has bought a Hurricane and the intention is it will just fly in the UK and he will enjoy seeing it.'
Ditheridge's new business partner is City entrepreneur David Wenman. A vintage car collector, he believes restoring classic aircraft makes sense from a business perspective and has invested to allow the firm to expand, move to larger airfield premises and take on more projects. 'We have put it on a commercial basis,' Wenman says, explaining that it takes 26,000 man-hours to make a Hurricane, which often involves building it from scratch. Even so, it is a good investment because restored warbirds come in at a fraction of the price of classic cars.
Three aeroplanes sold by Hawker Restorations in 1998 have since trebled in value, which compares very favourably with the stock market. 'We think, given the right profile and a bit more marketing, the price will go up,' Wenman adds. 'In terms of risk/reward, you are as well off in an aeroplane as you are in a car. It also diversifies what you're invested in.'
The sole surviving Hurricane that actually flew in the Battle of Britain is on the market for £2 million. The aeroplane, registration number R4118, flew 49 sorties and shot down five enemy aircraft. It is rare for any collectable to come with such a rich narrative and provenance attached. If you look at the price tag in those terms, warbirds are chronically undervalued.
Another historic aircraft expert with his finger on the pulse of the market is John Romain, boss of the Aircraft Restoration Company, which rebuilt the Cazenove Spitfire. Based at Duxford near Cambridge — a site that played a key role in the Battle of Britain — Romain's firm has restored eighteen Spitfires and a host of other aircraft. He personally has flown more than 900 hours on Spitfires, making him one of the aircraft's most experienced modern-day pilots.
Romain says the market for classic machines is fairly flat. 'But,' he adds, 'if the classic car market levels off we could see more interested collectors and investors looking at Spitfires and other types.' If that happens the market will take off steeply, he says. 'We're not at the point of the classic car market just yet. You can still get a very decent Spitfire with real history attached to it for around £2-2.5 million.'
Aviation expert Paul Beaver, author of Spitfire People, says this price is not too far away from the cost of building the machines back in the 1930s and 1940s, once inflation is factored in. 'The great thing about old aeroplanes is there is no capital gains tax to pay, so people like investing in them,' Beaver says.
However, one obvious difference between cars and aircraft cannot easily be overcome. 'Vintage cars remain a very good market because anyone can buy them and jump in and drive them,' Beaver says. 'If you buy a Spitfire you have to keep your licence current in order to keep flying. However, they do tend to wash their own face because people want them for air shows and other displays.'
Keeping a Spitfire airworthy is an important consideration — as well as a costly one. It will need £50,000 a year for maintenance and £30,000 for insurance, and the engine needs overhauling every 500 hours of use — which costs an eye-watering £120,000. Just flying a Spitfire is expensive. The 27-litre Merlin engine drinks fuel at a rate of 40 gallons an hour, and that's just for cruising around. Go faster and fuel consumption can double.
For those with limitless budgets, however, the thrill of owning or displaying what is arguably Britain's most famous aircraft outweighs cost considerations.
I know that I'd certainly welcome the chance of having my own Spitfire: as I've found in my flying career, nothing can beat the emotion of looking out from your cockpit along the Spitfire's gorgeous elliptical wings, the RAF insignia standing out proudly against England's green fields as you perform gentle aerobatics.
The ultimate finale for any Spitfire flight is the approach to land, tearing across the airfield just feet above the grass at 250mph before pulling up and turning upside down in the famous Victory Roll — your very own tribute to The Few.