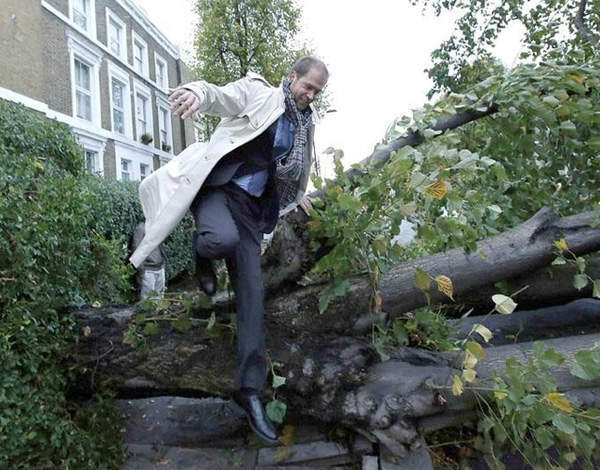 One expects that money can take care of most of life's problems – but how did the wealthier parts of England fare in the St Jude's Day Storm? We take a lighter look at some heavy weather.
Residents of Knightsbridge, Kensington and Chelsea may have found the roads remarkably clear this morning, as much of the overground public transport was cancelled until after 9am. Although trees have been felled by the storm, there does not seem to have been any severe damage to the area. The wealthiest street in the UK, Kensington Palace Gardens, does not seem to have been hit badly at all, proving that at least the storm showed a little deference to the £22.17 million average price tag.
Notting Hill resident and Sky newsreader Michael Gooderick (@mattgooders) tweeted a picture of a toppled tree narrowly missing a black sports car, complete with the caption: 'Not something you see every day in Notting Hill.' The tree, which has caused significant damage to the aesthetic of the area, does not seem to have caused any wider problems, and the car owner will likely be breathing a sigh of relief. Hampstead has been reported as being remarkably blustery (even beyond its windy residents), with trees causing chaos on the roads.
Outside London, other wealthy parts of the UK found themselves falling victim to the adverse weather conditions. Surrey attracted its fair share of damage. There were areas of significant flooding and an abundance of trees crashing to the ground, most notably one which blocked the road from Oxshott to Esher, leaving the affluent Esher in semi-isolation. Reports show that a local resident tried to help the situation by obtaining a chainsaw and performing tree surgery, but was left feeling unappreciated by motorists who considered him to be a big part of the problem.
In Buckinghamshire, over one hundred fallen trees caused annoyance on the roads this morning, leaving commuters in disarray. Some of this damage was sustained within a car dealership in High Wycombe. Rail services from Beaconsfield, Gerrard's Cross and Denham to London have been terminated, and commuters may have struggled to get to their London hedge-fund offices at all.
Berkshire storm sufferers included two polo ponies rescued from a collapsed stable and shocked motorists who, driving back from Ascot, witnessed a large oak tree crash to the ground in front of them. Additionally, forty residents of Calcot were told to abandon their homes amid fears of a gas leak. Meanwhile, in Hampshire concerns have been raised for flash floods and uprooted trees, while one Winchester family came close to seeing their beautiful home turn to rubble after a falling tree missed it by a metre.
Salcombe, in Devon, much to the relief of second-home owners across the country, has survived relatively unscathed. Gloucestershire residents, although well kitted-out in green wellies and Barbour jackets, have not been so lucky. Flooding and tree damage means getting around the Cotswold county is challenging.
The UK's HNWs ought to be somewhat grateful, however: hurricane season in the Caribbean, where their money is stashed, is so much worse.