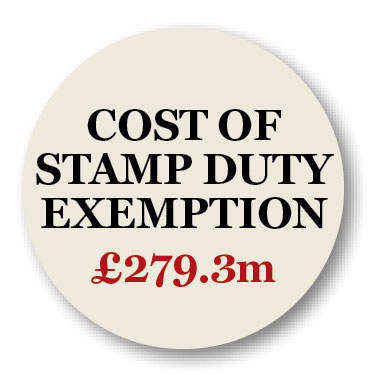 Occupying some of the grandest buildings in town, London's embassies are among its most desirable prime properties. We wanted to know what kind of wealth these legations were sitting on as well as whose was most expensive, whose surprisingly expensive – and whose least. Our research threw up plenty of fascinating nuggets. With the help of buying agents Lichfields, we have valued almost every single one – and reached a grand total of…
£4,000,000,000
Most expensive
United States: Nine Elms: £600m
The United States is building a new embassy, complete with moat, in Nine Elms, near Battersea. Its current site, on Grosvenor Square in a listed building by Eero Saarinen, was sold for a reported £500 million to Qatar's sovereign wealth fund.
Cheapest
North Korea: Gunnersbury: £750,000
Many countries only rent offices, but of all the ones that appear to own a property, the joint cheapest — at under a million pounds — is North Korea's, a detached house in Gunnersbury, West London.
Least affordable
Tuvalu: Wimbledon: £750,000
The tiny Polynesian island nation of Tuvalu — halfway between Hawaii and Australia — has a total national debt of £6.6 million; its embassy, in Wimbledon, is worth £750,000, so selling it could pay off 11 per cent.
The £100,000,000-plus club
Australia: The Strand
Canada: Trafalgar Square
Germany: Belgrave Square
Japan: Piccadilly
Netherlands: Hyde Park Gate
Russia: Kensington Palace Gardens
Saudi Arabia: Charles Street
International groupings
Here we have added up the embassy values of different global or regional organisations and worked out an average. As you might expect, the industrialised nations of the G7 (less the UK) have the most valuable in total and on average. The African Union's total is weighted by South Africa (£80m) and the Arab League's by Saudi Arabia (over £100m). If the MINTs want to be seen as the next BRICs, they need to supercharge their embassies. (Those without embassies were excluded from calculations.)
G7: £1.1 billion (average: £183m)
European Union: £881m (£33m)
African Union: £477m (£14m)
Arab League: £357m (£22m)
BRICs: £260m (£65m)
PIGS: £190m (£47.5m)
MINTs: £85m (£21m)
Russia
Kensington Palace Gardens: £100m+
Russia rents its embassy, Harrington House, from the UK, but although it's on one of the most expensive roads in the world — Kensington Palace Gardens — Russia pays only £1 a year, thanks to a 1991 agreement; conversely, the UK pays one rouble a year for our embassy in Moscow.
Syria
Belgrave Square: £35m
Syria's embassy, on Belgrave Square, is 'a stunning building' according to Lichfields and could fetch £35 million if President Assad chose to liquidate it. Alternatively, as happened with Libya's embassy in 2011, the UK government could expel its staff and hand it over to the rebels.
Outliers
Nepal: Kensington Palace Gardens
Zambia: Kensington
Two countries with unexpectedly valuable embassies (relative to GDP) are Nepal (£30 million, Kensington Palace Gardens) and Zambia (£40 million, Kensington, 'a truly special detached house').
Embassies in SW1X
30
SW1X is Belgravia north of Eaton Square and Knightsbridge
Cost of stamp duty exemption
£279.3m
For more information, please contact josh.spero@spearswms.com