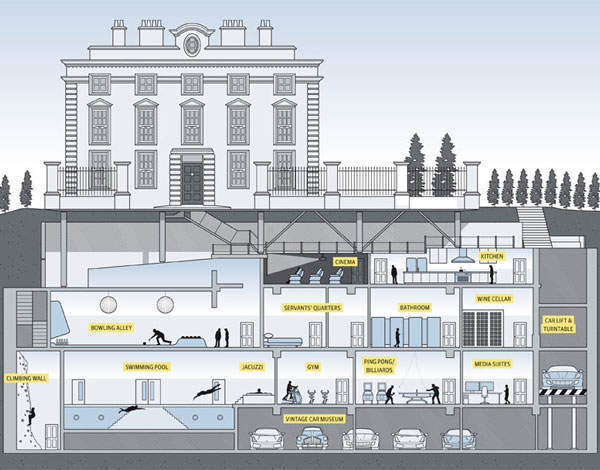 The very public objection of Brian May, the Queen guitarist, last week to the trend for basement extensions in Kensington has highlighted the wider concerns in this very sensitive issue of London property development.
With real estate in the central boroughs at such a premium, owners are maximising their value by developing downwards rather than upwards, where planning controls are less strict. As recently as January this year, it was revealed that planning permission had been sought in Kensington for the largest basement extension ever which will add a further three floors and 16,000 sq ft of living space at a cost of almost £10 million.
Read more on property from Spear's
In light of the above, councils have been revising their policies in relation to basement extensions with Westminster Council commissioning a report last year and Kensington & Chelsea recently finishing consultation on a Basements Publication Planning Policy. The policy states that 'basement development in recent years has been the subject of concern from residents' and reveals that the number of applications in the Borough has risen from 46 in 2001 to 450 in 2013.
The proposal goes on to note that Kensington is a 'densely developed' area and that there may be multiple basement extensions being undertaken at one time, resulting in 'a serious impact on the quality of life'. Such extensions require heavy machinery and drilling to excavate tons of earth, which naturally gives rise to substantial noise and can result in other issues. So what are the possible claims that arise?
Nuisance
A party may have a claim if building works cause, for example, an unreasonable level of noise, vibration or dust. The claimant's remedy may be an injunction stopping the works. However the court will consider what steps the offending party has taken to limit the nuisance caused, such as only undertaking work during office hours and whether it would be inequitable to grant the injunction against them. If an injunction is not granted, a damages award may be made instead.
Party Wall etc. Act 1996
Where a person proposes to build within six metres of a neighbour's walls or buildings then depending on the depths of any excavations, they may have to comply with their statutory obligations under the Party Wall etc. Act 1996 and serve a notice on them.
There are various statutory obligations under the Act including to compensate for any damage to the neighbour's property such as subsidence. Furthermore, the neighbour may have the right to file a counter-notice to require additional work to be undertaken including strengthening the foundations of their building.
If a dispute arises, a party wall surveyor may be appointed who will make an award regarding the works setting out on what terms they are to be done and when they need to be completed by. Appeals are possible but can be lengthy and costly. Failure to comply with the Act may result in an injunction against the works; damages for breach of statutory duty and liability for trespass on the neighbour's land.
It appears that borough councils are beginning to bow to public pressure to place limits on the extent and number of these basement extensions. The Kensington policy proposes to limit the extent of the excavation to half the garden and limits the depth of excavations to a single storey in most cases. Westminster Council has indicated they will adopt a similar policy next year. Such initiatives are likely to reduce the scope for the type of claims referred to above.
Josh Gibbons is a trainee solicitor in the real estate dispute resolution department at IBB Solicitors