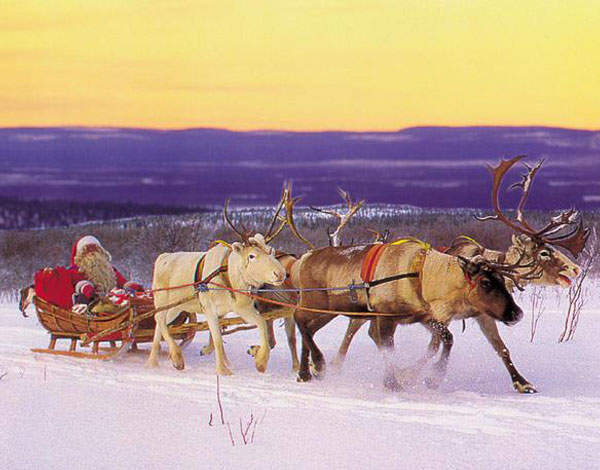 A few weeks ago, a generously proportioned, hirsute and rather jovial individual sought our advice in relation to some cross-border travel he was contemplating over the Christmas period. He explained that he wished to enter the UK on 24 December, and leave not later than 25 December, for the purpose of distributing small items to individuals who had been 'good'.
He would enter by private air transport, bringing with him six reindeer, some assistants (elves) and possibly his wife. As with any potential new client, it was essential to identify the areas on which he might need advice, and we agreed that, in his case, the main concerns were immigration (for him, his employees, pets and dependants), personal tax status, and customs duty and VAT issues.
Read more on British immigration from Spear's

We did have a little difficulty with our client identification process, but were able to confirm that he was not a 'politically exposed person' and not on any lists of those suspected of criminal activity.
Given the urgency of his plans, we agreed to discuss immigration first, and to discuss tax issues in a separate meeting (on which we will report next week).
Immigration
1. The man with the big white beard himself
There are a number of ways for our client to enter the UK. The appropriate route will depend on a number of factors, including the length of time he is likely to spend in the UK and the nature of the activity that he would be performing here (is the distribution of small items a business activity, or a charitable one?).
The UK Government is under pressure from other countries (including notably China) to make entry easier, and it is clear from our advice to our client that the current immigration system is not always flexible or easy to use. The principal options include:
(a) Tourist (Visitor) Visa
This is a short-term option. It is usually granted for multiple entries to the UK, each of up to six months. Indeed, it is possible that he may make multiple 'entries' into the UK each time he descends from airspace to visit another household. Our red-coated client may be able to avail himself of this option, although it does not entitle him to work in the UK and it is perhaps questionable whether he will be 'working' in the UK.
(b) Business Visitor Visa
This is also a shorter-term option. As with tourist visas, a business visitor visa is valid for multiple entries into the UK of up to six months. It is only possible to undertake a very restricted range of work as a business visitor, but the distribution of small items without charge is probably permissible.
However, the usual immigration queues at the main UK airports at this time of year are likely to consume a valuable part of our client's intended visit – and, since he intends to make up to 18 million house calls during his brief stay, his time is precious.
(c) Investor
It is possible for our client to come to the UK if he has at least £1 million to invest in the UK in certain defined investments. He can apply from outside the UK before coming here, and can usually fast-track his application by paying an extra fee. If successful, he would initially only be granted leave to reside in the UK for three years (coming and going as he pleases).
This is then extended for an additional two-year period and can lead to permanent residence and even British citizenship if he meets certain residence criteria (broadly, if he is here more than he is away). An application to extend his Investor Visa may be refused if he does not meet the investment criteria, which may make it difficult for him to apply again, but this route would not restrict him to working in a particular field.
2. Mrs C – Spouse
We suggest that his wife should enter the UK as a tourist (or as a dependant if he uses an investor visa) if her role is purely as his companion. If, however, she intends to undertake any work, she will need her own visa.
3. The Elves
If our client chooses to use a Visitor Visa, the elves may be eligible to enter the UK under an Overseas Domestic Worker visa, which permits entry to those who work in the employer's household, and only for up to six months (with no extensions allowed).
Unless our client requires his employees to hold postgraduate qualifications, they are unlikely to be eligible to apply under the points-based Highly Skilled Migrant programme. The elves may therefore only be eligible to use tourist or business visitor visas, but should be prepared for a lengthy wait at immigration.
4. The reindeer
Our client will need to make sure that his reindeer are microchipped and have pet passports, as described in our blog last week
Sophie Mazzier works at boutique private wealth law firm Maurice Turnor Gardner LLP (Sophie.Mazzier@mtgllp.com)