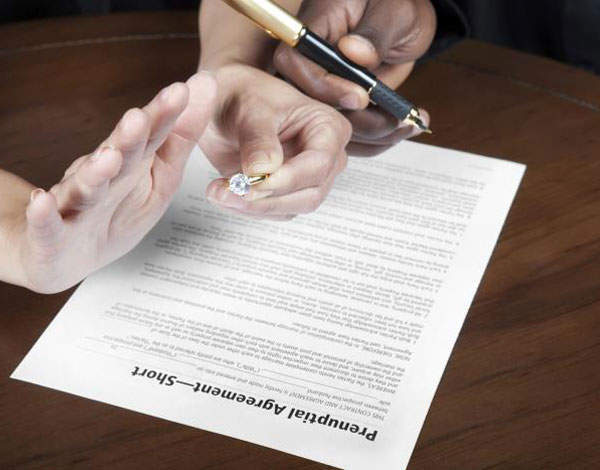 Commenting on Professor Elizabeth Cooke's Report recommending pre-nuptial agreements become legally binding in court Chris Aitken, Head of Financial Planning at Investec Wealth & Investment said:
"We welcome Professor Cooke's recommendations. While many engaged couples may object to the idea of signing a pre-nuptial agreement, if they were to become legally binding they could play a key role in overcoming the inheritance tax planning blockages we see affecting many families. If left unresolved, these can result in an unnecessarily high portion of a family's assets ending up in the hands of the taxman.
"Our research shows that 35% of parents would be unwilling to provide financial help or an advance inheritance to their married children for fear they may divorce with assets leaving the immediate family. And 27% of parents said they weren't confident or couldn't be sure that their children's marriages will last a lifetime. Given this, it's not surprising that 72% of parents support making prenuptial agreements legally binding in the UK."
—
Michael Wells-Greco, partner and international family lawyer at Speechly Bircham, said:
"Giving formal legal status to pre-nuptial agreements has been the writing on the wall since Radmacher v Granatino. It's a positive step and one which will also make mediation simpler to navigate, as well as the court process. Qualifying pre-nuptial agreements are unlikely to enter into law for some time but in the meantime this gives lawyers and separating couples a more sure and certain operating framework.
"The question remains: what falls under the definition of financial needs and how do these needs translate into on-going shared responsibilities? Further work is planned to provide classification. For now, a Canadian style 'maintenance calculator' is a long way from being introduced but given the emphasis on separating couples making a transition to independence, this seems to imply a more restrictive approach in future.
"The Commission's recommendations will make it much more difficult to challenge pre-nuptial arrangements, so divorce disputes will increasingly focus on whether the spouses have provided full and honest accounts of their assets to begin with. Expect to see more high-profile divorces, like Young v Young, where pre-marital assets are in dispute."
—
Deborah Jeff, Head of the Family team at law firm Seddons said:
"Today's recommendation by the Law Commission has been a long time in the making and is a welcome step towards modernising English law.
"Traditionally, English courts have ignored pre-nups and instead tried to divide a couples' assets based on merit and fairness, concepts that are almost impossible to define objectively and the source of much disagreement. Making pre-nups enforceable removes this uncertainly, and gives couples greater autonomy (subject to the needs of the parties and any children being met) and the right to make the decisions about the financial outcome of a divorce, as well as saving both money and time."
"Of course, this should not be seen as a green light for a stampede of hastily drawn up pre-nups. Indeed, there are still some cases where the flexibility is required, particularly where children may later be a part of the relationship. In these instances, couples will need to build in a review clause to ensure that any children are provided for financially, and any changes in circumstances are considered.
"Ultimately, as long as there is no deception or duress involved, a pre-nup is a sensible option. Provided both parties know what they are signing up to then there is every reason why they should be kept to the arrangement agreed."
—
Zoe Bloom, consultant solicitor at Keystone Law, said:
"The recommendation that prenuptial agreements (now qualifying marital agreements) which ring fence pre marital and inherited wealth prior to marriage be enforceable in England is wholeheartedly welcomed. Although some had hoped to see wider reforms relating to inherited wealth also being excluded in the event of a divorce, this recommendation will enable individuals to make independent decisions about whether they want to share inheritance wealth at the outset of their marriage.
"This properly reflects the current position where most requests for pre nuptial agreements are driven to protect assets which are either inherited or accumulated before the parties meet.
"We are already advising wealth managers, trustees and private client lawyers to review their clients' family arrangements with a view to placing pre marital agreements within the wider planning. Hopefully this recommendation will further encourage these reviews to take place. We also recommend for audits of present arrangements from a divorce risk perspective to make sure the best possible protection is given to those families who want it."
—
Winckworth Sherwood
The Law Commission has today (27 February 2014) recommended that the Government give full legal status to prenuptial agreements.
The legislation, says family lawyers at Winckworth Sherwood, would be welcome bringing England and Wales in line with our European neighbours. It would go some way to help give autonomy and control back to individuals and provide some predictability in the event of marital breakdown.
Emily Brand, a Partner in the Family team at Winckworth Sherwood said: "Whether making prenups binding will ensure less litigation is doubtful. It is more likely to shift the focus of disputes away from wrestling with the parameters of the Court's discretion to the appropriateness of the prenup's terms and whether they comply with the safeguards."
The debate surrounding prenups has overshadowed the fact that the Law Commission has also been looking at the knotty question of how to provide for each party's respective financial needs.
Emily Brand said: "It would have been good if the Law Commission had tackled this head on, attempting to resolve the issue of how a spouse, usually the wife, should be compensated for giving up her career and raising a family. It is often this aspect of the financial settlement that causes most concern – from the payer's perspective being burdened with a liability possibly for life and from the payee's side of being dependent on a potentially unreliable source of income.
"It appears, however, that the Commission has side stepped this by recommending that the Family Justice Council should produce guidance on financial needs and there should be further research into suitable 'formulae'. Individuals are therefore no clearer to finding out what they can expect financially on divorce."
Carol Ellinas, Partner and Head of Family law at Winckworth Sherwood said: "I have been drafting prenuptial agreements for the last 15 years. I have drafted them for individuals who are marrying for a second time, have inherited wealth they want to preserve for their family and for wealthy individuals. Provided they are fair, take into account the needs of both parties and that any children are properly provided for, that there has been financial disclosure and that both parties have received independent legal advice the courts will give regard to them."
Carol continues: "Any legislation can only assist and I welcome it. I do not believe it is bad for marriage as an institution. In fact I believe the opposite. Too many couples marry without seriously considering their future arrangements. Everyone needs to take responsibility for themselves, we live in an age where it should not be expected that marriage automatically means a 'meal ticket for life'.
"Of course if one party has given up their career prospects for the benefit of the marriage then this should be reflected in any agreement, this agreement ideally considered and drawn up in advance when couples are able to work together to agree what is fair.Sadly this is not always achievable if the marriage breaks down.
"If the law commission can also give some broad guidelines as to how a parties needs can and should be met on divorce then I believe this will also be welcomed by the profession as a whole as well as the public. Divorce is a very stressful event for everyone. Subject to an overriding test of fairness I believe the more that can be done to give clarity and certainty should be welcomed."
In January this year Winckworth Sherwood's Family team hosted a debate on the future of marriage, where the former Archbishop of Canterbury Dr Rowan Williams warned that the single greatest threat to marriage was the "marketisation of marriage".
Winckworth Sherwood partner Emily Brand who organized the event comment: "The 'marketisation' of marriage was identified as a huge pressure that couples face to create the perfect wedding day and the financial burdens that it brings. It is also the emotional investment in the day and pressure through the wedding industry and the media for life to remain perfect. The question was asked 'is this the best way to start married life?'"