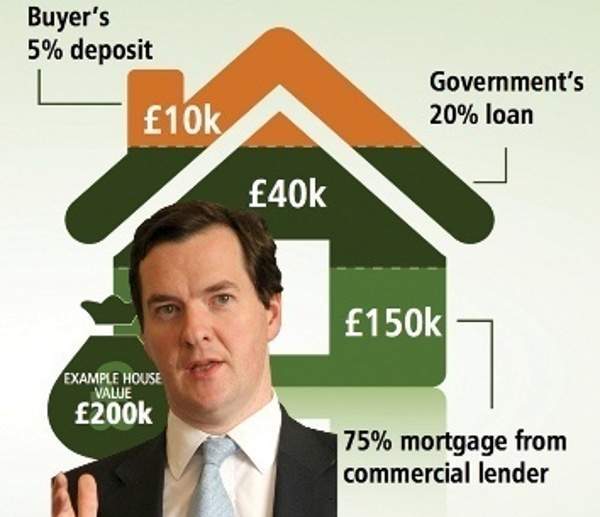 With UK house prices rising at the fastest rate in more than three years, it comes as no surprise that the average young person is struggling to get a foot on the ladder.
But now it seems even the country's wealthier citizens are concerned about their offspring's property prospects, according to the latest Family Futures Survey, carried out by YouGov Plc on behalf of Lloyds Bank Private Banking.
The report reveals that wealthier parents who plan on helping their children to buy their first property are concerned that they can't afford to. It confirms that some 57 per cent of parents with more than £100,000 of investable assets (excluding their main residence and pension) have either helped their children buy a property or plan on doing so.
Read more on property from Spear's
Pictured: George Osborne and his Help to Buy scheme
While parents in London and the South East are less worried than their Northern counterparts, a sizeable 59 per cent of parents living in the capital believe their children will still struggle to buy a property.
"The recent pick-up in house prices means that even wealthier parents are concerned about whether they can help lift their children onto the property ladder,' said Nitesh Patel, housing economist at Lloyds Bank Private Banking.
As Michael Goldfarb explained in a recent article in the New York Times, London property has become a no-go zone even for the middle classes. Now it seems that those classed as being from the wealthier echelons of society are also being priced out of acquiring such an asset. This points to the fact that only the ultra wealthy can afford to buy London property.
Read more on London property prices from Spear's
Given the long term above-inflation rise in house prices, property in London has become a safe haven for the world's wealthy – particularly those hailing from more turbulent economies – to park their money at low risk and for minimal tax, providing the opportunity to reap high returns of up to ten per cent a year (London house prices rose by an astonishing 9.7 per cent between July 2012 and July 2013).
While rising London house prices may be good news for individual property owners – particularly those with a foothold in Kensington and Chelsea property, whose prices have risen by 37 per cent in the past five years – there is anxiety about a potential housing bubble resulting from property price inflation as well as from the introduction of the government's hotly debated 'Help to Buy' scheme, which came into force last week.
As Sandy Chen, a banking analyst at Cenkos Securities, explains, the Help to Buy scheme would in the short-term cause 'a flood of new mortgages and a surge in house prices'.
Longer-term, he continues, it would lead to the same over-stretched house price-income multiples that preceded the last few house price corrections. In other words, the property market could crash in the next few years.
Should the negative forecasting prove to be correct, it could very well be a case of one step up the property ladder and two steps back.